Stassi Schroeder Critics Slam Her for a History of Racist Behavior Following 'Pump Rules' Firing
It seems like only yesterday that Stassi Schroeder and Kristen Doute feuding with one another was their biggest problem. But now, the two women have just been fired from the hit Bravo show, Vanderpump Rules, after starring in it for many years. While some fans are devastated by their departures from the show, others feel they are getting their comeuppance. In fact, fans of the show have called out Shroeder, in particular, for behaving problematically for years.
Faith Stowers speaks out on Instagram
But how did Schroeder and Doute get the boot? The most recent scandal began when Vanderpump Rules cast member, Faith Stowers, took to her Instagram live. On live, she revealed that her former castmates called the police on her for a crime that she had absolutely nothing to do with. To make matters worse, Schroeder and Doute knew this was the case and did it as a way of getting revenge.
Stassi Schroeder and Kristen Doute fired from 'Vanderpump Rules'
Stowers also revealed that Schroeder boasted about calling the police on her in an interview. It was confirmed that, in an episode of "B*tch Bible" from 2018, Schroeder did indeed admit to calling the cops on her fellow classmate. Doute also tweeted an article and accused Stowers of being a thief. "Hey tweeties, doesn't this ex #pumprules thief look familiar? someone put her on MTV & gave her a platform for press. I didn't wanna go there but I'm going there," the former Vanderpump Rules star declared.
After Stowers shared her story, there was immediate backlash for both Doute and Schroeder. Almost instantly, Schroeder lost many of her partnerships and sponsorships. Not long after that, her publicist severed all ties with her. Now, she's been cut from the show that made her famous. On June 9, 2020, it was announced that Bravo has fired both Schroeder and Doute from Vanderpump Rules.
Critics on Twitter recall that Schroeder has displayed a pattern of racist behavior
Many fans of Vanderpump Rules are positively thrilled that Schroeder and Doute (along with Max Boyens and Brett Caprioni, whose racists tweets were uncovered a few months ago) will not be returning to that show. Shroeder, in particular, seems to have a pattern of displaying extremely problematic behavior, and critics are all too happy to reference these instances.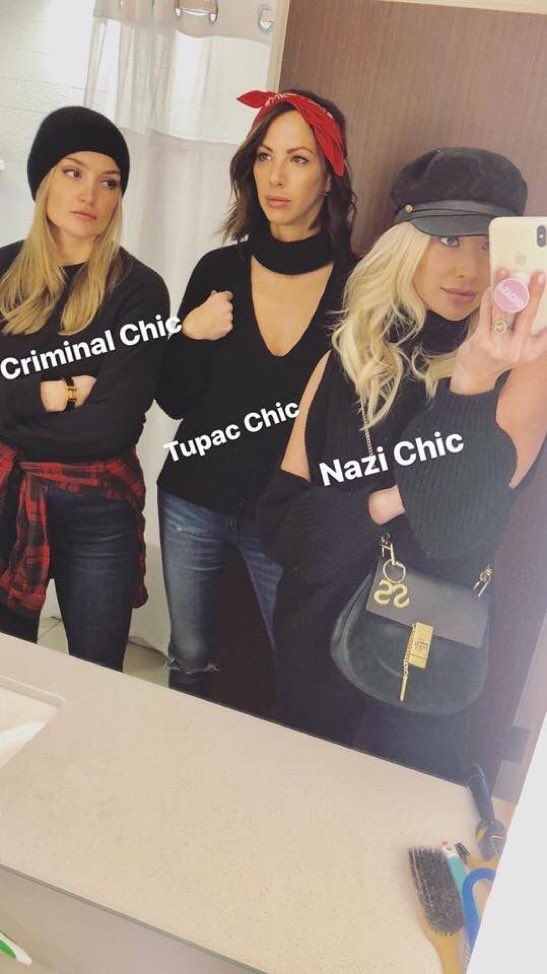 RELATED: 'Vanderpump Rules': Stassi Schroeder Fallout Continues as Publicist Drops Her
Critics recalled that, back in 2017, when discussing the Oscars, Schroeder revealed that she was "really sick of everyone making everything about race" on her podcast. She said she knew she was going to offend people but couldn't understand why Black people were the only ones "making impassioned speeches" about race. "Why aren't the Asians like 'We're not represented,'" Schroeder sneered mockingly. She also said that "whenever they get upset everyone has to go above and beyond to make them happy," in reference to Black people. Finally, she shared that skin color had nothing to do with not getting nominated for an Oscar.
The 'Vanderpump Rules' star offends fans with her IG story
Fans of Vanderpump Rules also recalled a time when Schroeder felt comfortable calling herself "Nazi Chic" on Instagram. The 31-year-old took a selfie with two of her friends and posted it to her Instagram page. Labeling one of her friends "Criminal Chic", another "Tupac Chic" and herself "Nazi Chic" she managed to offend thousands of people. People felt that the former reality TV star was making light of Naziism as well as the Holocaust and criticized her for her thoughtless behavior.
It seems as if Doute and Schroeder's problematic behavior has finally caught up with them. Now that they've been fired from Vanderpump Rules, perhaps they can use their newfound free time to educate themselves on racial relations in the U.S.