Stassi Schroeder Just Shocked 'Vanderpump Rules' Fans With Some Beau Clark Baby Talk
Stassi Schroeder is experiencing a little baby fever. The Vanderpump Rules star just dropped a major bombshell about her plans to have a baby with her fiancée Beau Clark, and it's a lot sooner than anyone expected. The two are getting ready to tie the knot later this year, but Schroeder has been trying to have a baby since as early as last summer.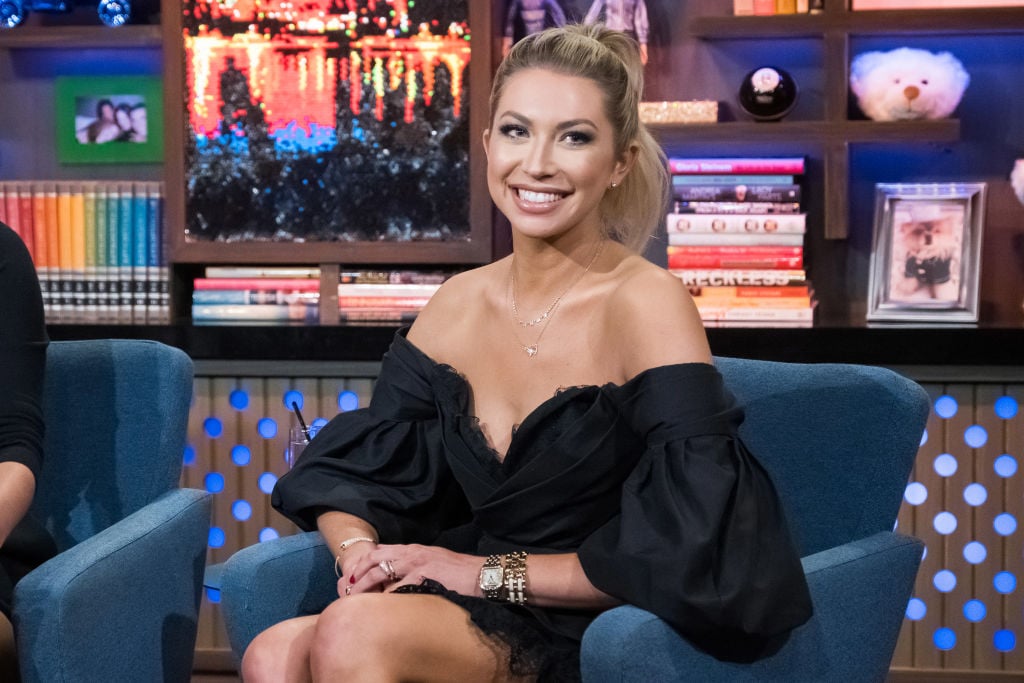 Schroeder gushes about having a baby
Over the past few months, Schroeder has not been shy about her plans to start having children. Back in June, the Vanderpump Rules star revealed that she is ready to start a family of her own and believes that the timing is perfect for her to become a mom.
"I feel like I'm in a place in my life where I make my own decisions and forge my own path," she explained. "I know I want to be a mom, so I would rather get knocked up before I waited to have a wedding."
Stassi Schroeder went on to stay that she thinks it is empowering to be able to have a child before her wedding. She also is a major advocate of being in charge of her own body, which is something we could all get behind.
The Vanderpump Rules star has also expressed excitement about her co-stars starting families of their own. This includes her former boyfriend, Jax Taylor, and his partner, Brittany Cartwright, who might be getting ready for a baby announcement of their own.
Luckily, Schroeder's soon-to-be husband is on the same page and loves the idea of starting a family with her. But with their wedding only a few months away, the big question is when will Schroeder and Clark announce their first pregnancy.
When will Stassi Schroeder get pregnant?
Although Schroeder has been open about her plans to start a family, she never revealed an exact timeline. But in a recent interview, Schroeder revealed that she and Clark have been trying to have a baby as recently as last summer.
As Vanderpump Rules fans will recall, the two got engaged in July of last year. Schroeder was apparently looking to get pregnant a mere weeks before their engagement, which is a lot sooner than anyone thought.
"I was trying last summer," she stated. "I was like, 'Listen, if he's not going to propose, I'm going to take matters into my own hands.' I was seriously hoping to be pregnant because that is so much more important to me than even getting married."
According to Us Magazine, Schroeder added that she cannot wait to be a mother. She did not say if she prefers to have a boy or a girl, but it definitely sounds like she has babies on the brain.
While Schroeder was actively trying to get pregnant last summer, she has since stopped. The Vanderpump Rules star does not want to get pregnant with her wedding only a few months away, mostly because she doesn't want to have to abstain from wine on her big day.
Schroeder dishes on her wedding
Speaking of the wedding, Schroeder and Clark are set to tie the knot in Rome this coming fall. With the wedding less than a year away, the reality star has been doing everything in her power to get in top shape for the ceremony.
During a recent appearance on Watch What Happens Live with Andy Cohen, Schroeder revealed that she is paying very close attention to diet in the months leading up to her wedding. When asked about what she would do if she didn't fit into her wedding gown, the Vanderpump Rules star calmly told Cohen that she is doing "intermittent fasting."
Schroeder, of course, is not the only celebrity on Bravo who believes in fasting throughout the day. Heather Dubrow is also a huge advocate of the tactic.
As long as Schroeder stays on course, it sounds like she is going to be just fine for the wedding.
Who is getting invited to the ceremony?
When it comes to who will get invited to the wedding, Schroeder better be investing in a large reception hall. In her interview with Cohen, Schroeder revealed that all of the important people in her life will be invited to the ceremony, including Lisa Vanderpump and Teddi Mellencamp Arroyave.
Schroeder is good friends with both women, who experienced quite the falling out on the previous season of the Real Housewives of Beverly Hills. In fact, the drama got so heated that Vanderpump stopped filming altogether and has since left the series.
Fans can watch Stassi Schroeder in action when new episodes of Vanderpump Rules air Tuesday nights on Bravo.