'Station 19': Did [SPOILER] Die? Check-In On All Your Friends of the Shondaland Series
Fans react to Pruitt Herrera's (Miguel Sandoval) death on 'Station 19' Season 3, Episode 12 on April 9, 2020. And basically, no one is OK.
[Spoiler alert: Station 19 Season 3, Episode 12.] When Station 19 Season 3 aired "I'll Be Seeing You" on April 9, longtime Shondaland viewers knew something was up. The previews for the episode hinted one firefighter would fall. Then as the ABC series unfolded on-screen, many fans could sense the show was setting up another major death. And by the end of Thursday night's episode of Station 19, Captain Pruitt Herrera (Miguel Sandoval) died, leaving every viewer heartbroken.
What happened to Pruitt Herrera on 'Station 19' Season 3, Episode 12?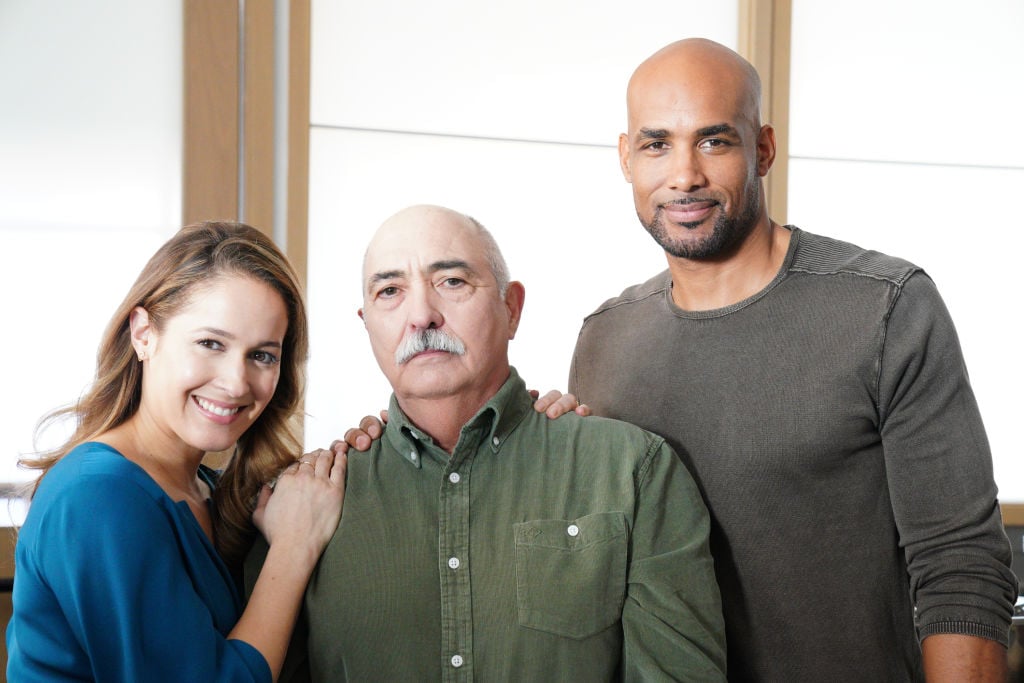 In Station 19 Season 3, Episode 12, Pruitt plays poker with some of his old pals at the firehouse. Meanwhile, the A team is called into a five-alarm fire at a storage locker. The stress is high, but it's relatively normal for some time. But then the storage locker goes up in flames. Now Andy Herrera (Jaina Lee Ortiz), Travis Montgomery (Jay Hayden), Jack Gibson (Grey Damon), and Emmett Dixon  (Lachlan Buchanon) can't find an exit.
Back at the firehouse, Pruitt hears Andy's voice over the radio. She is gasping for air as her oxygen tank is nearly empty. And just like that, Pruitt rushes to the storage facility. Disregarding Maya Bishop's (Danielle Savre) warning, Pruitt climbs to the roof of the building. 
The former captain wants to ventilate the storage unit to give everyone inside enough air to escape. Pruitt also seems to understand the chance he'll sacrifice himself in the process. Then it happens. After breaking through the roof, it collapses — along with Pruitt. He is engulfed in flames. But everyone inside is able to receive the oxygen they need to live. 
Meanwhile, the Station 19 episode features a series of flashbacks with Andy and Robert Sullivan (Boris Kodjoe). Then in a turn of events, the couple elopes. Pruitt gets to watch his daughter get married before he gives up his life for hers.
'Station 19' fans react to Pruitt Herrera's death in season 3
As Station 19 Season 3, Episode 12 aired on ABC, fans knew something was coming. Andy and Sullivan's storyline was shown in parallel to the horrific fire at the storage locker. So everyone was gearing up for some heartbreak.
"Me drinking up all this Andy and Sullivan love story knowing it's gonna end in me crying and eating a tub of ice cream," a fan wrote on Twitter. 
But when Pruitt died, everyone was absolutely shattered. And to put it simply, Station 19 fans were not OK after the episode wrapped on April 9. 
"I'm not okay," a fan on Twitter wrote. "Y'all done killed Ryan and Pruitt in the same season #Station19."
"Anyone else sobbing? Because I'm sobbing," another fan wrote on Reddit. 
Nevertheless, most Station 19 fans were happy with Pruitt's sendoff, as he went out a hero.
"Pruitt was perhaps one of the best sendoffs in the whole GA universe for me. The music choice was perfect for that moment too. But this is going to break Andy," a Reddit user wrote.
"Pruitt dying to save everyone's life is honestly the best way they could've sent off his character #Station19," another fan tweeted.
Meanwhile, Savre penned a heartwarming goodbye letter to Sandoval on Twitter. 
"Miguel, I'm going to miss driving you crazy," she wrote. "Thank you for your love & guidance. Thanks for teaching me how to play chess. Thank you for your wisdom and leadership. I knew they were going to write you departure fit for a top shelf hero! They did not disappoint! #Station19."
Although we're gutted over Pruitt's death on Station 19, his exit was truly an extraordinary moment. But stay tuned. We're only a few episodes away from the finale and there's bound to be more heartache ahead.
Read more: 'Grey's Anatomy' and 'Station 19': Do Fans Love or Hate the Excessive Crossovers?