The 'Station 19' Season 3, Episode 13 Promo Will Probably Break You After the Last Episode
The 'Station 19' Season 3, Episode 13 promo for April 19 shows how the team is doing after Pruitt Herrera's death.
[Spoiler alert: Station 19 Season 3, Episode 12.] Station 19 fans were broken after what happened to Pruitt Herrera (Miguel Sandoval) on Thursday, April 9. In the episode — titled "I'll Be Seeing You" — the former captain died to save the crew, including his daughter, Andy Herrera (Jaina Lee Ortiz). Of course, some fans wondered whether there was a chance Pruitt survived. Stranger things have happened in Shondaland after all. But the Station 19 Season 3, Episode 13 promo trailer confirmed Pruitt's death. And basically, the April 16 episode will probably leave everyone in tears.
How did Pruitt Herrera die in 'Station 19' Season 3?
After refusing treatment for his cancer, Station 19 viewers expected the former captain would succumb to the disease. But in the April 9 episode, Pruitt died a hero after saving half the A team from the storage locker fire.  
All was — relatively — well as Andy, Travis Montgomery (Jay Hayden), Jack Gibson (Grey Damon), and Emmett Dixon (Lachlan Buchanon) were sent in for a rescue. But suddenly, the storage locker went up in flames, and no one could find an escape. 
Later, Andy's struggles were heard over the radio. She was gasping for air as her oxygen was running out. The same was happening with the rest of the crew. Robert Sullivan (Boris Kodjoe) also went in to save Andy. And although he found her, his efforts were unsuccessful.
Back at the firehouse, Pruitt was playing cards with some of his old friends. He heard Andy's cries over the radio and immediately went into action. Then when Pruitt arrived at the scene, he went to the roof to break holes for ventilation. But when he did, he fell into the fire and was engulfed in flames. Nevertheless, Pruitt allowed everyone to receive the oxygen they needed to survive.
The 'Station 19' Season 3, Episode 13 promo trailer confirms Pruitt Herrera's death
For the most part, we expect the next episode of Station 19 — titled "Dream a Little Dream of Me" — to highlight the aftermath of Pruitt's death. And according to the episode's synopsis courtesy of ABC, here's what goes down:
[Victoria "Vic" Hughes (Barrett Doss)] rallies the crew to pose for a calendar photoshoot that will support a good cause. Meanwhile, Emmett comes clean to [Ben Warren (Jason George)] and Sullivan, and shows Andy a softer side.
Then in the Station 19 Season 3, Episode 13 promo, Vic gets emotional over Pruitt's death. "We are alive because of Pruitt Herrera," Vic says. "We get to live, we get to breathe because of Pruitt Herrera."
Ben, Dean Miller (Okieriete Onaodowan), Maya Bishop (Danielle Savre), Gibson, Montgomery, and Dixon are all surrounding Vic in the kitchen. Her words hit them hard.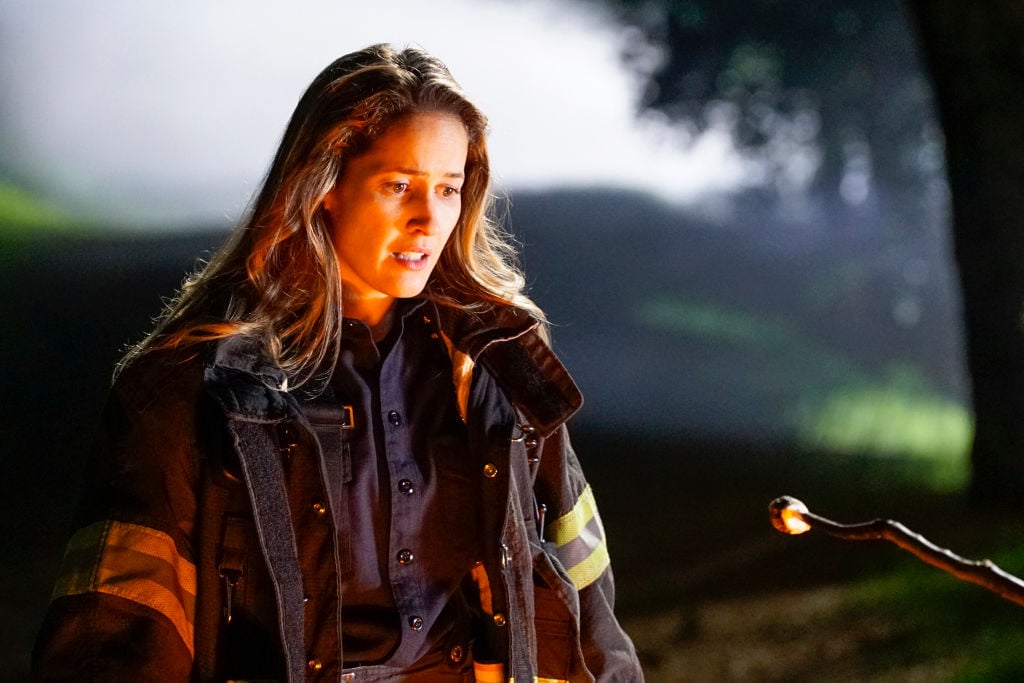 Later, Vic sits on the floor with Maya and Montgomery. "I'm just so sad," she says. Then during a meeting with Dixon Sr. (Pat Healy), Maya is told to pull herself together. But the captain doesn't back down.
"My former captain sliced to the roof and fell to his death to save my entire team," Maya says angrily. "I will not apologize."
Meanwhile, Dixon unloads his frustrations on Ben. "On my first day, someone OD'd," Dixon says. "And now this captain sacrificed his whole damn life so that I could live."
Ben instantly picks up on Dixon's remarks. "Who OD'd?" Ben asks. Of course, we know the man in question is Sullivan. And given the synopsis, it's all going to come out.
Regardless, this is where the Station 19 promo ends. No mention or scenes with Andy. But we know she will be heartbroken. So stay tuned and grab the tissues. This one's going to be emotional.
Read more: Will Jackson Avery Leave 'Grey's Anatomy' for 'Station 19?