The 'Station 19' Season 3 Episode 15 Promo Is Genuinely Terrifying
Brace yourselves — the final two episodes of Station 19 Season 3 are on their way. As always, we are getting nervous as the Grey's Anatomy firefighter spinoff gears up for its explosive finale. After all, this is Shondaland and no one is safe. Then following the April 30 episode, ABC aired the Station 19 Season 3 Episode 15 promo trailer. And basically, it confirmed all of our fears.
ABC unveils the 'Station 19' Season 3 Episode 15 promo
The Station 19 Season 3 Episode 15 promo doesn't play around. The preview opens with Ben Warren (Jason George), Jackson Avery (Jesse Williams), and Emmett Dixon (Lachlan Buchanan) on-site with a stabbing victim.
"I have a 30-year-old male with multiple stab wounds to his abdomen," Ben says.
Then as Ben and Jackson attend to their patient in the back of the "O.R. on wheels," Emmett gets in the driver's seat. He's instructed to go to Grey Sloan Memorial immediately. But suddenly, there's another character in the mix.
Before Emmett can even start the vehicle, a woman climbs in. Emmett is thrown off and tries to stop her. Then she pulls out a gun and points it to his head. "Drive," she says.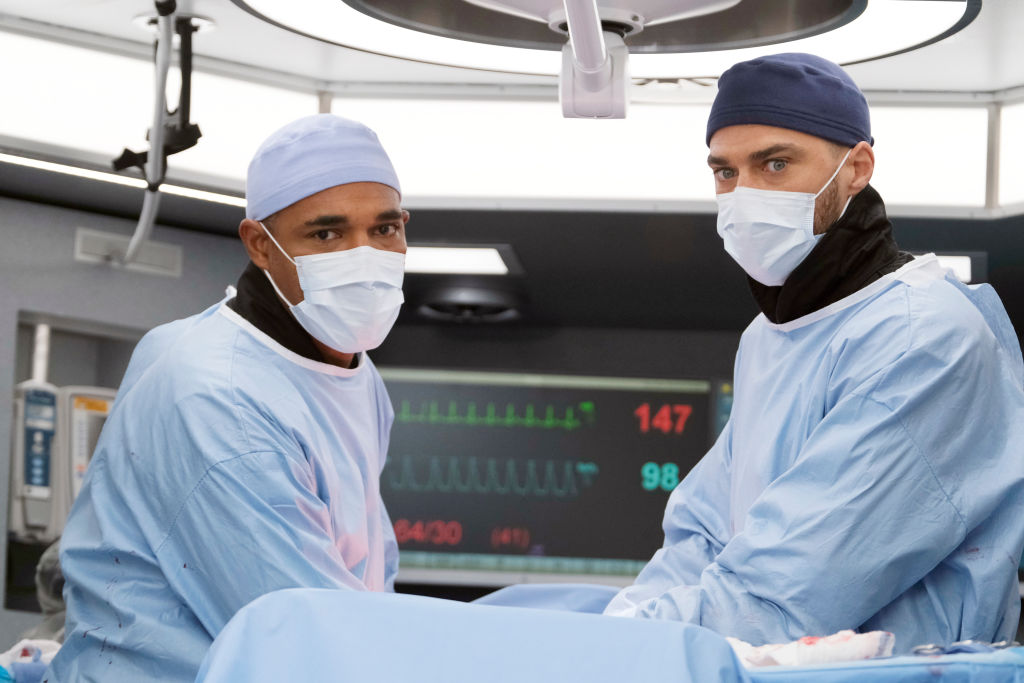 Emmett speeds off, rocking Jackson and Ben in the back. They have no idea what's going on. Eventually, they come to a stop. But it seems they aren't at Grey Sloan. When the doors open, the woman is still holding Emmett at gunpoint.
"I want all the painkillers on this truck or I kill this kid," she tells Jackson and Ben.
Meanwhile, Miranda Bailey (Chandra Wilson) is getting worried at Grey Sloan."My husband called in an hour ago and hasn't shown up," she tells Dean Miller (Okieriete Onaodowan) and Jack Gibson (Grey Damon). Obviously, they don't have an answer, leaving Bailey in shock.
Then back at the scene, the woman angrily points the gun at someone. The promo immediately flashes to Jackson and Ben before cutting to black. A gunshot fires off. But is this a fakeout? Maybe. But everyone involved is definitely in danger.
'Grey's Anatomy' and 'Station 19' fans think Jackson Avery will die
According to the press release for Station 19 Season 3 Episode 15 — titled "Bad Guy" — there's plenty to worry about. The synopsis reads:
Ben, Jackson, and Emmett are put in a precarious and dangerous position with a potential victim. Andy's [Jaina Lee Ortiz] search for more background on her family opens her eyes, and Vic [Barrett Doss] and Travis [Jay Hayden] are caught in the middle of a corruption scheme.
Meanwhile, TVLine recently reported the original Grey's Anatomy finale was meant to include an event that could have potentially led to a main character's death. Showrunner Krista Vernoff was unable to confirm. However, she shared the final two episodes of Station 19 Season 3 "will probably have a feeling of some of what we had planned for [the original Grey's finale]."
Now with the new promo, some Station 19 and Grey's Anatomy fans think Jackson will be the one to die.
"My theory is that if anyone dies it will be Jackson," a fan wrote on Twitter. "They've slowly been removing him from the show, and I read somewhere that in the greys original season finale a main character was going to die. Neither Emmett nor Ben are mains on greys."
For now, it seems unlikely Grey's Anatomy will kill off Jackson in the next two episodes of Station 19. The flagship series ended its current season early due to the coronavirus (COVID-19) pandemic. So we won't get new episodes until season 17 begins and it would be terrible to see a main character on Grey's Anatomy die on another show.
In the above interview with TVLine, Vernoff also shared certain storylines meant for Grey's Anatomy Season 17 were edited out of Station 19. Meanwhile, Williams signed a two-year deal with Grey's Anatomy in June 2019, extending his contract through the 17th season. So hopefully, everyone stays safe.
Station 19 Season 3 airs Thursday nights on ABC at 9 p.m. EST.
Read more: 'Grey's Anatomy': Krista Vernoff Reveals Why Alex Karev Didn't Die in Season 16