Step Aside Captain America! One of the Stars Of 'Black Widow' Say They Really Have 'America's A–'
Captain America (Chris Evans) has "America's A–." That was the conclusion Iron Man (Robert Downey Jr) and Ant-Man (Paul Rudd) came to in Avengers: Endgame. But other Marvel stars believe they should be considered for the title. Including one star of Black Widow.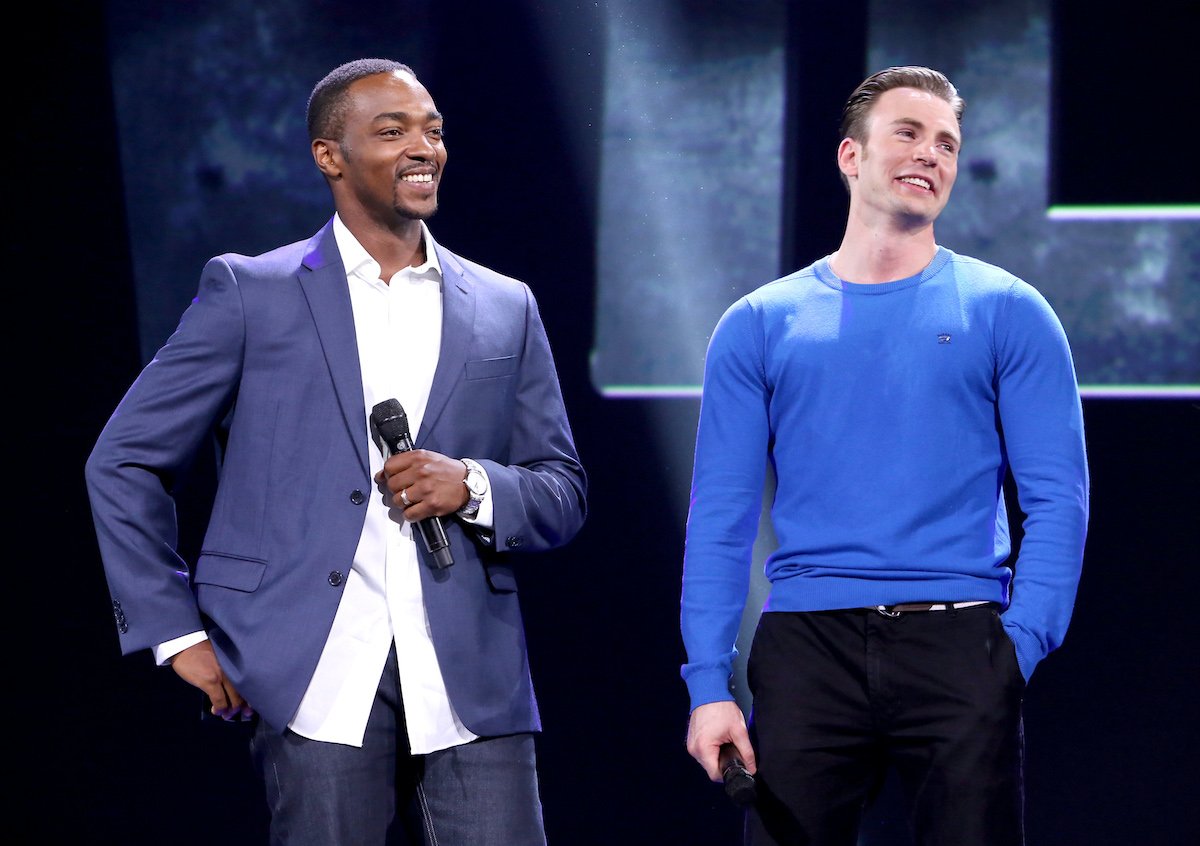 The Captain America butt joke came from Chris Evans' discomfort in the suit
According to Avengers: Endgame writer Stephen McFeely, the "America's A–" joke was "a little meta" callback to the original Avengers movie. McFeely told The Los Angeles Times that Evans had "never been comfortable with that outfit from the first Avengers movie."
"And so in the rearview, it's a little way to wink at how that was then, and this is now. And then it sort of just built from there. By the time we got to the fight scene where he defeated himself, his butt is on the ground and he was just sitting there for a callback," McFeely said.
There was some debate on set, though, about whether or not the joke should be included at all. According to directors Joe and Anthony Russo it was "the most controversial joke in the whole movie." And, it was "hotly debated."
Marvel stars had a competition on the set of 'Avengers: Endgame'
WandaVision star Paul Bettany (Vision) told KFC Radio that Evans didn't get the title of "America's A–" without a little competition. Bettany said that on the set of Avengers: Endgame, Evans and Anthony Mackie (Falcon/Captain America) competed to see who could "jump over this thing" in a squat-jumping contest.
Evans ended up beating Mackie since he was "able to squat jump just from standing," which Bettany described as "unbelievable."
"Chris beat him…That's, unfortunately, the truth. But aesthetically? Anthony has an amazing a**. I mean, if you'd seen it, you would feel passionate about it too," Bettany said.
One 'Black Widow' star says Captain America needs to step aside
Ahead of the release of Black Widow, Entertainment Tonight visited with some of the Marvel Cinematic Universe's new stars. Including David Harbour, who plays Alexei Shostakov aka Red Guardian.
The new MCU character is a Russian super soldier who's also a father figure to Natasha Romanov (Scarlett Johansson) and Yelena Belova (Florence Pugh). And according to Harbour, he's "America's a–."
RELATED: Marvel Confirms the Insane Amount of Calories Captain America Burned In a Day
"I really am America's a**," Harbour said. "I mean, if you think about it."
David Harbour's Red Guardian suit helped him woo his wife
Harbour tied the knot with singer and author Lily Allen last September. He says that his new Marvel clout and his Red Guardian suit helped him woo his wife. Apparently, she thinks his bum looks pretty good in it.
"We actually met when I was shooting [Black Widow] and during our early romance phase I would take photos of myself in the suit and send them to her," Harbour told Australia's Triple J. "It's a really nice suit. It was a really good courtship thing."
Another Marvel star claims he actually has 'America's a–,' not Captain America
As for the ongoing "America's a– debate," Bettany suggests that the title doesn't belong to Harbour's Red Guardian. Nor does it belong to Mackie's Falcon/Captain America or Evans' Captain America. Instead, he says Vision has the best bum of all.
"Unlike Captain America, my a– is a fake a–. It's actually been molded to be a perfect a–," Bettany quipped. "It's a perfect android a–, so I think my a– is better than both of them."
RELATED: Chris Evans' 'Captain America' Co-star Admits They Beat Each Other 'Black and Blue' In 1 of the Most Infamous Fight Scenes in the MCU
Avengers: Endgame, WandaVision, and The Falcon and the Winter Soldier are currently streaming on Disney+. Black Widow hits theaters and the Disney+ premium tier on July 9.