Step Aside Captain Marvel, Black Widow is Actually Samuel L. Jackson's Favorite Avenger
Marvel's Nick Fury, Samuel L. Jackson, just revealed who his favorite Avenger is, and no, it is not Brie Larson's Captain Marvel. Jackson has played Fury for 11 movies in the Marvel Cinematic Universe and is very close to Larson, whom he starred alongside in 2019's Captain Marvel. Most fans might guess that Captain Marvel is at the top of Jackson's list, but the actor's favorite Avenger is actually another female superhero in the MCU.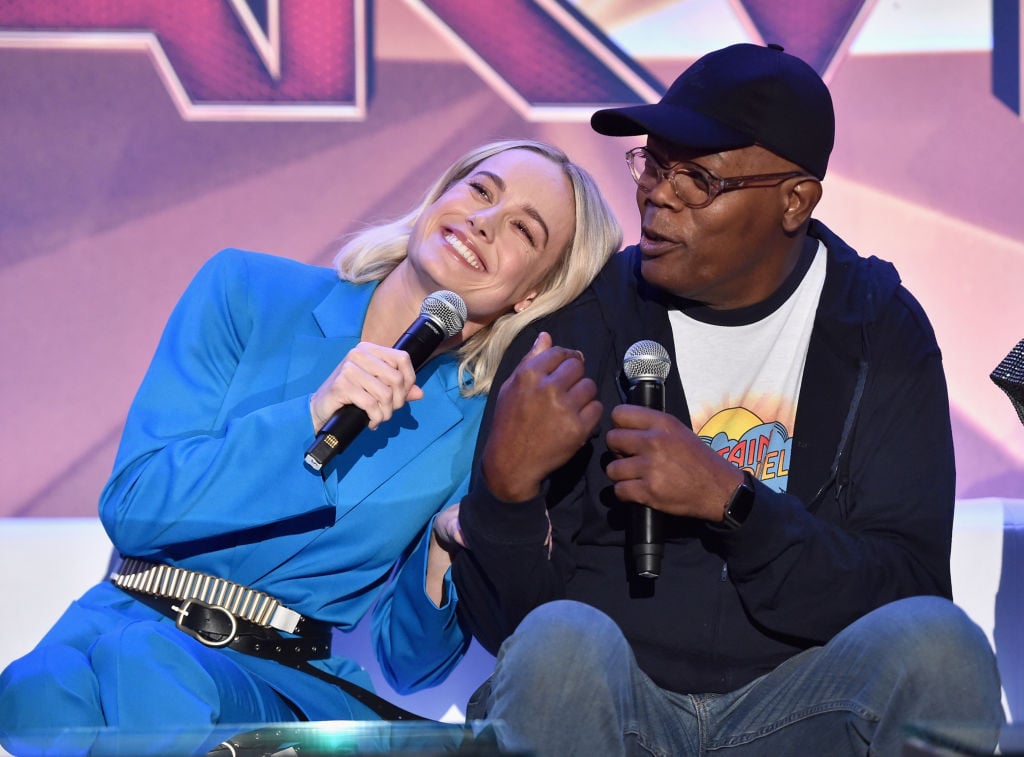 Jackson takes a central role in the Marvel Cinematic Universe
Jackson first appeared as Fury in 2008's Iron Man, a film that kicked off the MCU and was a huge part of Marvel's success. Although Jackson's original contract covered 9 movies, he went on to appear in 11 titles.
Outside of The Avengers franchise, one of his more significant roles was in Captain Marvel. The film revealed how Fury lost his eye and how he developed the Avengers initiative.
Jackson also played a big part in Spider-Man: Far From Home, though the post-credits scene revealed that a Skrull was actually impersonating him while the real Fury was off-planet. Marvel has not revealed what Fury is doing, but his activities likely have something to do with S.W.O.R.D.
If the theory is correct, then Jackson will continue to play an important role in the MCU moving forward.
Who is Nick Fury's favorite Avenger?
With Jackson continuing his role as Fury, the actor recently opened up about his favorite Avenger. During a Q&A session on Twitter, Jackson was asked who is his favorite superhero in the Marvel Cinematic Universe. After joking that Nick Fury is his favorite, Jackson revealed that another character is at the top of his list.
Turns out, Jackson's favorite Avenger is actually Scarlett Johansson's Black Widow. The actress first portrayed the character in Iron Man 2 and is set to star in her first stand-alone movie later this year.
"Nick Fury, because he's me," Jackson joked, before adding, "Actually it's Black Widow."
Black Widow was originally set to premiere in May, but Marvel has pushed back all of its projects due to the coronavirus pandemic. The film, also starring Florence Pugh, David Harbour, Rachel Weisz, and O-T Fagbenle, is now due to hit theaters on November 6.
Is Marvel replacing Jackson's Fury?
Although Jackson is set to appear in future Marvel movies, a source claims that his time in the MCU is about to end. According to Looper, the insider revealed that Jackson will only reprise his role in a couple more films before the studio gives him the ax.
The source also said that Marvel wants to replace Jackson with a character named Abigail Brand, who is head of S.W.O.R.D. in the comics.
A leak from the set of WandaVision confirmed that S.W.O.R.D. will be a part of the series and, eventually, play a role in the MCU. There is some speculation that the organization, which is an off-shoot of S.H.I.E.L.D., will pop up in Captain Marvel 2, though nothing official has been confirmed.
Jackson has not commented on the rumors surrounding his character's future in the MCU.
Inside the latest 'Captain Marvel 2' rumor
Speaking of Captain Marvel 2, a new rumor claims that the sequel will be a "cosmic horror" film that will take elements from Aliens and 2001: A Space Odyssey.
According to Cosmic Book News, an insider says that Carol Danvers will be dealing with an alien group known as the Brood, which possesses S.W.O.R.D. agents by laying eggs. With only male agents being used as hosts, Carol will turn to the all-female team, A-Force, for help.
We cannot confirm that any of these rumors are true. Marvel is currently on the hunt for a director to helm the project, so a lot could change over the next few years.
The good news is that Marvel has announced when Captain Marvel 2 will hit theaters. The film is scheduled to premiere on July 8, 2022.