Steph Curry's Favorite Childhood Memory Involved Kriss Kross
The sports and celebrity worlds have long been intertwined, with many athletes fostering friendships with high-profile music and film stars. For instance, Tiger Woods and musician Darius Rucker have a long-standing friendship. In the NBA, Jimmy Butler has long been associated with the celebrity actor Mark Wahlberg, and LeBron James maintains a closer friendship with Kevin Hart.
Yet not all athlete-celebrity interactions turn into long-term friendships. That doesn't make them any less compelling, however. Case in point: the surprising backstory between Stephen Curry and former rap duo Kris Kross. Here we take a closer look at Curry's NBA career, the rap career of Kris Kross, and the brief moment when those two worlds converged.
Steph Curry's career as a basketball player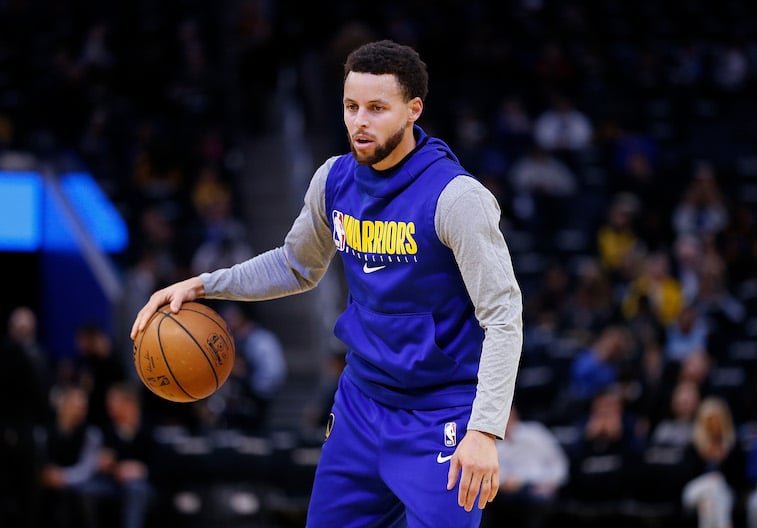 RELATED: Basketball Isn't the Only Sport Steph Curry is Really Good At
Curry needs little introduction for current NBA fans. Yet a brief recap of his career helps to establish just how accomplished a player he is. The Golden State Warriors drafted Curry with the seventh pick of the 2009 NBA draft. Although Curry was already a talented shooter, many teams had doubts about how well the undersized guard would hold up in the physical environment of the NBA.           
Curry's first few seasons were good—if not great. His sharpshooting remained as hot as it had been in college. However, Curry struggled with injuries, particularly to his somewhat delicate ankles. By the 2013-2014 season, however, Curry had bounced back as an unexpectedly durable player, playing at least 78 games in each of the next five seasons.
Meanwhile, his shooting and scoring prowess became ever more lethal. Curry won back to back MVP awards in 2015 and 2016. The 2016 MVP award was especially historic, with Curry being the first player to win by a unanimous vote. Curry ultimately led the Warriors to championship victories in 2015, 2017, and 2018.
A hand injury limited Curry to just five games in the coronavirus-shortened 2019-2020 season. Once play resumes, however, Curry is expected to continue making history as one of the greatest shooters to ever play the game. Even at just 32 years old, Curry is already virtually assured of making it into the Hall of Fame one day.
Kris Kross' career as a hip hop duo
RELATED: Ayesha and Steph Curry Take Their 'No Phones at Dinner' Rule Seriously — Most of the Time
Younger NBA fans who grew up rooting for Curry and his dominant Warriors teams have probably never heard of the hip hop act Kris Kross. This duo, made up of Chris "Mac Daddy" Kelly and Chris "Daddy Mac" Smith, enjoyed their heyday in the early 1990s. Their debut album Totally Krossed Out was released in 1992, and ultimately sold millions of copies.
Kris Kross' sudden surge in popularity was largely due to their hit song "Jump," which remains a staple NBA arena anthem. At the time the song was recorded, Kelly and Smith were just 13 and 12 years old according to Rolling Stone, respectively. The duo rode their success through two more studio albums, 1993's Da Bomb and 1996's Young, Rich & Dangerous.
The success of "Jump" also propelled Kris Kross into an elite sphere of celebrity. The duo sound found themselves opening for Michael Jackson on his 1992 European Dangerous World Tour. They also made a cameo the video for Jackson's 1992 song "Jam." Kris Kross was so popular that Sega even released a video game starring the rappers on their Sega CD system.
The Curry-Kris Kross connection
At this point, you're probably wondering what possible connection could exist between Curry and Kris Kross. The topic came up back in 2015, when a fan on Twitter asked Curry about his favorite childhood memory. He responded with "Got On stage with Kriss Kross hahaha." Unfortunately, we don't have any other details about when that might have happened.
Chances are Curry was pretty young at the time. He would have been just four years old at the time "Jump" was released. By the time Kris Kross broke up in 1996, Curry would have been eight years old. Apparently, however, the experience was impressive enough to lodge itself in Curry's memory all those years later.