Stephen Colbert Might Just Be Tesla's Biggest Celebrity Fan
However, those aren't the only things that Colbert's a fan of. In fact, he may just be one of the biggest Tesla fans in showbiz. Here's why.
Stephen Colbert may be best known for being the host of The Late Show on CBS and The Colbert Report on Comedy Central. And many of Colbert's fans know that he's a big fan of pop culture, as he loves things such as the Lord of the Rings franchise and the Marvel Cinematic Universe.
However, those aren't the only things that Colbert's a fan of. In fact, he may just be one of the biggest Tesla fans in showbiz. Here's why.
Stephen Colbert drives a Tesla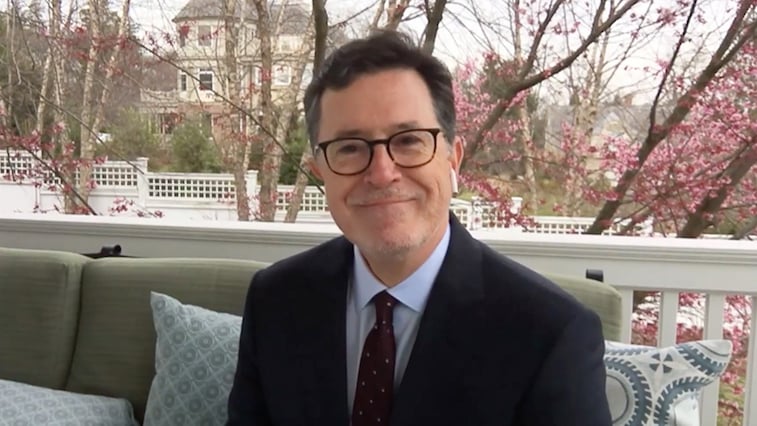 As Bloomberg reported, Colbert had a segment in one of his very first shows as the host of The Late Show about the semi-autonomous driving feature on Teslas. As Colbert said in that segment, not only did he drive a Model S to work in New York City, but that his Tesla had an overnight update that gave it Tesla's new semi-autonomous driving feature. 
On top of that, Colbert raved about how useful that feature is in a crowded city like New York City. That's because Tesla's semi-autonomous driving feature, which Tesla calls "autopilot," is not that different from adaptive cruise control which many cars offer or have as standard.
And, like Colbert rightfully said, such a feature is very useful in heavy traffic, as the driver doesn't really have to do anything in that situation. 
The future is now
Another reason why Colbert seems to love Tesla so much is because of how futuristic its cars are. Like Bloomberg said, Colbert mentioned on his show how his Tesla didn't have that semi-autonomous driving feature one night, and then, when he woke up, it did.
That's because Tesla has the ability to install updates over the air onto its cars. Tesla usually does this at night when everyone's sleeping so as to not disturb anyone currently driving their cars.
Over the air updates are something that many people may actually already know about. If you've ever scheduled your smartphone to update at night while you're sleeping, that is the exact same thing that Tesla is able to do with its cars. Very few other automakers are doing this, but more are following in Tesla's footsteps. 
This is one of the reasons why Colbert loves Tesla so much, and it's also why he seems to enjoy spreading the gospel about Tesla. Tesla is at the forefront of technology in almost every area of cars.
Because of that, Tesla is the future, and Colbert simply loves to nerd out about the future. On top of that, it helps that Tesla is a green car that's good for the environment, which is also something that Colbert cares about.
Stephen Colbert nerds out with Elon Musk
Bloomberg reported that, just as a sign of how much Colbert enjoys his Tesla, he invited Elon Musk as one of the first guests on his show. The two men talked about many things, including stuff related to Musk's other business ventures, such as SpaceX. 
In fact, the two men hit it off so well that, according to CNN, Colbert told his audience how much he was "moved" by Musk's ideas about the future of the world. CNN even reported that Colbert said that he thinks Musk should run for president. That said, this happened in late 2015, and things have obviously changed since then. 
Regardless, other celebrities are still big fans of Tesla. Many celebrities, according to Hot Cars, currently drive a Tesla. These celebrities come from all corners of showbiz, and they include the likes of Demi Moore, Simon Cowell, and George Clooney.
Other celebrities, especially those who have talked to Musk, have also become big Tesla fans themselves. For example, Joe Rogan, after talking to Musk, said that he was going to buy the new Cybertruck.