Steve Buscemi Misses 'Boardwalk Empire' Just Like the Rest of Us
Fans of Boardwalk Empire still enjoy rewatching the iconic series and catching a glimpse of Steve Buscemi as the gangster Nucky Thompson. The HBO series took the world by storm and it concluded years ago, but that doesn't mean fans don't wish there were more episodes still left to watch.
Nucky Thompson is a notorious gangster in Atlantic City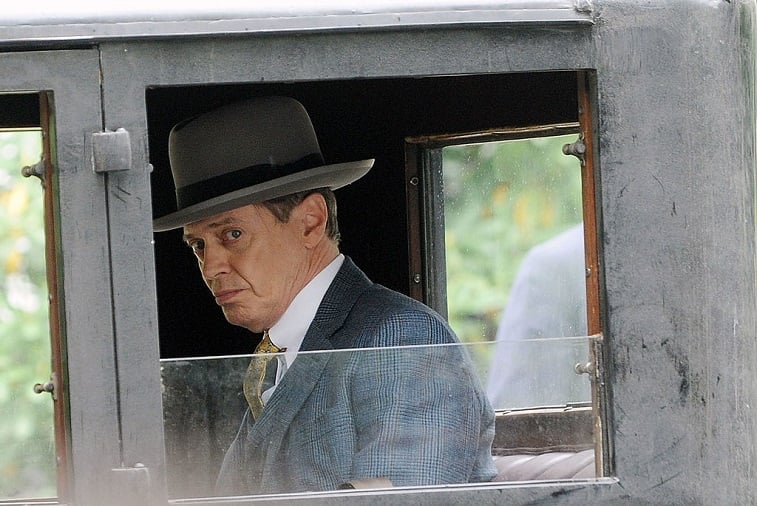 Nucky works his way up from the treasurer of Atlantic City, New Jersey to an even more corrupt and powerful gangster. He makes a killing off of prohibition during a time in America when alcohol was illegal. Nucky and his partners get rich fast, which of course leads to all sorts of complications. In a corrupt world like the one Nucky resides in, you can't trust anyone and he learns that the hard way.
Steve Buscemi misses 'Boardwalk Empire' just like the rest of us
In 2015, Steve Buscemi spoke with CBS News about the series and he admits he will miss it. He was the main character in the hit series and people will always recognize him as Nucky Thompson. Fans miss the series and so does Buscemi apparently.
"I definitely miss it. I think it ended at the right time. But yeah, I'll miss it. Absolutely," Buscemi said.
How did the series conclude for Nucky Thompson?
In the final episode, Nucky is killed by Tommy Darmody who is the son of Nucky's old protégé, Jimmy Darmody (Michael Pitt). He's killed in revenge for his family and everything Nucky put them through. Nucky dies on the Atlantic City Boardwalk, which is a fitting end.
The creator of the series, Terence Winter, spoke with Vulture about how they chose to end the series the way they did. They went through multiple scenarios of how the story could end, and they concluded Nucky being killed was a "powerful" ending.
"We knew definitively somewhere in the middle of season four that Nucky would die," Winter detailed. "We ran the different versions of how it might end. We had talked about him going off to a life of obscurity after he gave everything up. In some ways, that felt like a punishment, too — not that we were necessarily trying to punish him. But this felt like a more powerful and dramatic ending."
When did Steve Buscemi learn how the series would end for Nucky?
Winter also revealed to Vulture when Buscemi learned about his character's fate. It wasn't until season 5 that he learned the truth of what was coming for Nucky in the end.
"Not until deep into season five. Traditionally, he didn't want to know what was coming. A lot of our actors didn't. They were more interested in being in the moment and not necessarily knowing what was going to come," Winter said.
Although Boardwalk Empire is over, that hasn't stopped fans from rewatching the series over and over again. It's comforting to know that even Steve Buscemi misses the series just as much as the fans do.