Steve Harvey Hated All of Lori Harvey's Boyfriends Before Michael B. Jordan — 'I Can At Least Approve of One'
Steve Harvey's daughter Lori Harvey has been the subject of lots of media attention since it was confirmed that she's dating Michael B. Jordan. The two appear to be in a happy relationship, taking lavish vacations, and Jordan even renting out an entire aquarium to celebrate Valentine's Day. 
Although Lori has dated other entertainers such as Future and Diddy in the past, it seems like Jordan has been the best match for her thus far. Her father, Steve agrees.
According to Steve, he never liked any of the famous men Lori dated in the past, and he feels Jordan is the only guy she's dated that he actually approves of. 
Steve Harvey didn't approve of any of Lori Harvey's previous boyfriends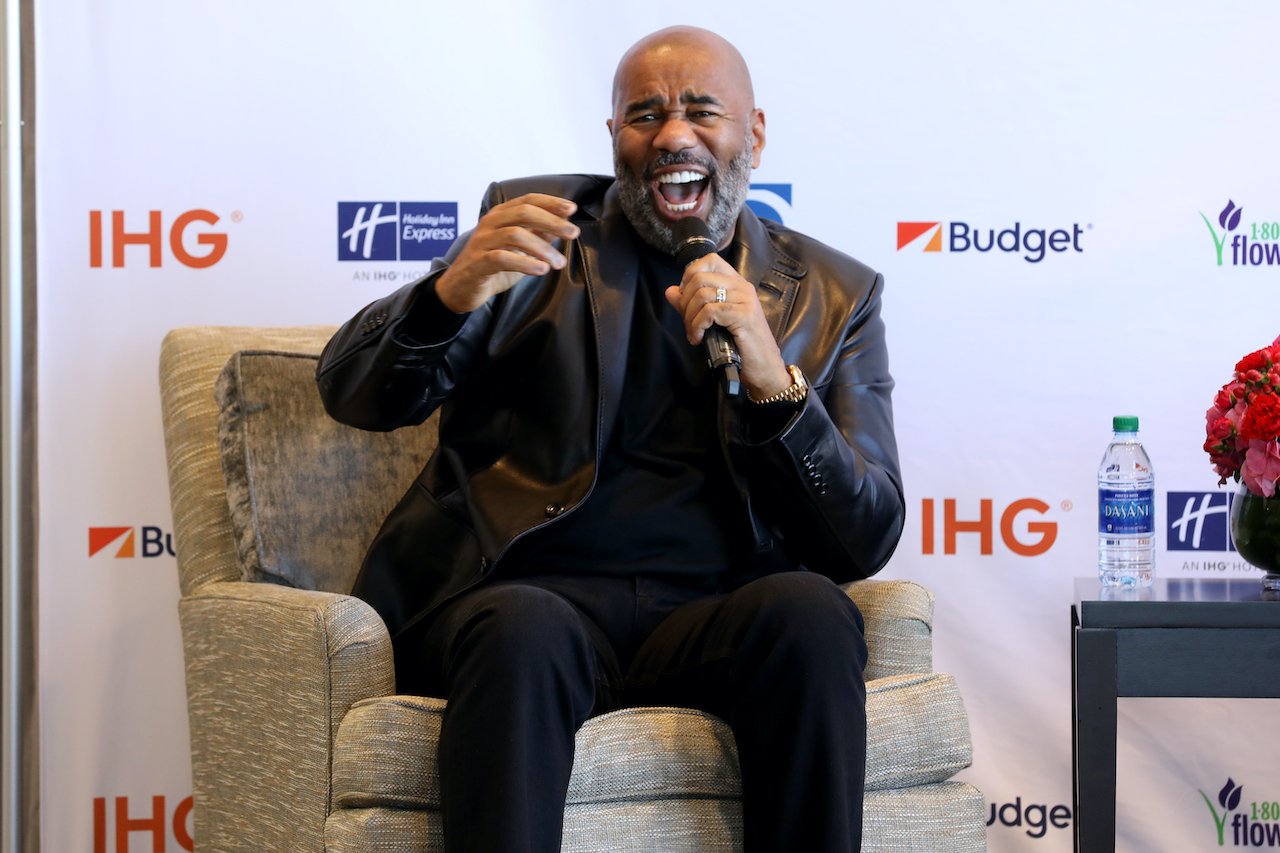 Harvey shared his thoughts on his childrens' dating lives during a recent appearance on Jimmy Kimmel Live!
"Look man, when your kids grow up … they can make decisions on their own," Harvey said. "I just—I'm just happy that I can at least approve of one."
Kimmel seemed surprised to find out that Harvey hadn't approved of any of Lori's previous boyfriends. 
"You didn't approve of the previous suitors?" Kimmel asked, laughing.
"Nothing ever," Harvey said. "Ever. Pure hatred."
He doesn't think Michael B. Jordan is the sexiest man alive 
Even though he likes Jordan more than her past suitors, he doesn't necessarily agree with Jordan's title as "Sexiest Man Alive."
"Well first of all let's be clear about something," Harvey said. "He is a nice guy. But he is not the sexiest man alive, to me. At all. I found nothing—"
When asked who he thought was the Sexiest Man Alive, Harvey was brutally honest. 
"Who is the sexiest man alive to you?" Kimmel asked.
"Me," Harvey said. "All these people I'm paying for? Hell, if that ain't sexy, what is? I've never been attractive, I knew that. That's why I had to come up with these damn jokes. But this kid is a—I like him, man. I'm pulling for him." 
The 'Family Feud' host didn't understand Michael B. Jordan's over-the-top Valentine's Day gift for Lori
Although Harvey is grateful that Jordan treats his daughter with respect, he doesn't think Jordan made a smart move by renting out an aquarium for her on Valentine's Day. 
"Yeah, well, good luck homie," Harvey said. "'Cause, you know, Valentine's comes every year. I don't know if you know how this works or not, but I don't know how you gon' top that. But good luck partner. I mean, it was—it was really nice what he did, you know. I'm happy for him, he's a great guy, I met his father and everything, but that was a lot, that was a lot. I don't know where it's going from, from here. So hopefully, you know, he'll make Creed four, five, and six."
His daughters don't read his relationship-help books
Outside of TV, Harvey is also known for his self-help book, Act Like a Lady, Think Like a Man. In it, he provides helpful tips for women who are struggling to find a suitable partner.  
Yet, despite his expertise, his daughters refuse to read his book. 
"I think it's better if my daughters would read the damn book," Harvey said. "That would be the smarter move …"