Steve Harvey's Grandchildren: How Many He Has and Why He Doesn't Really 'Get' the Grandparenting Thing
Steve Harvey's family is really important to him -- but he doesn't get all the fuss about grandparenting.
Steve Harvey is best known for his role in The Steve Harvey Show, and for being the host of Family Feud. What many people don't know him for is being a big family man – albeit not in the most traditional sense. Harvey is the father of four biological children from two different marriages, and has also raised his three step-children as though they were his own. These days, the Harvey family grows by leaps and bounds as his children have gone off to start their own families.
How many grandchildren does Steve Harvey have?
Earlier this year, Steve Harvey welcomed his fifth grandchild into this world, Ezra. Baby Ezra is the third child of Harvey's son and daughter-in-law. Shortly after the announcement of grandchild number five was a sweet video of baby Ezra's older siblings, Noah and Rose, praying. The video was posted on Instagram and received a lot of praise.
Steve Harvey's non-traditional views on being a grandfather
On his own talk show, Steve, Harvey had some non-traditional statements on how he likes being a grandfather. Actually, the statement could have been taken directly out of The Steve Harvey Show.
Steve's statement was: "I've been waiting years for my kids to get out of my house. I want to be an empty nester. Now they come back to the house and they got more people with them. They always bring them over and drop them off. And I'm going 'Now, I been talking to my girl all day long. All we been talking about was what was going to happen tonight. Then, I get to the house and here they is!"
Comedy is obviously central to Steve Harvey's real life
The statement was meant in a joking, playful manner – although we're sure there was a grain of truth in there somewhere. Pictures, interviews, and statements from the extended Harvey family all point to Steve Harvey being a phenomenal family man. Fans certainly would not have known what to do without a comedic sentiment on the subject, however, and even the critics got a good laugh.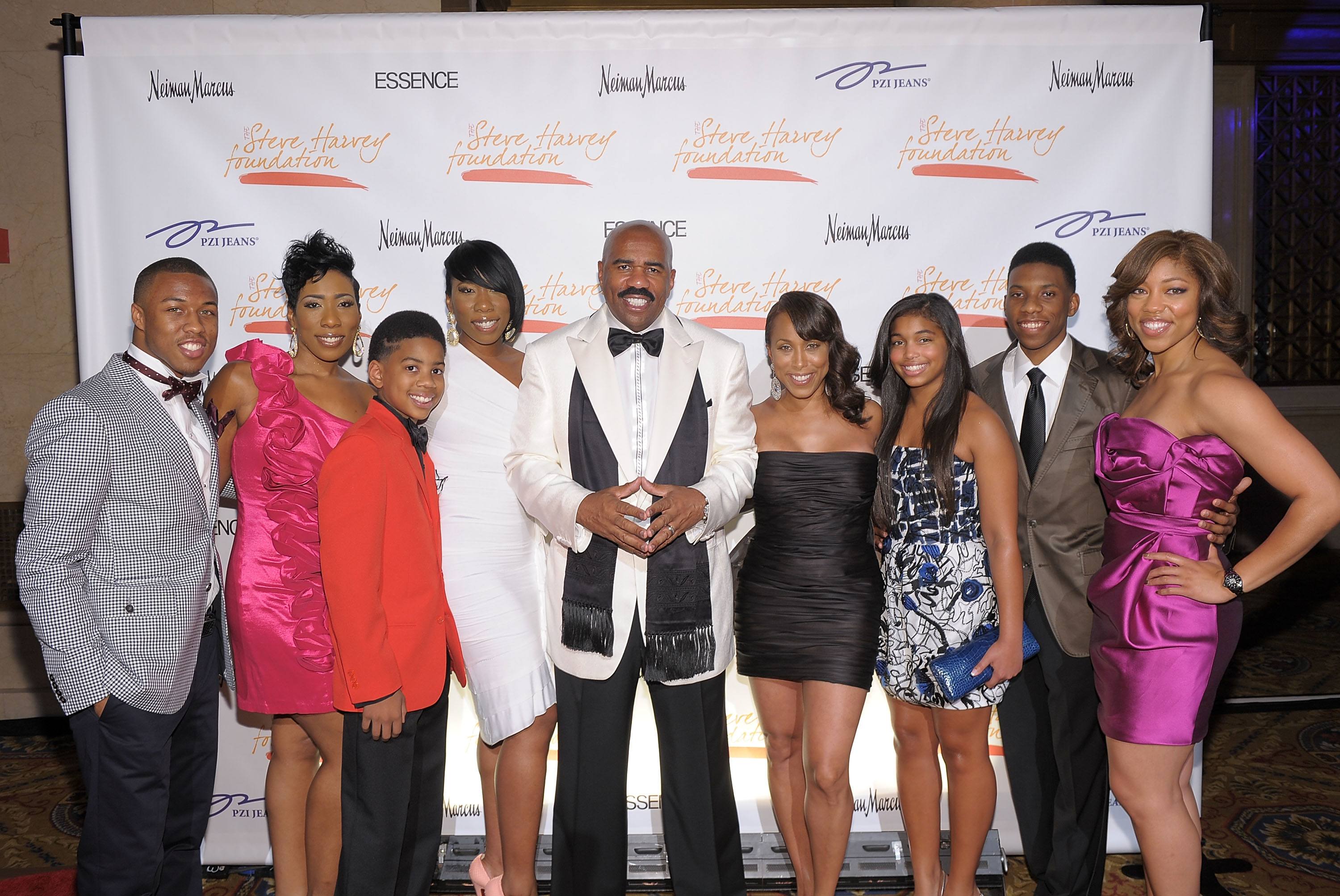 Religion is central to the Harvey family
The adorable video of Steve Harvey's grandchildren playing is just one thing pointing towards the big part religion has in the man's life. The caption by Harvey's third (and current) wife, Marjorie, spoke about raising kids up right. Both Steve and Marjorie are firm believers that you need to raise children up to pray, believe in God, and of course, general be good people. They also believe you are supposed to do this in a 'lead by example' fashion.
Holiday travels with the family
For Thanksgiving, a portion of the Harvey family traveled to Abu Dhabi (United Arab Emirates) to celebrate. They enjoyed a non-traditional Thanksgiving meal and spent some time sightseeing. In fact, Harvey's wife, Marjorie, even spent some of her holiday riding a camel – and looking amazing while doing it.
Fun on Halloween
Another proof that Harvey is a fun family man came with a Thanksgiving post on his own Instagram. He posted an image of himself as 'Pimpin' and his wife as 'Edna' from Despicable Me. The adorable couple posed in front of a brightly-colored ride at what appears to be a fair.
Other Instagram moments
Between both Steve and Marjorie Harvey's Instagram accounts you can see how much family means to them. There are images of the two of them celebrating couple time, as well as beautiful images of both their children and grandchildren. They pose with their new grandchild in one image, while celebrating a baseball game in another. A few videos of the grandchildren just being kids are also posted on the Harvey's respective accounts.