Steven Spielberg's Chilling 'Poltergeist' 1982 Horror Movie Was Based on a True Story
Heather O'Rourke muttered one of horror's most unforgettable lines in Poltergeist 1982: "They're here." Steven Spielberg wrote and produced the film. Fans deem Poltergeist one of the most chilling classic horror movies of all time. But it would be scarier if the film were based on a true story.
Spielberg's script ends with a frightening paranormal revelation. And horror enthusiasts are curious how the screenwriter came up with the idea.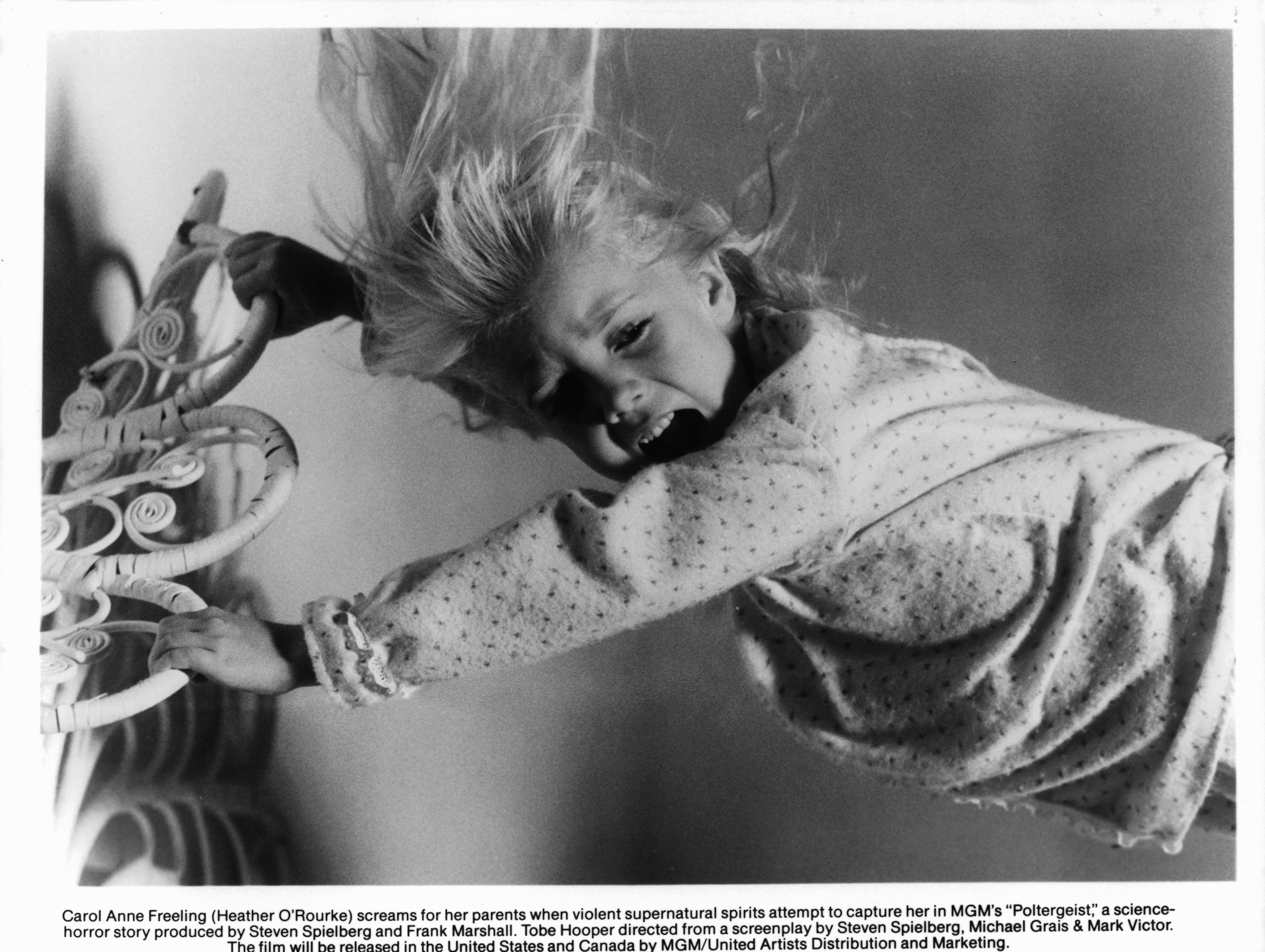 Steven Spielberg wrote, but didn't direct, the horror movie
The renowned filmmaker directed one of horror's most famous films. Jaws was a low-budget production but a top scary movie in 1975. Moviegoers vowed to avoid the ocean. Some completely avoided swimming.
Spielberg didn't direct Poltergeist. Universal Studios (now Universal Pictures) prevented the filmmaker from directing anything else while developing E.T. The Extra-Terrestrial. But Spielberg found a way around this. Instead, he wrote and co-produced the classic horror movie.
Tobe Hooper, the creator of The Texas Chainsaw Massacre, directed the 1982 Poltergeist film.
Amid Spielberg's growing fame, some fans insisted he directed the horror movie. According to Slash Film, the screenwriter insinuated he provided direction to Hooper. One of the actors even revealed that Spielberg took charge on set.
Nevertheless, Spielberg set the record straight in a public letter to Hooper in 1982. "Regrettably, some of the press has misunderstood the rather unique, creative relationship, which you and I shared throughout the making of Poltergeist," the Raiders of the Lost Ark director wrote.
Is Steven Spielberg's 'Poltergeist' based on a true story?
When Poltergeist came out, many horror fans deemed it too dramatic to be true. How could Poltergeist be a true story? Some critics challenged the ending and said it was complete fiction. But multiple sources convey the film was based on a true story.
According to the Long Island Pulse, Spielberg's Poltergeist is loosely based on the Hermann family. The Hermanns claimed they witnessed strange events in their Seaford, New York home. They noticed several uncapped bottles and holy water spilled over a dresser.
Fans recall the Spielberg movie's scarier details—moving furniture, bendable silverware, a glass of milk bursting, and a violent tree. But there are two defining moments in the flick: Carol Anne's static screen moment and the unearthed backyard cemetery.
Other classic horror movies based on a true story
Throughout the 1970s and '80s, there were multiple horror movies based on true stories. When 1973's The Exorcist premiered, viewers couldn't shake off the image of a little girl's head spinning. Countless exorcism movies don the "true story" label. But The Exorcist was based on a 1949 exorcism of a 14-year-old child, per Syfy Wire.
1979's The Amityville Horror left audiences astonished. Based on an actual event, the movie focuses on a father's possession. A real family died in the house, leaving a supernatural presence. The film ends on a neutral note. The family escapes unscathed, but the actual home is haunted. There are several sequels and remakes.
Many horror fans could argue about the origins of 1984's A Nightmare on Elm Street. However, it was based on a more benign story than its sadistic plot. Filmmaker Wes Craven read a news article about a child with vivid nightmares; he stayed awake for days to avoid his nightmares.