Steven Tyler's Recent Surgery Has Led to a Stint in Rehab and Canceled Tour Dates
Some celebrities are known for their hard-partying lifestyle. Sometimes, that lifestyle leads to excessive drug use. Aerosmith frontman Steven Tyler is no stranger to substance misuse and has been open about facing it in the past. Recently, his band announced that Tyler had relapsed after trying to manage post-surgery pain. It resulted in his return to rehab and canceled tour dates.
Steven Tyler allegedly spent almost $10 million on cocaine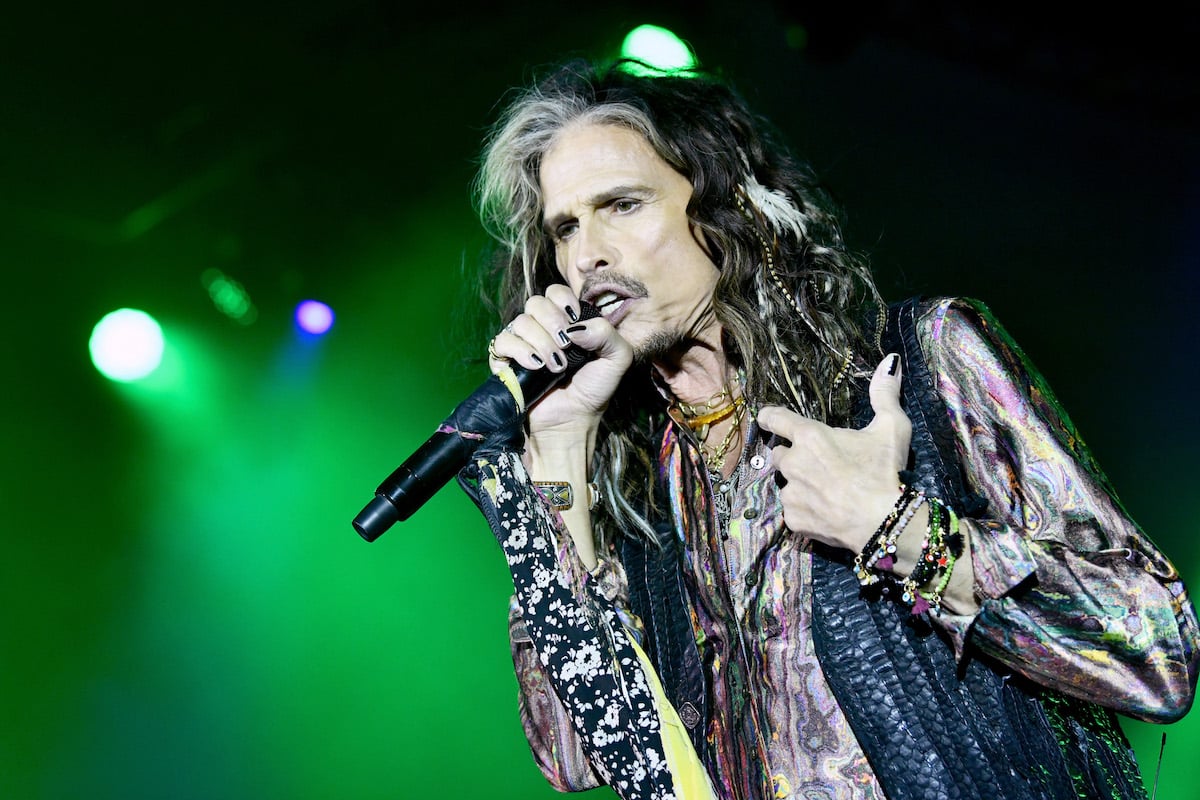 Tyler discussed addiction in his 2011 memoir, Does the Noise in My Head Bother You? The singer shared that he had spent about $20 million on cocaine during Aerosmith's '70s and '80s heyday.
However, when confronted with the shocking number in an interview with 60 Minutes Australia, the rocker denied the figure but revealed that the actual expense wasn't far off. He said, "Probably realistically, 5 or 6 [million dollars] easy. But it doesn't matter. You could say I snorted half of Peru, but you know it's what we did."
Tyler has been candid about his history with drugs and even admitted in an interview in 2011 that during Aerosmith's peak, the bandmates had a small off-stage cubby where they could satisfy their coke habit.
The singer also once told TV host Matt Lauer that he felt he "needed that cocaine" but added that it broke down his family.
"It took my children away. It took my marriages away. I was on my knees," Tyler said.
Steven Tyler's recent surgery led to a stint in rehab and canceled tour dates
By his own account, Steven Tyler has been to rehab eight times. According to Us Weekly, the rocker began his sobriety journey in the mid-'80s but relapsed in 2006 during treatment for hepatitis C.
In December 2009, the singer went on a pill-and-cocaine binge, which saw him seeking treatment at the Betty Ford Clinic. He had experienced sobriety until recently.
Aerosmith released a statement on May 24, 2022, revealing that the 74-year-old had undergone foot surgery, necessitating pain management. The message shared that Tyler had "relapsed and voluntarily entered a treatment program to concentrate on his health and recovery."
Aerosmith, consisting of Joe Perry, Brad Whitford, Tom Hamilton, Joey Kramer, and Tyler, was scheduled to begin performing on June 17 at Dolby Live at Park MGM in Las Vegas. In the statement, the band shared that it canceled its first set of Las Vegas residency dates to allow Tyler to "focus on his well-being."
The statement added, "We are devastated that we have inconvenienced so many of you, especially our most loyal fans who often travel great distances to experience our shows." The band shared that it will resume performing in September and promised to refund those who had purchased tickets through Ticketmaster.
Other celebrities who have been open about their relapses
As the daughter of legendary rocker Ozzy Osbourne, Kelly Osbourne grew up in the limelight. And by the time she hit 24, she had already been to rehab three times for painkiller misuse. Osbourne celebrated one year of sobriety in August 2018 but revealed that she had relapsed in 2021, albeit remaining on the path to sobriety.
Dax Shepard also revealed in his podcast, Armchair Expert, that his 2020 motorcycle accident caused him to relapse after 16 years of sobriety. The star admitted that he was high on the anniversary of his 16-year sobriety journey, calling it "the worst thing in the world."
Other stars who've been open about their relapses are Demi Lovato, Macklemore, and Jason Whaler.
How to get help: In the U.S., contact the Substance Abuse and Mental Health Services Administration helpline at 1-800-662-4357.
RELATED: Steven Tyler Once Took Legal Guardianship Over a Teenager Who Became His Fiance