Stevie Nicks Once Admitted This Album Took 30 Years to Make
Stevie Nicks's is a two-time Rock & Roll Hall of Fame inductee, so she has a couple of bestselling albums under her belt. But one of her albums took decades to make.
Stevie Nicks doesn't fool around. She either makes an album, or she doesn't. So there's really no waiting around with her. Nicks is constantly inspired to write new songs, so she really wouldn't be able to wait to put them on an album. Otherwise, she'd have hundreds of songs stockpiled, waiting around to be released-kind of like her pal Prince, who stockpiled thousands of songs during his lifetime. However, in the case of one of her most recent albums, things went a little differently. It took her 30 years to make it for one specific reason.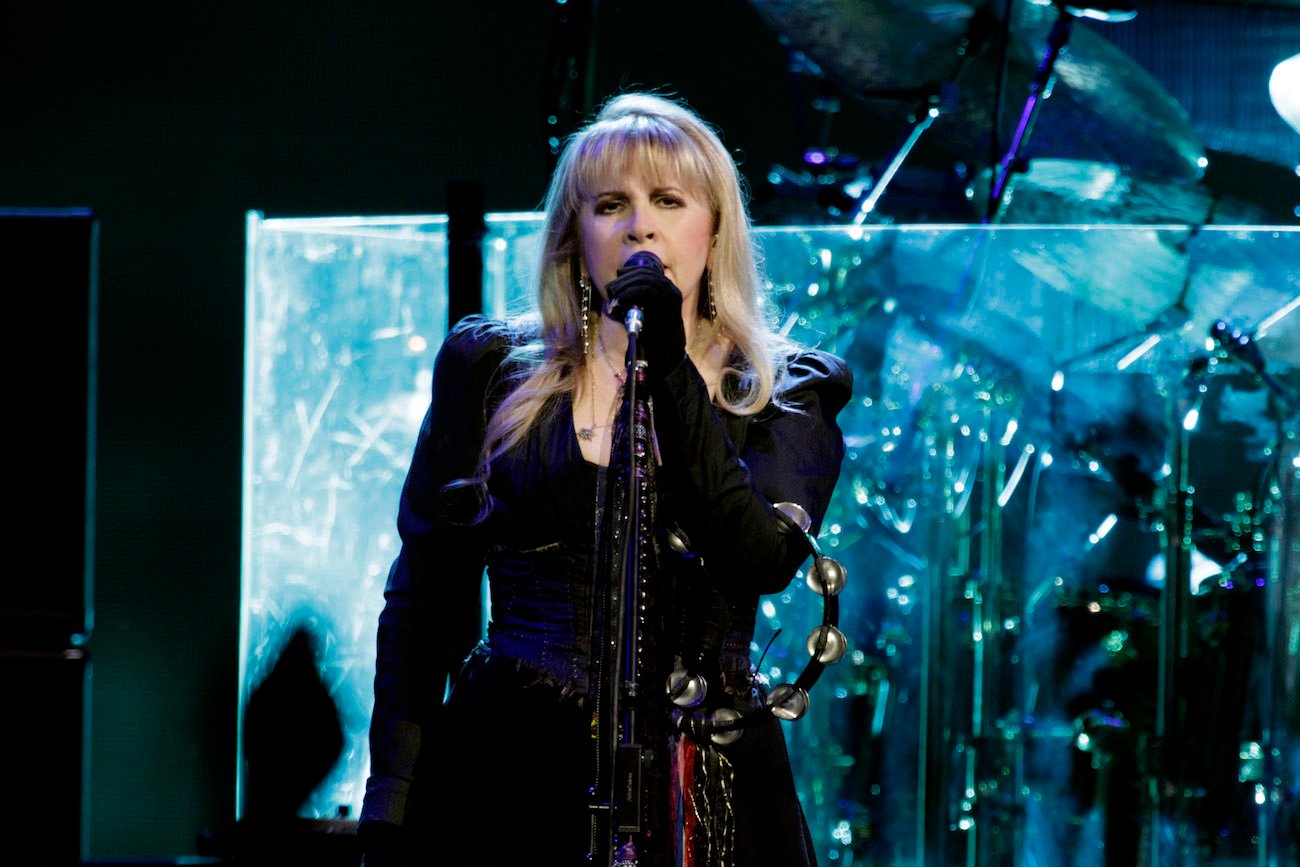 Stevie Nicks' '24 Karat Gold: Songs from the Vault' took her 30 years to make
Nicks released her eighth solo album, 24 Karat Gold: Songs from the Vault, in 2014. Why it took her so long is in the name-songs from the vault. The album consists of new versions of demos recorded between 1969 and 1987 and two songs from 1994 and 1995. So, essentially, the album was full of songs that Nicks had pushed aside for later.
Nicks called the album 24 Karat Gold because "these are the golden songs," she explained on Today. Fleetwood Mac recorded some of the songs, but she wasn't happy with the arrangement, so she pulled them. She recorded other songs but, again, she wasn't satisfied with them, so she decided to stock them away. Other times, songs got pushed aside because there were too many mid-tempo, slow, or ballad songs, and "something has to go."
"So, these are those songs that were all supposed to be on records somewhere between '85 and 1990, really. And just for whatever my reasons were, I pulled them back," Nicks explained.
Nicks said she's not "more proud" of any of the tunes, but she said she really loves "Lady" because it's the first song she ever wrote on the piano. She held it back because she thought maybe one day someone would write a musical about it. However, she told Vulture that her favorite song on the album is "Mabel Normand," which Nicks wrote after doctors told her she'd die if she snorted cocaine again.
Interestingly, the album almost wasn't made. The songs could have continued to collect dust (not gold dust) if it wasn't for YouTube.
Seeing her bootlegged demos on YouTube inspired Nicks to record the songs
The first half of the 2010s proved to be very busy for Nicks. She recorded her album In Your Dreams with her friend Dave Stewart. She even dropped her selfishness and penned most of the songs on the album with him. Nicks released the album with a documentary that Stewart shot and produced in 2011. Then, Nicks reunited with Fleetwood Mac (this time with the entire Rumours lineup, including Christine McVie) in 2013.
They spent most of that year on the road, yet Nicks still had the time to start tentative plans for 24 Karat Gold. But she never would have thought to make the album if she hadn't login onto YouTube.
Artists like Radiohead and Prince have scrubbed the internet and YouTube of their music, especially bootlegs. However, Nicks used the video platform as inspiration. After seeing her bootlegged demos on YouTube, Nicks decided to make the album. Clearly, many people wanted to hear the songs recorded.
She got Stewart back in the studio to help her produce, and it took only three weeks to record the album in Nashville. The "fastest I have ever recorded," she said during her acceptance speech at the BMI Pop Awards in LA (per Billboard).
"We went onto YouTube and we found all the songs that, somehow, were taken from my house or picked up or loaned out or whatever … and we went to Nashville (and recorded them)," Nicks told the Associated Press. "So they're like all starting from like 1969 maybe? I call them my 24 karat gold songs."
The cover photo for '24 Karat Gold' and other snapshots also came out of the vaults
The artwork for 24 Karat Gold also features never-before-seen Polaroid snapshots that Nicks took of herself late at night throughout the 1970s and 1980s. The self-portraits were then released in an exhibit at the Morrison Hotel Gallery, courtesy of Stewart, who found the photos in an old shoebox. He persuaded Nicks to let him release the images.
"I wanted to learn how to become a photographer," Nicks said in a statement about the exhibit (per Huff Post). "And since I don't sleep at night, I started thinking, who am I going to ask to stay up all night and then do a show the next night? Then I thought, well, why not use a plant, and I moved on from there." Soon, she replaced the plants.
Unfortunately, Nicks told MacLean's that she couldn't really enjoy the release of 24 Karat Gold after all that time of waiting to release the songs. She had to embark on another Fleetwood Mac tour shortly after completing the album. But considering Nicks says each of the songs is a lifetime, and each has a soul, she's probably pleased with how the album turned out.