Stevie Nicks' Advice to Younger Artists: 'If You're in a Band First, Never Break It Up'
Stevie Nicks is everyone's rock 'n' roll fairy godmother, but she has an even more special relationship with younger artists. Over the years, Nicks has taken great care in fostering relationships with the younger generation of rock stars. She's taken them under her white wing. Or should we say her under her shawl?
Nicks has seen and done a thing or two. Her 40 years in the business stand as a testament to that. So, if she gives an aspiring star some advice, they best take it. It's usually useful.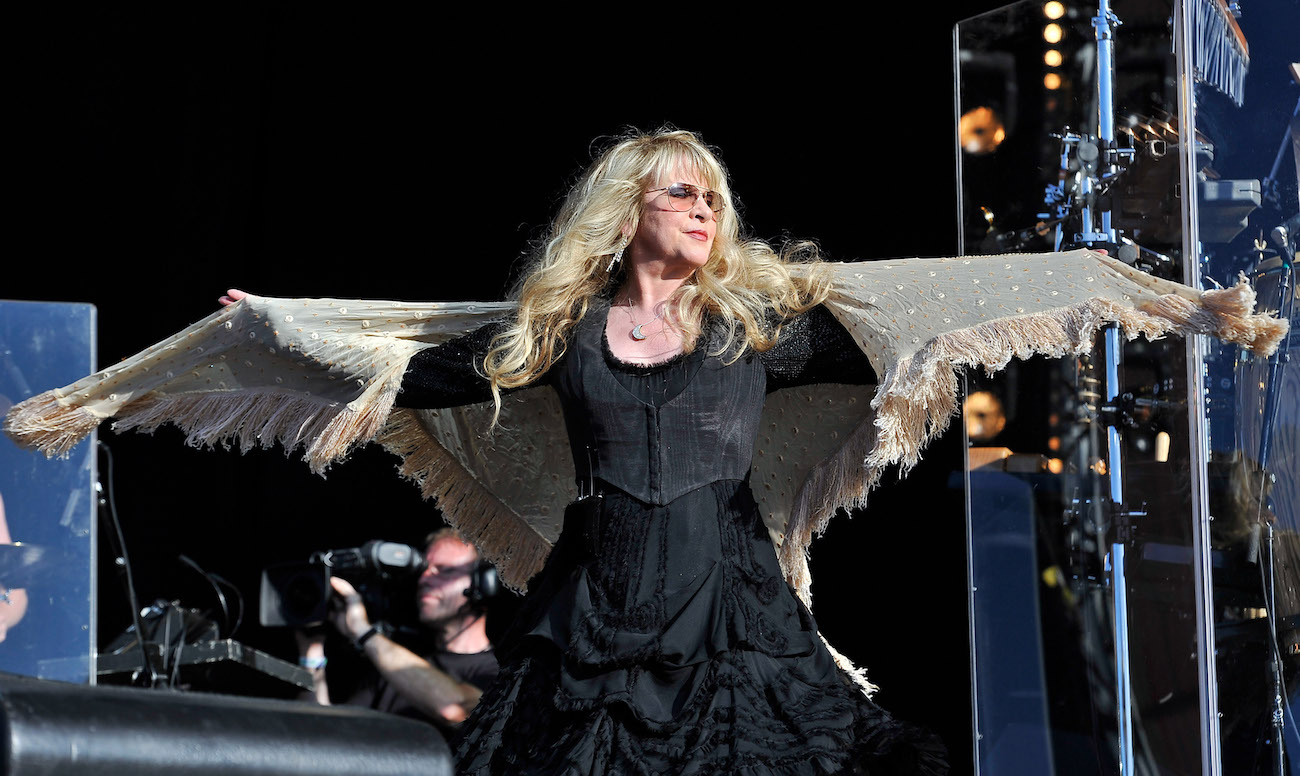 Stevie Nicks likes to foster relationships with younger artists because they inspire her just as much as she inspires them
During a 2020 interview with Vogue, Nicks explained why she likes having relationships with younger artists. She said that she enjoys being around new ideas. They inspire her just as much as she's inspired them.
Nicks said, "I'm inspired by them. I'm inspired that Miley wants to make music with me. I'm inspired that the Haim girls are my biggest fans—and I theirs. A lot of these kids are making the amazing records I've been waiting for them to make.
"I'm not like other 72-year-olds. I listen to current music because I want to be current. When people find out how old I am versus the music I'm listening to, they think it doesn't gel at all. I've been collecting musical knowledge since I was in the fourth grade listening to the singles my grandfather used to bring home.
"I listened to Buddy Holly and the Everly Brothers until the sixth grade when R&B radio became Top 40. I said goodbye country and hello R&B, so it's not like I'm ever stuck on one thing. What I love about Harry is that he's very old school but still modern. And that's kinda like me." 
However, that doesn't mean that Nicks can't teach these younger artists a thing or two.
Nicks' advice to younger artists is to have a double career like she has
Nicks always has advice for the younger generations. One thing she tells them is to have a double career. She's successfully juggled being Fleetwood Mac's frontwoman and her own solo career.
"When I decided I wanted to be a solo artist, I'd only been in Fleetwood Mac for a few years," Nicks continued to Vogue. "I tried to figure out a way to do it gracefully because I didn't wanna break up the band. I just wanted to sit at my piano and write poetry.
"After we did a record and a really long tour, the band scurried off to different parts of the world while I'd just be home writing songs for a year and a half. What did they care what I did while they were all on vacation? I've always said all the way through these two careers I've had: If you're in a band first, never break it up. 
"I know Beyoncé because I spent a day with Destiny's Child making the 'Bootylicious' video. I owe them a debt of gratitude because that's the one time I ever got to pretend I played rock-and-roll guitar! But when Beyoncé made the decision to be a solo artist, she did not see herself going back to Destiny's Child every couple of years.
"And that's a perfectly acceptable decision because sometimes that's what people wanna do. I, on the other hand, said, 'Why not have the ability to go back to Fleetwood Mac whenever I want?' Being a Gemini, I get bored really easily, so being able to have those two careers was great."
However, this advice doesn't apply to artists who've started as solo artists, like Taylor Swift, or artists who've had their groups completely disband, like Harry Styles' One Direction.
Nicks thinks Harry Styles would be open to leaving the One Direction door open
Styles didn't get the chance to decide if he wanted to continue with One Direction and start his solo career simultaneously. They broke up, and starting a solo career was the only option. However, Nicks thinks Styles will leave that door open just like she left the Fleetwood Mac door open.
"For all we know, One Direction is completely broken up forever," Nicks said. "But I think those guys are friends, and five or ten years down the road, they could all go, 'You know what, wouldn't it be really fun to do a One Direction tour?'
"Because that's what people do. I wouldn't be surprised if they did reunite at some point just because they can. And because it would just be fun. Harry is the kind of person who would never stomp on that idea. He would never say, [imitates posh English accent] 'Never! I would never do that again!' Because why not just keep the door open? 
"For me, it was a very successful union. I started writing songs for my solo career during the Rumours tour in 1978. Chris would tinker around on the piano with me and sing parts while I wrote 'Edge of Seventeen.' I knew what was coming and I was excited about it, but that didn't make me any less excited about Fleetwood Mac.
"Harry could've lost a lot of fans, but he didn't. I'm so proud of him because he took a risk and didn't go the One Direction route. He loves One Direction, I love One Direction, and a gazillion other people do too, but Harry didn't wanna go the pop route. He wanted straight-up rock and roll circa 1975."
So, Nicks' advice doesn't exactly apply to Styles, but it does for other younger artists. Whether those artists take that advice is another issue.