Stevie Nicks Is Always Sad After a Concert: 'It's Very Hard to Just Walk Away From Them'
Stevie Nicks hates saying goodbye to her audience at the end of a concert. She would rather talk to everyone instead of going to her hotel room.
Stevie Nicks finds it hard to say goodbye to her fans after a concert. We don't blame her; Nicks lives for her fans. After a performance, Nicks would love to stay and chat with her audience well into the night. However, when midnight strikes, Nicks doesn't get to stay in her fairy tale.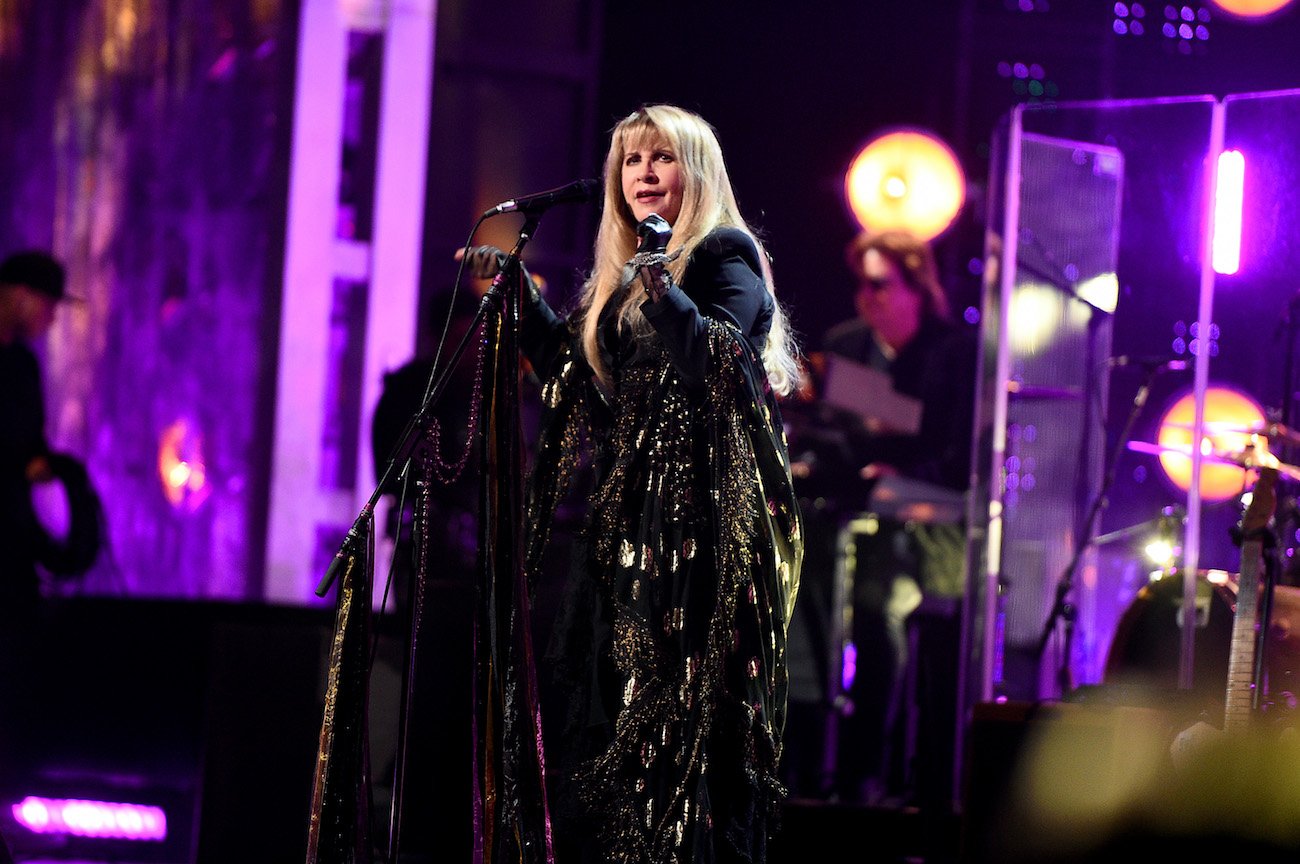 Stevie Nicks has an emotional moment with Christine McVie after every Fleetwood Mac concert
The members of Fleetwood Mac have been performing for over forty years. Now, they're into their 70s and have their own forms of motivation to go out each night and make the fans happy. Nicks has many motivational tools. She has her picture of George Harrison, her expensive massage chair that travels with her, and, of course, the fear of "getting small" in retirement.
However, just getting to sing with her fellow frontwoman, Christine McVie, motivates Nicks. MacLean's asked Nicks about the most emotional moment she'd experienced while touring with Fleetwood Mac. Nicks explained she shares an emotional moment with McVie at the end of each show.
"When I finish [performing] Silver Springs [with Lindsey Buckingham], Christine [McVie, Fleetwood Mac's keyboardist and vocalist] waits for me and takes my hand," Nicks said. "We walk off and we never let go of each other until we get to our tent. In that 30 seconds, it's like my heart just comes out of my body."
Nicks needs that support leaving the stage after a concert; otherwise, she wouldn't. If it were up to Nicks, she'd stay with her audience until the cows come home.
Nicks is sad after a concert because she doesn't like leaving her fans
In 1982, Nicks told High Times that she felt sad after a concert. She'd rather stay and talk about her performance with her audience than go back to her hotel room.
"When you come back to your hotel, and you've been in front of fifteen thousand people… I would like to sit down in the audience and talk to them about what's happened," Nicks said. "Bring like a podium up and ask questions and have everybody tell me what they think.
"It's very hard to just walk away from them. You certainly don't go to sleep; you can't. It's like falling in love with somebody and having yourself turn into a pumpkin and you're back mopping the floor. That's the hardest thing—all that energy around you and walking away from it.
"You have much less than they do because you come back to a motel, they go home. If I could go home after every concert and have my puppies and my cats and my friends, whoever, it wouldn't be so difficult. To go back by myself to a hotel room is a real downer."
She continues to tour with Fleetwood Mac because of the fans
MacLean's asked Nicks if it's been worth it, constantly putting her solo career on the backburner whenever Fleetwood Mac wants to tour again. Nicks replied that it has been worth it because it makes the fans happy.
"You get to a point in your life where some things have got to go if anything else new is going to come in," Nicks said. "Then you face the fact that the Fleetwood Mac tickets sold out in three weeks for 80 shows. I don't want to hurt anybody's feelings. I don't want the audiences to be disappointed. I want everybody to be happy. I want the people in Fleetwood Mac to be happy."
We don't know if Nicks will continue to be there for every Fleetwood Mac concert. However, it is comforting to know it's just as hard for Nicks to leave us after a show as it is for us to leave her.