Stevie Nicks' Angry Words to a Lover Gave Tom Petty a Massive Hit Song
Stevie Nicks and Tom Petty collaborated on songs together in the 1980s. One of Petty's popular songs was inspired by Nicks, but she didn't actually have anything to do with the songwriting process. Instead, its chorus came from words she said to musician Dave Stewart after a night together. Stewart wrote the song "Don't Come Around Here No More," intending to give it to Nicks. Instead, it became a hit for Petty.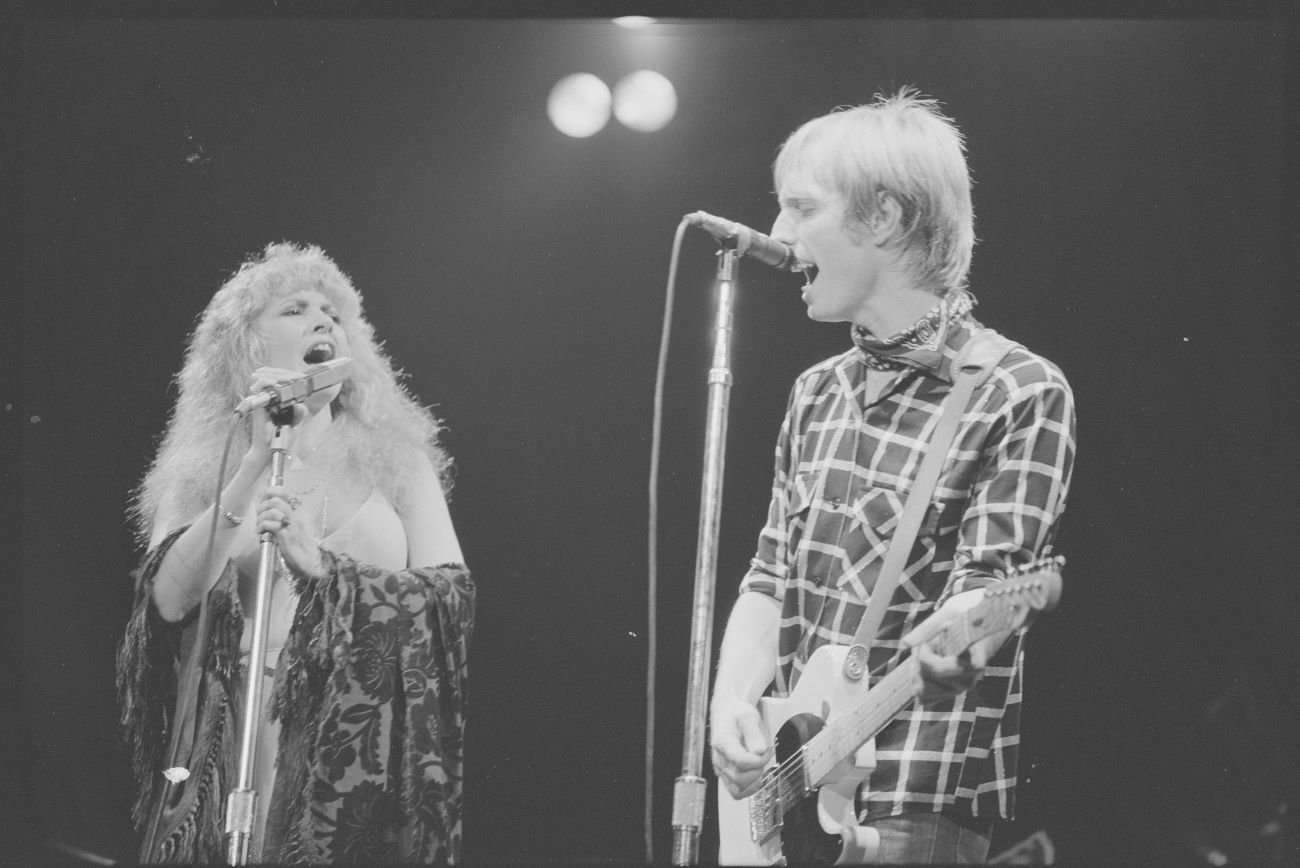 The Fleetwood Mac singer was dating Joe Walsh in the 1980s
In the 1980s, Nicks fell deeply in love with the Eagles' Joe Walsh. She describes it as love at first sight.
"Why do you love somebody? Why do you love them so much that when they walk in the room your heart jumps out of your chest? I don't know," she said to the Telegraph. "But I fell in love with Joe at first sight from across the room, in the bar at the Mansions Hotel in Dallas. I looked at him and I walked across the room and I sat on the barstool next to him, and two seconds later I crawled into his lap, and that was it."
She considers him the great love of her life, but drug and alcohol use on both sides began to strain their relationship.
Tom Petty released a song based on Stevie Nicks' words
After a massive argument over the phone, Nicks believed her relationship with Walsh was over. Per the book Stevie Nicks: Visions, Dreams, and Rumours by Zoë Howe, Nicks met Stewart the following day and was charmed by him. They ended up spending the night together. The next morning, Stewart awoke at 5 a.m. to see Nicks pacing around her room.
Nicks still loved Walsh, so when Stewart asked if they should see each other again, she refused, telling him, "Don't come around here no more."
"I threw him out of bed and started dressing him," she said. "All this leather! All these chains I was threading through!"
Nicks' words rattled around in Stewart's head, and he wrote the song "Don't Come Around Here No More," intending to give it to her. He invited Petty to the recording session, but Nicks missed a critical part.
"Dave wrote that song for me and we took it in with Jimmy Iovine, then we called Tom and he came down. I went home because I was tired and when I came back the next day it was all written, and it was fantastic. Being a huge Tom Petty fan, I listened and said, 'So, what, I'm going to rewrite this song and write better words than Tom Petty did?' I was very pissed off, and at the same time, very much enamored with the song. I knew this was going to be the second coming of Tom Petty."
She was right. Because Nicks liked Petty's version better, he released it on his album Southern Accents. The song became a hit.
Stevie Nicks once accidentally stole a song from Tom Petty
Nicks took Petty's song "Stop Draggin' My Heart Around" for her debut solo album. She also accidentally lifted a song from him. 
Nicks was working off of Heartbreakers' guitarist Mike Campbell's demos and wrote the song "Ooh, My Love." The problem was, Petty always went through the demos first and then passed the ones he didn't want onto Nicks. This wasn't one he'd passed to her. She called Petty to listen after recording it.
"I loved it so much, I called Tom and said, 'Listen to this.' What an idiot, right?" she told Rolling Stone in 2019. "Let's play him the song you stole over the phone! Tom just starts screaming at me on the other end of the phone. I'm realizing, 'How stupid are you, Stevie?' So I had to go in the next day and tell Fleetwood Mac, 'Guess what, we can't do this song.' 'Why can't we do it?' 'Because I stole it from Tom Petty, and I'm absolutely a total criminal and a thief.'"
RELATED: How Stevie Nicks Formed a Lifelong Friendship With Tom Petty by 'Refusing to Go Away'