Stevie Nicks Has Conflicting Thoughts on Whether She Needs Heartbreak to Write Songs
Stevie Nicks has given conflicting answers on whether she needs to have heartbreak in her life to write songs. She once said you can't be blissfully happy and write a good song.
Stevie Nicks has used everything under the sun and moon to help her write songs. She's most famous for using her breakups as ammunition, and it hasn't exactly hurt her career. However, Nicks has some conflicting thoughts about what it takes to write good songs.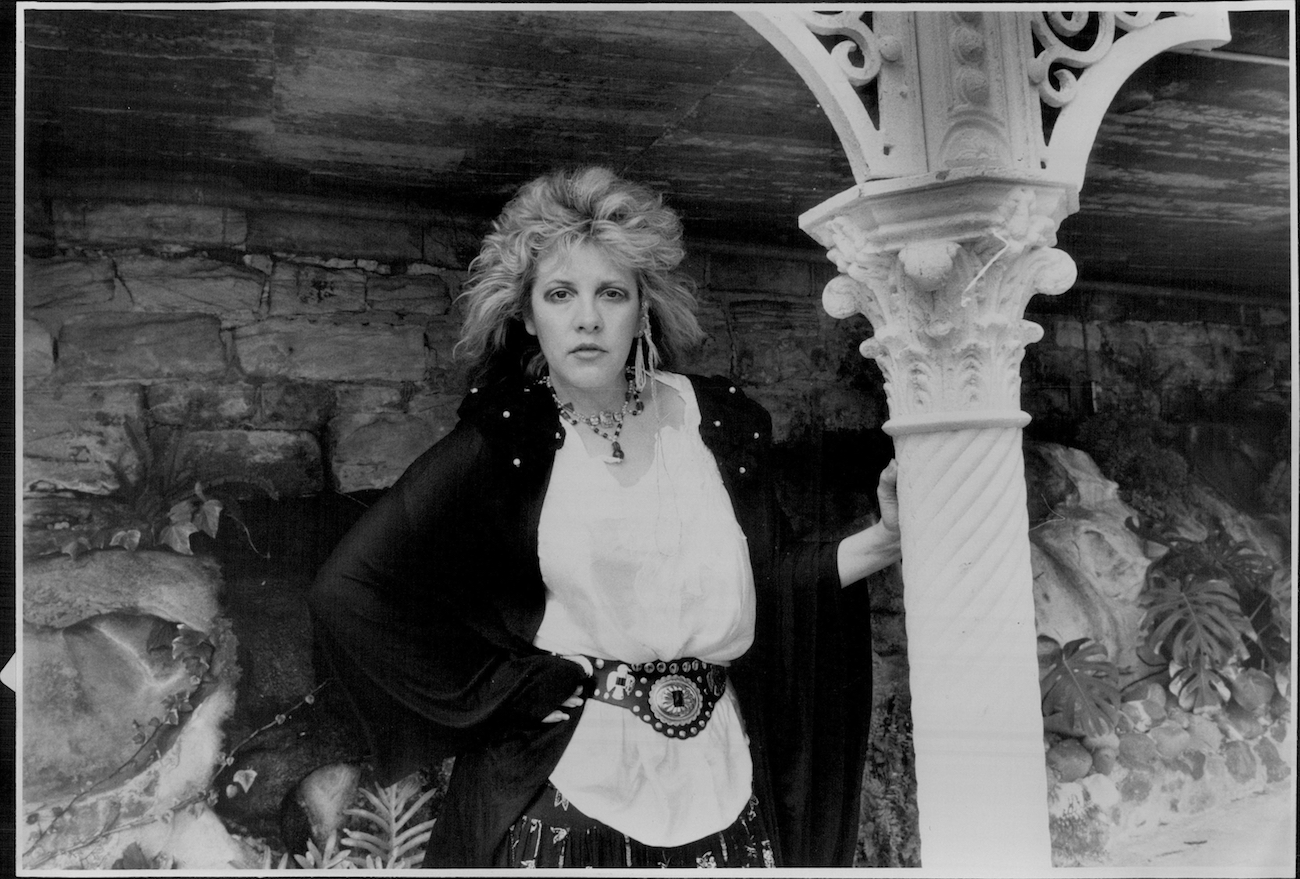 Stevie Nicks said songwriters who are 'blissfully happy' can't write good songs
In a 1981 interview with BAM magazine, Nicks revealed what it takes to write hit songs. The publication asked the Fleetwood Mac frontwoman, "Some people believe that writers–artists in general–work best when they have inner turmoil: that happiness isn't inspiring, but pain is. Do you agree with that?"
Nicks replied that she did. "I think a little turmoil probably helps. I don't go looking for it so I can write [laughs], but then I never sit down and write a happy song," Nicks explained.
She continued, "I think there is something to that theory, because the person who is searching and never quite finding what he wants, who is constantly challenged, is going to write better songs than somebody who is blissfully happy.
"If you're blissfully happy, what else is there to say? And how many people are blissfully happy enough that they can relate to what you're writing? As close as I get to writing happy songs are ones that aren't un-happy. I've written my share of miserable songs, but I haven't recorded many of them."
However, Nicks recently said she never thought she had to be a 'tortured artist or experience heartbreak' to write songs.
Nicks never thought she had to experience heartbreak to write songs
In a new interview with the New Yorker, Nicks contradicted her earlier statements to BAM. The New Yorker asked her, "So you never thought you had to be, like, a tortured artist or experience heartbreak to write songs?"
Nicks replied, "No, but I don't think that you pick your experiences in heartbreak. 'Gypsy' was about my friend who died [Robin]. And that was the worst year of my life, you know? But I wrote 'Gypsy' about it, and about her. Little bits of her are in a lot of my songs.
"So you can use the tragedy. 'Always been a storm' [from the song 'Storms']—that I wrote about my best friend who moved in with my boyfriend, Mick, and her husband had to call and tell me that. 'Sarah moved in with Mick, I just wanted you to know that.'
"And I jetted out the back door into the mountains and sat out there for three hours contemplating my future, 'cause, well, I just lost my best friend and I lost Mick, and I'm in a band with Mick, which means I can't just dump Mick.
"The song, it says, 'Every night that goes between I feel a little less / As you slowly go away from me / This is only another test / Every night you do not come, your softness fades away / Did I ever really care that much? / Is there anything left to say? / Every hour of fear I spend, my body tries to cry / Living through each empty night, a deadly calm inside.'
"And then it says, you know, 'Never have I been a blue calm sea / I have always been a storm.' So that came from that. And you know what? That's worth it. That's worth going through. And then, when you go back to sing those songs, you reattach yourself to what happened.
"And it's O.K. because it's not forever. It's just for that moment. So, every time I sing that, I'm sitting up there on that mountain looking down at Doheny Drive in L.A., trying to figure out how I was going to make it through this."
Nicks said people don't mind 'a little misery, but they also like happy endings'
Continuing to BAM, Nicks explained that people "don't mind a little misery, but they also like happy endings. It's nice to leave some hope at the end that things will work out." However, she said her once-Fleetwood Mac bandmate and ex-boyfriend, Lindsay Buckingham, doesn't do that.
"See, Lindsey won't do that," Nicks said. "He'll say, 'Go your own way,' I wouldn't, most likely."
Still, Nicks' comments on whether she needs heartbreak to write songs are confusing. In her comments to BAM, she said she doesn't go looking turmoil, but it definitely helps make a good song. Then in her comments to the New Yorker, Nicks said she didn't think she needed to feel heartbreak to write songs but often uses tragedy to help her.
Either way, Nicks has used her life experiences to write songs. Writing about her turmoil helped her get through it most of the time. Songwriting is a great outlet.