Stevie Nicks and Dave Stewart's Friendship Started Out as a Drug-Fueled Fling
Not every friendship starts conventionally. Stevie Nicks and the Eurythmics' Dave Stewart know all about friendships that begin bizarrely. Their long-time friendship started as a drug-fueled fling. Fortunately, their fling didn't make things awkward between them. They realized they were better suited as friends and have remained as such for decades. Since then, they've collaborated on several different projects, and Nicks considers Stewart one of her closest confidantes.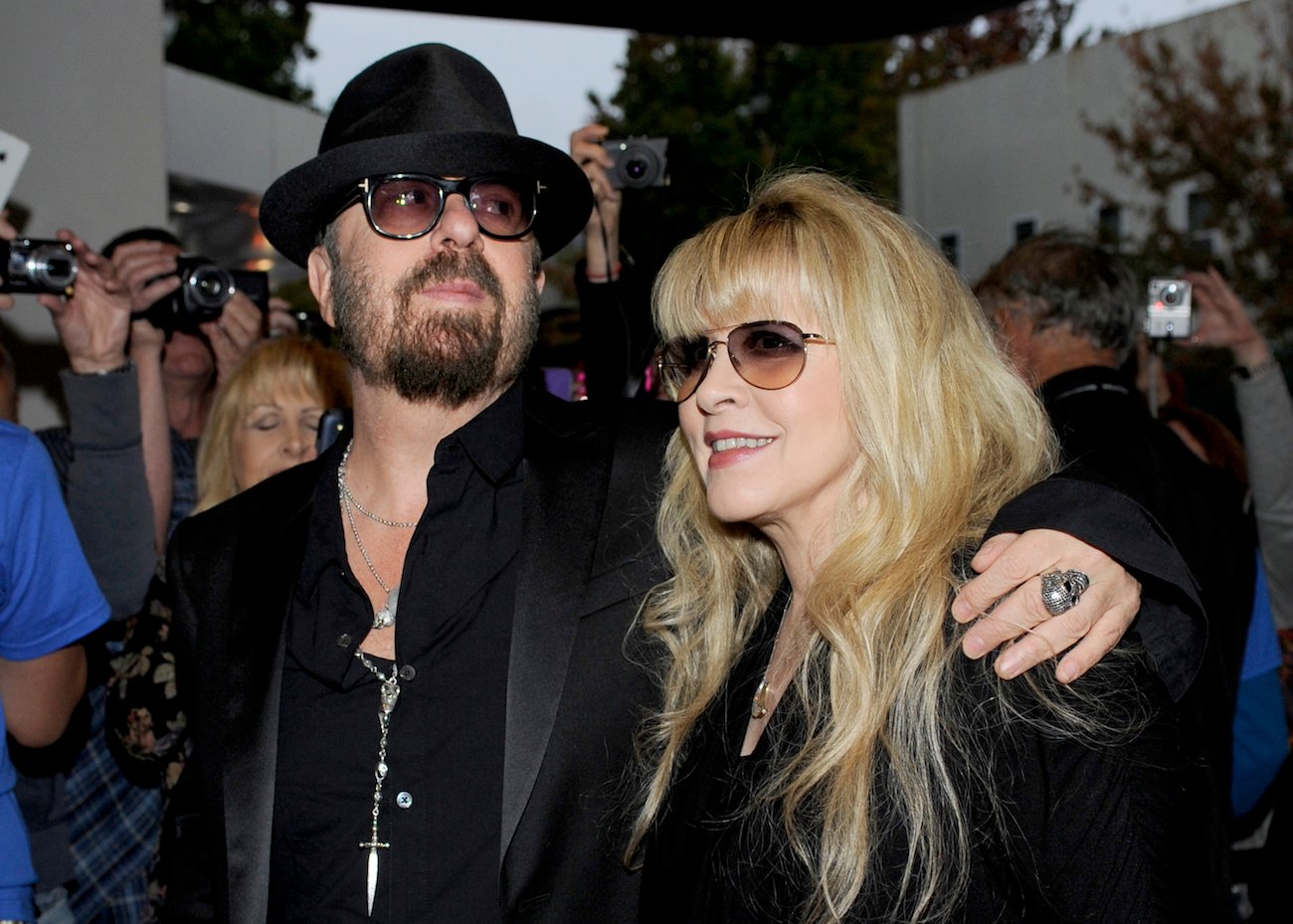 Stevie Nicks and Dave Stewart met at a Eurythmics concert in the 1980s
Nicks had just split up with the greatest love of her life, The Eagles' Joe Walsh, when she decided to attend a Eurythmics concert in 1984. According to Stewart's memoir, Sweet Dreams Are Made of This: A Life in Music (per Billboard), he remembered seeing Nicks backstage but "didn't know who she was." However, Stewart wrote, "there was something about her that I was instantly attracted to."
"Stevie remembers that I looked her straight in the eye and said, 'I want to be your ­boyfriend,'" Stewart continued. After he'd played that night in Los Angeles, Nicks invited Stewart back to her place. "It wasn't really a party: just Stevie and her singers being very speedy, laughing and talking."
"The house seemed enormous to me, so I wandered around, and when I came back to the living room, they had all disappeared into a bathroom for what seemed like hours," Stewart continued. "Actually it was hours. At around three in the morning, I ended up saying to myself, 'OK, I'm really tired now and I have no idea where I am or which hotel Annie [Lennox] and the band are staying in.'
"I just went to bed in one of the four bedrooms upstairs. I woke up at about 5 A.M. to the sound of doors rustling open and in the half-light saw Stevie opening and closing closets, as if it was the middle of the afternoon. Obviously, they were all still wide awake, aided, I imagine, by what we in England call 'marching powder.'"
Stewart couldn't have known Nicks was "nocturnal." She has a very late bedtime, so, of course, she was still awake by the time Stewart woke up in the middle of the night.
RELATED: Stevie Nicks Says This 1 Part of Her Career Helped Her Forget About Menopause
Nicks and Stewart had another awkward encounter
Many celebrities can sleep together and then pretend like it never even happened. That seems to be the case for Stewart and Nicks' night of passion. After waking Stewart up with her rustling, Nicks jumped into bed with him, and they made love twice.
"It was all very good-humored and sweet, but also romantic in a rock 'n' roll kind of way," Stewart explained. Nicks asked him to leave that morning, explaining, "someone might have been coming around to collect their clothes, and things could get tricky."
"I didn't like the sound of 'tricky,' so I phoned my management, found out where the band was ­staying and jumped in a cab," Stewart continued. Things got complicated after that. Stewart went back to LA to see Nicks, who was recording an album with Jimmy Iovine. Nicks and Iovine had been together while they'd worked on Nicks' previous album, Bella Donna.
Stewart showed Iovine his newest song, "Don't Come Around Here No More," and Iovine suggested recording it with Nicks. However, when Stewart came back to record the song with Nicks, she was acting weird. She and Iovine had broken up, and things were awkward between them.
Eventually, Iovine said to her, "Can you stop arguing with me in front of my friend David? You don't really know him." To which Nicks said, "Your friend? What are you talking about? We slept together the other night." Nicks stormed out, and Stewart thought he was going to get an ear-full from Iovine. But the producer acted like he'd not heard Nicks and said, "I know what we should do. We should get Tom Petty down here to finish writing the song with you. He's great."
RELATED: Stevie Nicks Has a Famous Dip Named After Fleetwood Mac
Nicks and Stewart later became friends
After becoming acquainted with one another, Stewart and Nicks started working together and developed a sweet friendship. They've recorded a couple of songs together for Nicks' album In Your Dreams, and Stewart also directed a documentary about the album's making.
Later, Nicks worked with Stewart on 24 Karat Gold: Songs from the Vault and a photo exhibition of the same name. In 2020, Stewart hinted that he was working with Nicks on new music.
No matter how their friendship started, it's clear that Nicks and Stewart are very close now. They recognized they were better off as friends rather than starting a romance and potentially ruining their relationship. After the awkwardness, they let the music guide their friendship.