Stevie Nicks Didn't Plan to Be a Rock Star Past 1987 — She Wanted to Settle in a Log Cabin in the Mountains With a Typewriter and Piano
Stevie Nicks didn't anticipate being a rock star past 1987. Once she became middle-aged, she wanted to settle down in a log cabin in the mountains with a piano and a typewriter.
Stevie Nicks has made some contradicting statements about when she thinks she'll throw in the towel and quit being a rock star. In 1982, she said she couldn't see herself continuing in the music business past 1987. However, years later, Nicks stated that day would come when she was 75 years old. Either way, if she stopped making music, Nicks said she couldn't possibly retire completely. She has big plans.
Currently, though, it doesn't look like Nicks will be heading to the recording studio or the stage any time soon due to her fear of catching coronavirus. So, we'll have to see if Nicks does what she initially said she'd do when she sacks it all in, settling in a log cabin in the mountains with only a piano and a typewriter to keep her company.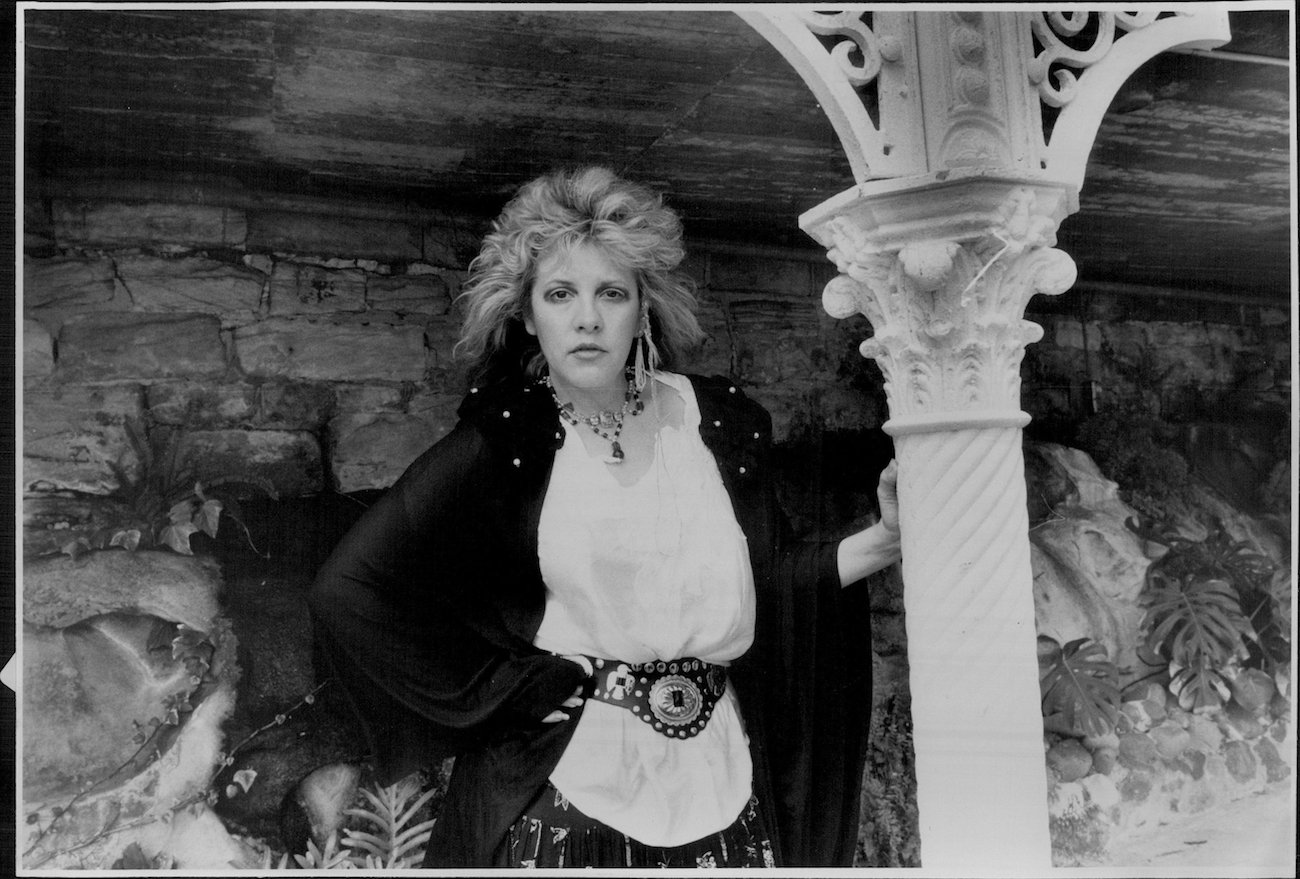 Stevie Nicks didn't want to be a rock star past 1987
In 1982, Nicks spoke to High Times about her recently released solo debut, Bella Donna. Even though the album was a critical and commercial success, Nicks reflected on when she thought she'd want to quit being a rock star.
High Times pointed out, "You've said that in middle age, you'd like to be on top of a mountain with a piano and a typewriter." Nicks replied that she expected to continue for only another five to six years.
"I would, I look forward to that," Nicks said. "I love my performing and I'll do that for another five or six years, but there will be a point in my life when what I'll really want to do is go away and write. And I'll write about all of this. I've already written thousands of pages.
"The story's written already. I'll want to add to it and I want to put it together and it'll be an incredible book. It'll be full of poetry and all of the songs that you've heard. All the real happy parts and all the sad parts. And the real difficult parts are in there.
"And that's what I want to do eventually. I'll want to go and really put that together. But now I'll work toward being able to tell as much of my personal life in my songs—that's as much as I have to give right now."
In 2002, Nicks said she'd go to her mountain when she was 75 years old
Obviously, Nicks never retired in 1987. However, she did update her plans for the future in 2002. During an interview that year, the interviewer said, "When you're 75, I've heard you say you'd just like to be on top of a mountain somewhere, with a huge grand piano, in a beautiful house. Is that still what you want?"
Nicks replied that she still wasn't ready for all that. "For now, that's not what I want," she said. "I want to be around people, I want to perform in front of thousands and thousands of fans.
"I want to record, but yes, by the time I'm 75 I would love that. Just me, my typewriter, my piano and some beautiful huge log cabin on top of the snow-covered mountains. Looking down out some big window, and maybe come out every once in a while and play some benefit show."
Nicks even hoped that she'd have someone with her on that mountain, whether they be a friend or a romantic partner. "There will be somebody," she continued. "A friend, a man, someone. I don't like being 100% alone. Right now I'm not involved with anybody, but I hope by 75 I will be again. But right now it's still just not my goal."
Nicks said she'll never retire — but she doesn't look like she'll be performing for awhile
The "Gypsy" singer doesn't seem to know when she wants to stop being a rock star fully. However, she's firm on the belief that she'll never retire. Whether that means never retiring from music or never retiring from being in the spotlight altogether, we're not sure.
In 2017, she told Rolling Stone, "I'll never retire. My friend Doug Morris, who's been president of, like, every record company, said to me once, 'When you retire, you just get small.' Stand up straight, put on your heels, and get out there and do stuff."
Nicks might not be making music in the future, but she'll still be in our lives doing other things like making a Rhiannon mini-series. She told Rolling Stone that she could still do that while making new music.
"I want to do a miniseries for the stories of Rhiannon and the gods of Wales, which I think would be this fantastic thing, but I don't have to retire from being a rock star to go and do that. I can fit it all in," Nicks explained.
However, she also told Vulture that she'd start those kinds of projects when she's 70 years old and living in a castle in Scotland. "Those are, like, when I'm 70 and can rent a castle in Scotland on the ocean and just take all my books and go there and write.
"I have all these amazing projects that I'm never gonna get to, for years and years and years and years. So the things that I can get to now, you need to start. Stop wasting time, basically." Does that mean she won't be a rock star anymore?
We're not entirely sure what Nicks' plans are. In about two years, Nicks will be 75 years old (she turns 74 in May), the age she said she'd be when she goes to her log cabin. Although, she might already be there, or at least ready to be.
Nicks has said that she's deathly afraid of catching COVID-19 because if she needs a ventilator, it'll ruin her voice. So, she's been staying away for the most part. She canceled her 2021 tour dates, and Christine McVie doesn't think she'll tour with Fleetwood Mac again.
However, Nicks may be working on her mini-series remotely. One thing's for sure; Nicks likes to keep us on our toes.