What Stevie Nicks Envies About Harry Styles' Career: 'As a Woman, I'm Not Free to Do All That'
Stevie Nicks and Harry Styles are kindred spirits, but they do have their differences. There are certain things that Styles can do in his career, being a male singer in modern times, that Nicks could have never done as a female singer in the 1970s. Still, she doesn't fault him.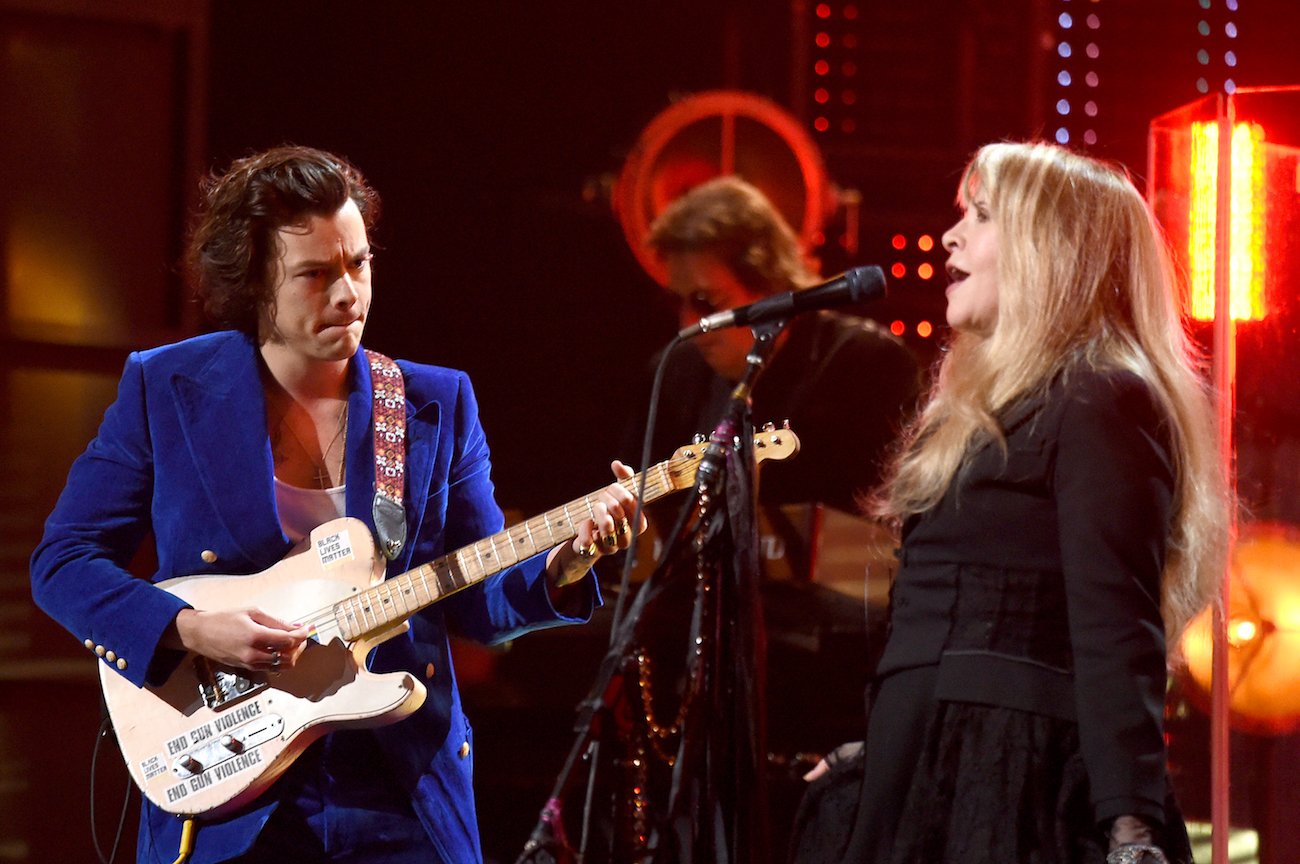 What's similar about Stevie Nicks and Harry Styles' careers
During an interview with Vogue, Nicks talked about what makes her and Styles click. She said they connect because they're both "very old school but still modern." Nicks also explained how their careers are similar. They successfully transitioned from being in massively popular groups to equally massive solo careers.
"When I decided I wanted to be a solo artist, I'd only been in Fleetwood Mac for a few years," Nicks explained. "I tried to figure out a way to do it gracefully because I didn't wanna break up the band. I just wanted to sit at my piano and write poetry.
"After we did a record and a really long tour, the band scurried off to different parts of the world while I'd just be home writing songs for a year and a half. What did they care what I did while they were all on vacation? I've always said all the way through these two careers I've had: If you're in a band first, never break it up.
"'Why not have the ability to go back to Fleetwood Mac whenever I want?' Being a Gemini, I get bored really easily, so being able to have those two careers was great."
Styles didn't have the luxury of maintaining his career in One Direction while pursuing his solo career. However, Nicks thinks he'll keep the door open just like she's done for Fleetwood Mac over the years.
"I wouldn't be surprised if they did reunite at some point just because they can," she said. "And because it would just be fun. Harry is the kind of person who would never stomp on that idea. He would never say, [imitates posh English accent] 'Never! I would never do that again!' Because why not just keep the door open?" 
Nicks on the differences between her and Styles' career
Although Nicks and Styles have similar personalities and were able to go from being in successful groups to equally successful solo careers, there are things that Styles can do that Nicks was never able to.
"Harry's able to live a freer life because he's a guy," Nicks explained. "He's like Mick. He has a free life." Vogue asked, "Would you say that you don't?" 
"I'm only comparing us in the way that Harry goes off to the Bahamas to work on songs, then flies back to L.A., then London, then Italy—I can't do that. I can't do that by myself. He's able to do whatever he wants by himself, and it's a whole different way of life.
"Being that Harry is a guy, he's able to be a loner more than I am. As a woman, I'm not free to do all that. Even when I was his age, I couldn't just get off anywhere I wanted. When we were on the road, Christine and I didn't have a clue in the world what the boys did.
"We went to our rooms with security guys standing outside. It's not like we ever escaped to go club-hopping in downtown Manhattan. We never got to live that life, so freedom as Harry knows it is very different than it's been for me."
Nicks loves mentoring younger artists
Even though Nicks wasn't as free to do certain things that Styles can, she isn't bitter about it. She still loves Styles and enjoys being a mentor to him and other younger artists. Nicks didn't have anyone like her growing in the business.
"I didn't really have anyone," Nicks said about having her own mentor. "If I had any guiding force at all, it probably would've been Christine McVie because she was five years older than me. And five years is five years, you know? Chris was friends with Eric Clapton and knew all the famous musicians in London.
"Thank God I had her, but on the other side of that, thank God she had me. We really were a force of nature."
Nicks also loves mentoring Styles and other younger artists because they inspire her and keep her current. Nicks said, "I'm inspired by them. I'm inspired that Miley wants to make music with me. I'm inspired that the Haim girls are my biggest fans—and I theirs.
"A lot of these kids are making the amazing records I've been waiting for them to make. I'm not like other 72-year-olds. I listen to current music because I want to be current."
So, Styles might be more accessible, but Nicks doesn't regret anything about her 40-year career.