Stevie Nicks' 'Gold Dust Woman' Dance Was Inspired by Drug Users She Knew
Stevie Nicks has an interesting name for the long dance she does on stage whenever she performs Fleetwood Mac's 'Gold Dust Woman' live.
Stevie Nicks has been twirling and dancing on stage since she was five. She's not about to stop now. She might have used drugs to keep her energy levels up throughout her career to help her dance for hours, but not anymore. In fact, some of her friends who used drugs inspired a special dance she always does when Fleetwood Mac performs "Gold Dust Woman."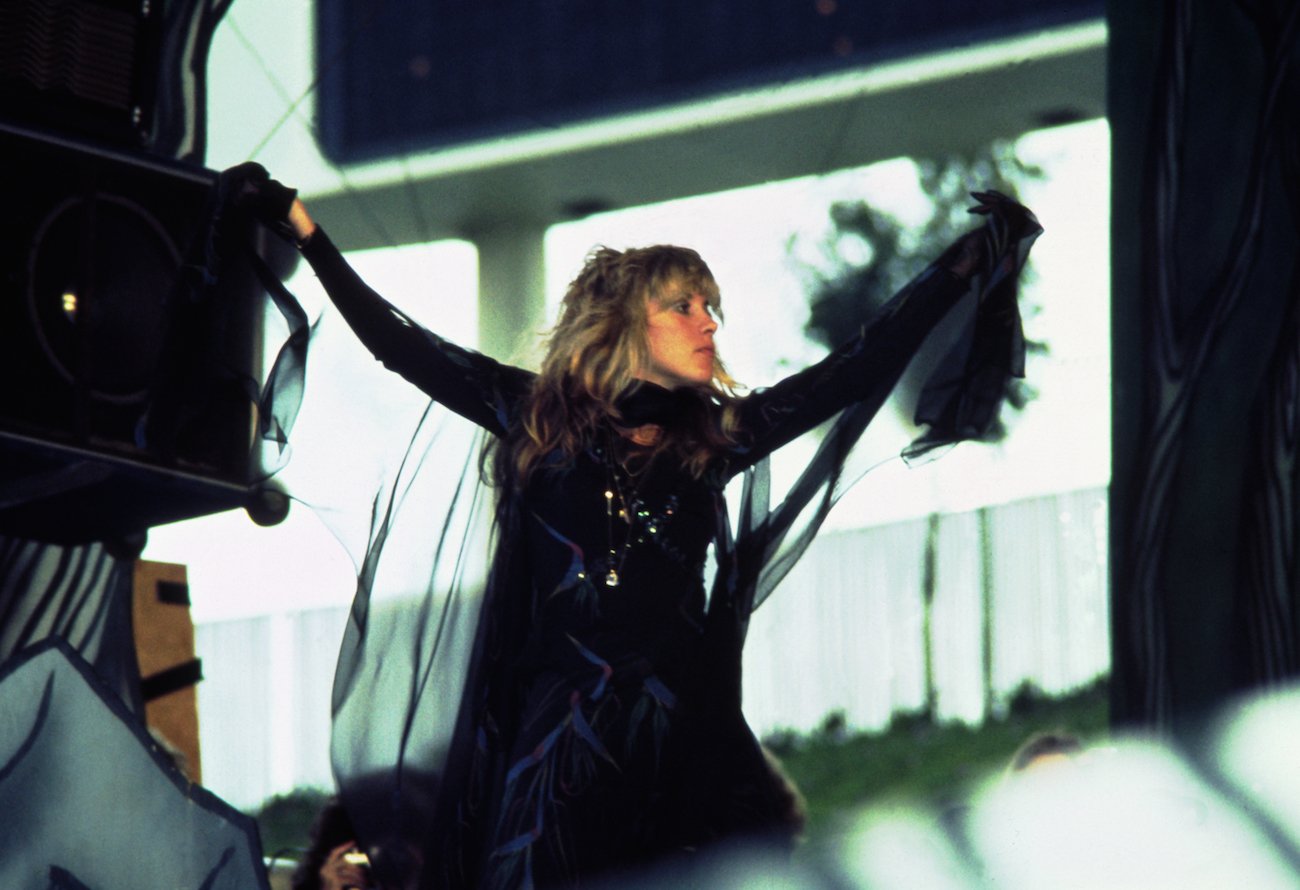 Stevie Nicks is glad she doesn't need drugs to keep her energy levels up when she wants to dance on stage
During a 2014 interview with Rolling Stone, Nicks explained that her younger self would have never imagined a day where she didn't need drugs to keep her energy levels up while performing. "We should all have your energy level," Rolling Stone told the Fleetwood Mac frontwoman.
Nicks replied, "And without drugs! [Laughs] If somebody had told me back then, 'You don't really need to do barrels full of cocaine — you have the energy. You were born with it. You never need drugs to do your work.' 
"But we got thrown into a bad time in the world when everybody said cocaine was inspirational and safe and non-addictive. And everybody was having fun, until they weren't. It sort of backfired."
Later, Nicks also realized she didn't need drugs to write songs. "As a person who came through a high drug culture, I would never tell people you must have an addiction to be able to create. I created this record over this last year not addicted to anything," Nicks said in a 2011 interview.
"So, I could have told myself all those years, 'Well, you have to be high to write a song.' It's not true; you don't. You have to be inspired to write a song." However, Nicks also said blissfully happy songwriters couldn't write great songs.
Nicks' 'Gold Dust Woman' dance has an interesting name and was inspired by drug users she knew
Rolling Stone told Nicks that during her latest tour, she did 18 twirls on stage during the guitar solo in "Stand Back." They asked if she was "ever tempted to just stand there and take it easy onstage."
"Well, I'm very practiced at twirling," Nicks explained. "I would be so bored if I was up there just standing. I took a lot of ballet — I always wanted to work the dancing in.
"The reason I wear the ponchos and the big shawl-y chiffon things is because I realized from a very young age, if you were 5 foot 1, and you wanted to make big moves and be seen from a long way away, if you weren't twirling a baton of fire, you needed something that was gonna make you show up. Like a Las Vegas showgirl, really. You need big moves. If you're gonna dance, you gotta really dance."
However, one of the dances Nicks likes to do when Fleetwood Mac performs "Gold Dust Woman" has an unconventional name. "I do this long dance during 'Gold Dust Woman' — we call it the Crackhead Dance," Nicks continued.
"It's me being some of the drug addicts I knew, and probably being myself too — just being that girl lost on the streets, freaked out with no idea how to find her way."
Nicks' bandmates didn't like the 'Crackhead Dance'
When you're emulating what you saw drug users do when high, expect some harsh reactions. You can expect what Nicks' Fleetwood Mac bandmates initially thought of the "Crackhead Dance."
However, Nicks danced so often that they all got used to it. "Years ago Lindsay would have said, 'You can not do the Crackhead Dance onstage. Lose that.' But now he likes it, because it gives him a chance to jam and play guitar," Nicks said.
"When Christine saw it, she said, 'Wow, we've always known that 'Gold Dust Woman' was about the serious drug days, but this really depicts how frightening it was for all of us and what we were willing to do for it.' We were dancing on the edge for years."
Whatever the "Crackhead Dance" symbolizes, fans absolutely love it when Nicks does it. Hopefully, she'll be doing it for many more years to come.
How to get help: In the U.S., contact the Substance Abuse and Mental Health Services Administration helpline at 1-800-662-4357.