Stevie Nicks: What Happens at the 'Night of a Thousand Stevies' Ball?
Can you imagine a thousand Stevie Nicks' in one room? Well, that's sort of how the annual ball, "Night of a Thousand Stevies," looks like. The ball is a place where some of the world's biggest Nicks fans can come together and celebrate the singer, all while twirling in the most Stevie Nicks-esque costumes on the planet.
Nicks has never been before, at least, that we know of; she said she'd possibly attend in secret. For now, the thousand Stevies will just have to party without her, but what exactly happens at the ball?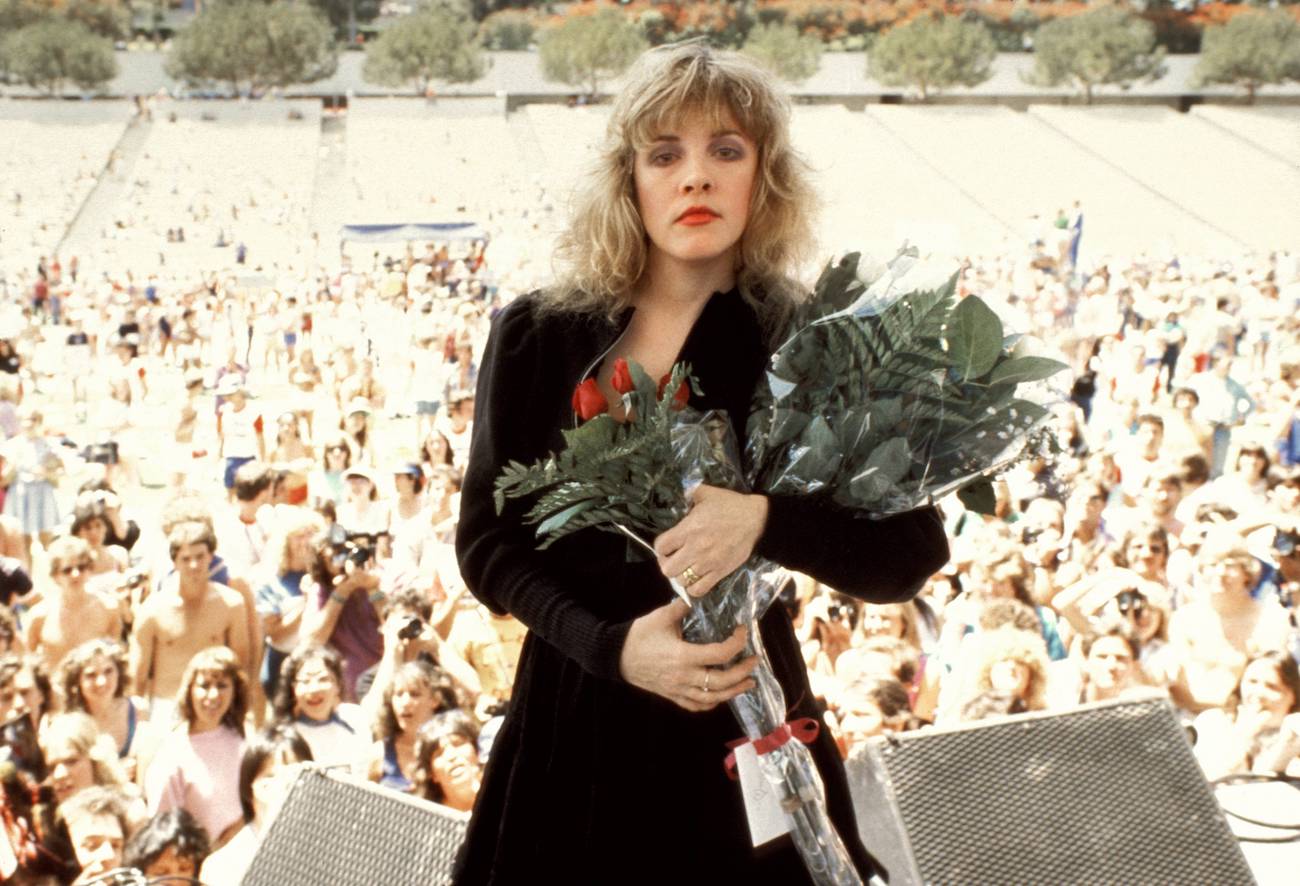 What happens at the Stevie Nicks tribute ball, 'Night of a Thousand Stevies'?
Each year, for the past 30 years now, some of the most diehard Stevie Nicks fans break out their shawls, lace, and velvet costumes and pack into Irving Plaza in New York City for "Night of a Thousand Stevies." They don't just celebrate Nicks; they become her.
"Stevie's one of the top rock idols for any woman," performer Heather Litteer told Rolling Stone in 2015. "It's incredible. It's like a sea. It's like the ocean of Stevies coming in."
The ball's website writes, "NIGHT OF 1000 STEVIES is the largest and longest-running STEVIE NICKS fan event in the world. The much-loved annual is produced by founders CHI CHI VALENTI and JOHNNY DYNELL and their JACKIE FACTORY production company.
"Neither a contest nor a karaoke show, NOTS is the Stevie Nicks celebration ne plus ultra- a riot of shawls, lace, baby's breath, twirling, tambourines and great performance."
Valenti and Dynell held the first ball in 1991. Even some of the biggest performers have performed, including Debbie Harry, Boy George, Cyndi Lauper, and many more.
"Night of a Thousand Stevies" has gotten so big over the years. So big, actually, that the founders have started holding one in New Orleans since 2019.
The founders had no idea that "Night of a Thousand Stevies" would be successful
After the first ball, Valenti and Dynell realized that it would be big and continue to grow. It only started as a one-night event mostly because some of the best drag performers already loved singing Nicks' material.
"I don't think we were really aware of how big her fan base is and how many people — and different types of people — like Stevie," Dynell told Rolling Stone. "70-year-olds and 17-year-olds, I mean her crowd is… It's a Noah's Arc of Stevie love," Valenti added.
"So we just said, 'You know what, we've got to do this every year," Dynell said. "And we have."
Nicks has never been to the ball but if she did no one would know until she went up on stage
The "Silver Springs" singer is fully aware of "Night of a Thousand Stevies." However, in a 2011 interview, Nicks said she's never been. "Oh no, if I had been, you'd know, and they'd know." She has sent video clips to the ball, though. Like the founders, Nicks is in disbelief that it's still going on today.
Still, Nicks has alluded that if she does attend "Night of a Thousand Stevies," no one will know. That is until she magically floats through the crowd to the stage to sing "Edge of Seventeen." Then, it'll cause such hysterics that someone will have to call 911.
"I hear the 'Night of a Thousand Stevies' ball is going on this year — in New Orleans and New York," Nicks told Rolling Stone in 2019.
"I've threatened everybody that one day they won't know it, but I'll be there. I'll be in such fantastic makeup that I'll be able to float around. Nobody will know it's me, until I walk on stage and start singing 'Edge of 17.' Everybody will faint and they'll have to call ambulances.
"But everybody can dress up like me, because there's so many different mes. You can be any me you want."
Besides the ball being the ultimate tribute to Nicks, she just loves that "Night of a Thousand Stevies" combines all her favorite things; costumes, music, and a party.