Stevie Nicks Has Inspired All These Young Artists
Stevie Nicks has been a successful musician for the majority of her life, her records have gone multiplatinum, and she is the first and only woman to be inducted into the Rock and Roll Hall of Fame twice. It's no wonder that she inspires so many young artists. Beyond her awards, Nicks' honesty and vulnerability in interviews and songwriting attract audiences of all ages. Here are the young artists who count Nicks as one of their inspirations.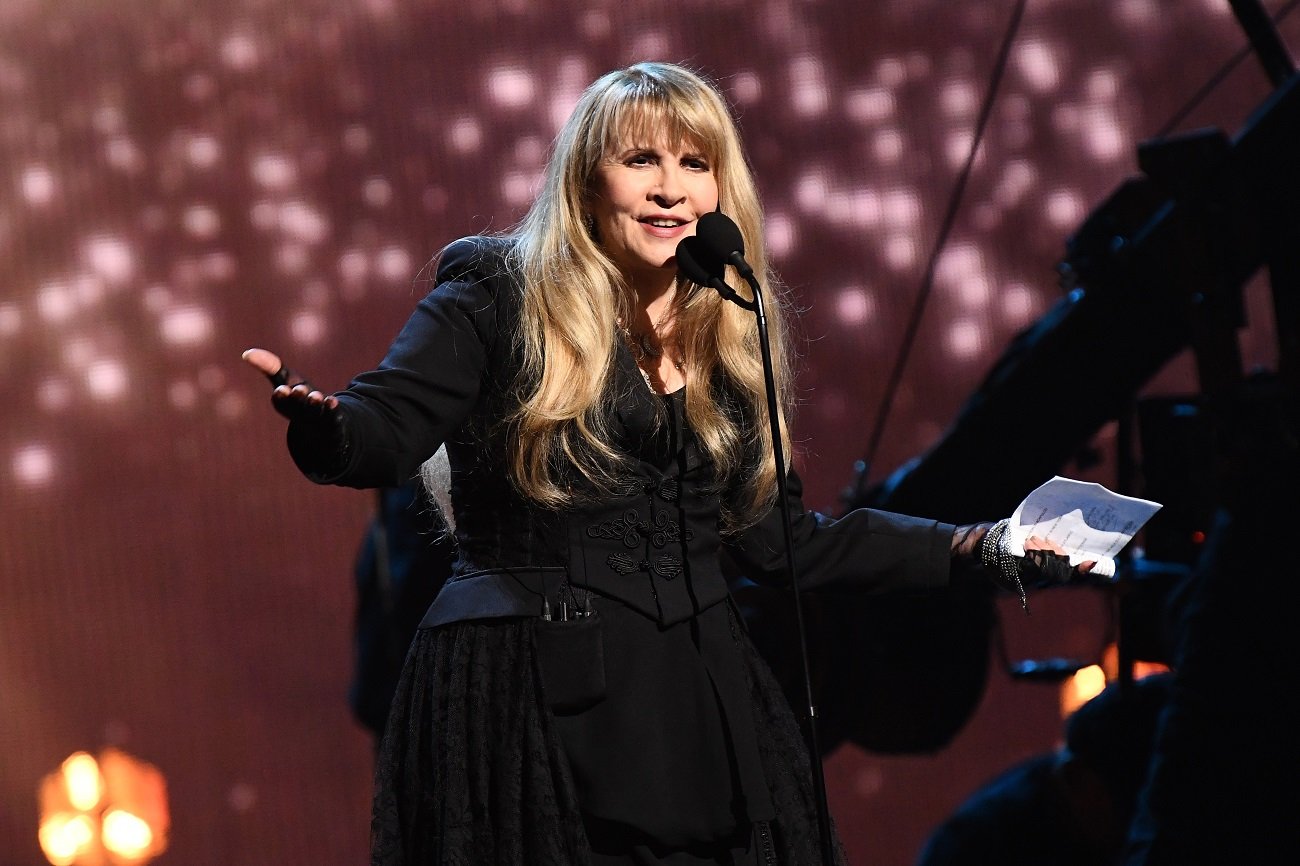 Lorde
Lorde has spoken openly about her appreciation for Fleetwood Mac. In 2015, per W Magazine, she posted a picture on Instagram with the caption, "LADIES AND GENTLEMEN, I SAW THE BEST CONCERT OF MY LIFE LAST NIGHT AND IT WAS FLEETWOOD MAC."
She zeroed in on Nicks: "STEVIE. how purely magical it was to see her in front of me, my crescent moon mother, in the flesh, all in black, her hair playing tricks with the light."
Two years later, during a show in New Zealand, Nicks told the crowd, "if [Lorde] had been my age, and lived our age, she probably would have been the third girl in Fleetwood Mac."
HAIM
In a conversation with Red Bull Music, Alana Haim said the last hero she met in person was Nicks.
"I never thought I'd be able to say I met Stevie Nicks, and the fact that I can say still blows my mind," she said. "She's the best person on this planet."
The sisters also shared that they wore the necklaces Nicks gave them when they first met. At the end of a joint interview with T Magazine, Nicks gave each of the sisters a golden moon necklace to initiate them as "Sisters of the Moon."
"That moon necklace holds a lot of power," Alana Haim told the Huffington Post. "Ever since I put it on, every single person I've met has been like, 'Where did you get that necklace?' People are drawn to the moon. I can't express it."
Sheryl Crow
Nicks and Sheryl Crow have formed a friendship that goes beyond musical collaboration, but Nicks has still offered guidance to aid Crow's career and life.
"What I tell Sheryl Crow: Don't get interested in somebody who's going to go back on the road," Nicks told ABC News. "Men are going to go out on the road, and they're going to find other women. So if you really want to save yourself a whole lot of heartache, do not fall in love with somebody in a band. Just don't."
When Crow had the opportunity to work with Nicks on the album Sheryl Crow: Live At the Ryman and More, she expressed how meaningful it was "to be able to play with Stevie Nicks, who was my champion as a young artist, my role model as a kid from 9 years old on."
Beyoncé and Destiny's Child
In 2001, Destiny's Child released "Bootylicious," which featured the opening guitar riff to Nicks' song, "Edge of Seventeen." Producer Rob Fusari wanted an "Eye of the Tiger" sound for the track, and Beyoncé would later share that the song reminded her of voluptuous women. Thus, "Bootylicious" was born. Nicks also appears in the music video.
"Without all the make-up and everything, they just looked like three really cute, little teenage girls," Nicks said of the shoot, per Elle. "Then of course, they're just like me, they put on — whatever it is that makes them — them. Whether it's your boots or jacket or whatever, then they became Destiny's Child, and I saw it. It was really a marvel to see."
Harry Styles
Harry Styles is often vocal about his appreciation for Nicks, so much so that he inducted her into the Rock and Roll Hall of Fame.
"She is more than a role model — she's a beacon to all of us," Vulture reported Styles said. "Whenever you hear her voice, life gets a little bit better. When she sings, the world is hers, and it is yours."
Though he loves her music, Nicks and Styles have also formed a friendship, something he touched on in his speech.
"She is everything you've ever wanted in a lady, in a lover, in a friend," Styles said. "Stephanie Nicks, I love you. We all do. And that is true, Stevie."
RELATED: Stevie Nicks Said Destiny's Child Gave Her an Opportunity No One Else Has