Stevie Nicks Holds an Inspiring Record for Most Hours Spent Doing 1 Type of Charity Work
Stevie Nicks will always inspire us with her music. However, she can inspire us in other ways too, especially through her charity work. For decades now, Nicks has made it her mission to ensure that a certain group of people never feel forgotten. She's actually done this so many times that she holds a record for doing it so frequently. When we thought it wasn't possible, Nicks goes and gives us another reason to love her.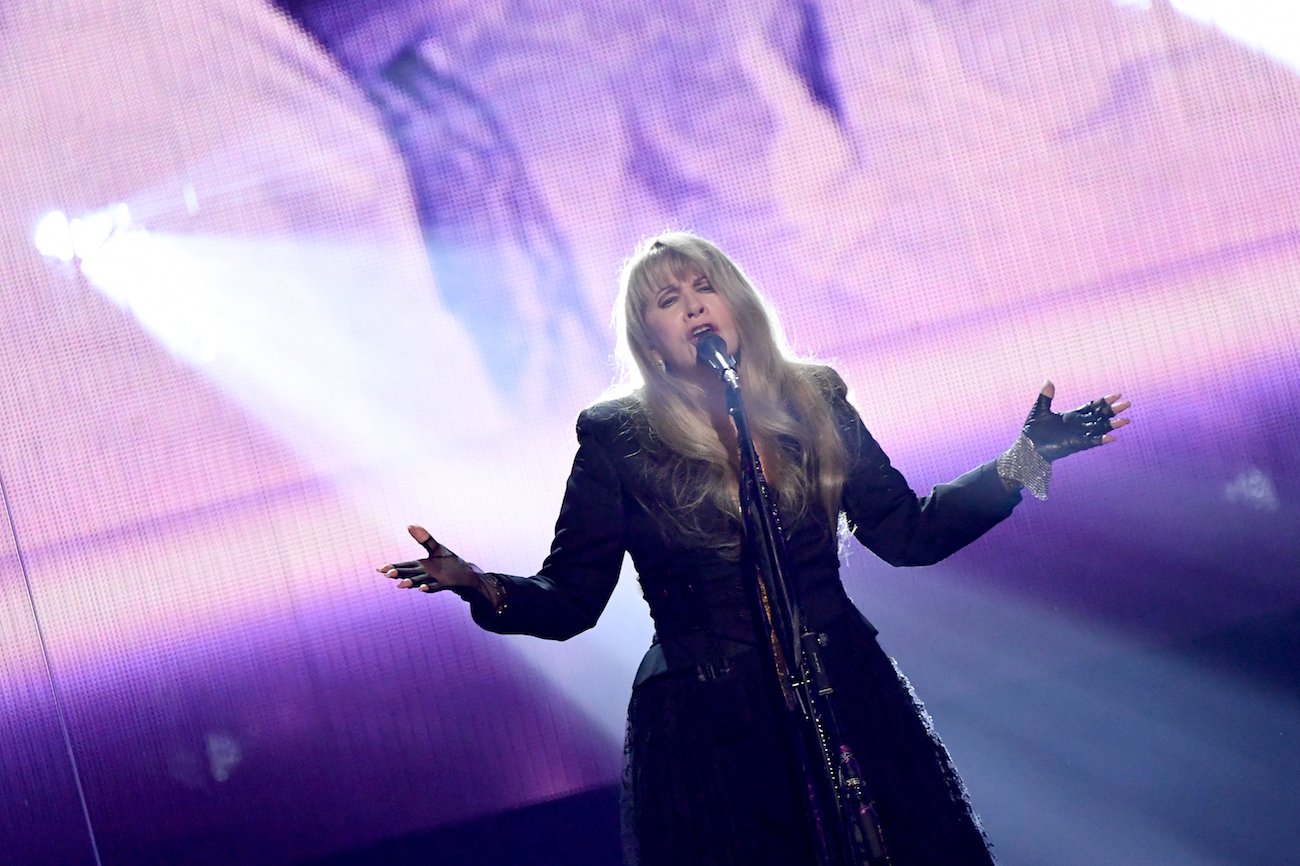 Stevie Nicks holds the USO record for most time spent visiting injured veterans
According to Military Times, Nicks holds the USO (United Service Organizations-a non-profit charitable corporation that provides entertainment to the members of the United States Armed Forces and their families) record for "the most hours spent over a five-year period visiting combat-wounded service members."
For all their dedication to the USO over the years, Nicks, Peyton Manning, and author Sebastian Junger were honored with the Outstanding Achievement Award at the 2015 USO of Metropolitan Washington-Baltimore 33rd Annual Awards Dinner. The event also honored 30 Medal of Honor recipients for their heroism in World War II, Korea, Vietnam, and Afghanistan.
Nicks said she didn't know what she was getting into initially, but she figured she had the time. "Once it began, it never ended until almost five years later," she said. Nicks has been visiting injured veterans since 2004.
Nicks' first meeting with an injured soldier had a profound effect on her
At the 2015 USO banquet, Nicks talked about her first visit with an injured soldier. At the end of that initial visit, there was a boy. Their meeting had such a profound effect on Nicks. After that, she knew she had to continue visiting injured veterans.
"I went into his room, and he was laying up against the white pillows and very quiet, and his eyes were closed," Nicks explained. "He had really long eyelashes. I thought he was asleep and I walked over to him, and he didn't open his eyes, and I said, 'Hello,' and I put my hand kind of on his heart, and I looked at his family or whoever was in the room and said, 'Why isn't he opening his eyes?' They said, 'He doesn't want to open his eyes, we don't really know why,' and that just completely freaked me out because I thought so he's seen-something he has seen has made his eyes stick closed.
"So I just kind of reached down and whispered in his ear that you know, 'I know you're going to be OK. You have to-I promise you; you're going to be OK.' That was it, that was the beginning, and I knew that from that moment onward that I would come back whenever I could."
However, spending loads of time visiting injured soldiers isn't all that Nicks has done for U.S. service members.
Nicks wanted to give the veterans she visited a memento to lift their spirits
During her USO visits, Nicks came up with an idea for a foundation, Stevie Nicks Band of Soldiers Foundation. While visiting the soldiers, Nicks wanted to leave them with a memento that would raise their spirits and motivate them. So she purchased hundreds of iPod Nanos that she loaded with music hand-picked by her and autographed them.
According to ABC News Radio Online, Nicks gave the iPods to veterans recovering at the Walter Reed Army Medical Center and Bethesda National Naval Medical Center. Later, Nicks also held a charity drive to raise money for the iPods.
"You're in a room with about 25 to 40 soldiers who have all been left without limbs and you're told that this young guy has lost both his legs and all his friends were killed by a bomb," Nicks said in a statement. "It changed me forever. They have prosthetic limbs and many of them need two years of rehab. You can't imagine how expensive this is. I left thinking, 'What can I do?' I can't exactly take my guitar, which I play very badly, and play for them.
"So I'm asking people to give me money for iPods and I'm going to fill them with my favorite songs and I'll take the iPods with me every time I go back and the music will help them with their rehabilitation. It makes them happy."
Nicks said in an interview with ABC that her work visiting veterans is "not like anything else, it's not like the Grammy. This is something that I do by myself. It's the thing I'm most proud of." We're pretty sure hearing a personally curated playlist from Stevie Nicks herself could lift anyone's spirits.