Stevie Nicks and Jessica Lange 'Made a Connection' on 'American Horror Story'
Despite her views on witchcraft and acting, Stevie Nicks agreed to appear on Ryan Murphy's hit show American Horror Story: Coven in 2013. She played herself, of course, but a version of herself that's a white witch. Initially, Nicks was terrified of filming her cameo, but the actors on set reassured her. They all took care of the rock queen and helped to make it an enjoyable experience for Nicks. Even the reigning Supreme.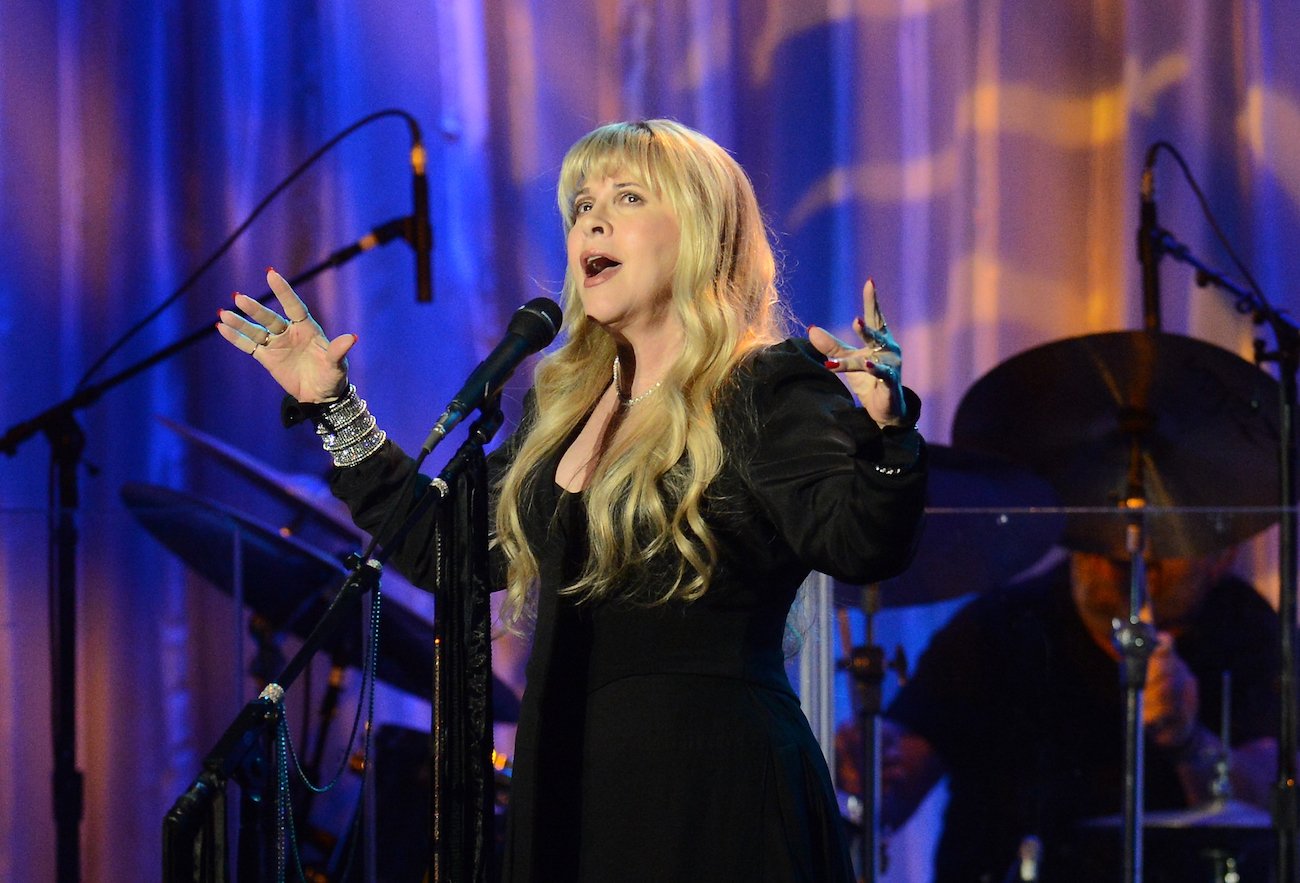 Stevie Nicks was 'terrified' of filming her 'American Horror Story' cameo
Nicks' involvement in American Horror Story: Coven began when Ryan Murphy called her for permission to use her music in the show. Murphy told Nicks about one of the season's characters, Misty Day, an outsider witch who lives alone in the swamps, who's Nicks' No. 1 fan. After hearing about Misty, Nicks automatically agreed to let Murphy use her songs because, she told the LA Times, "That's what I've always ever wanted to be to anybody with my songs."
However, Nicks' involvement changed after she watched the first couple of episodes of the season. She called Murphy to suggest a "walk-through" on the show. "I thought, I'll walk through in this beautiful black dress and fantastic hair and makeup and maybe a fan and I'll just walk through and say, 'Hello, witches!' and just keep walking," Nicks said. That's not exactly what Murphy had in mind.
He wrote a more prominent part for Nicks without her knowledge. When she got her script at 2 a.m. the night before filming, Nicks saw lines and panicked. "I read it and I was like, 'Do they know I'm not a good actress? Do they not know about my Alamo incident in the fourth grade?'" Nicks said. "I was pretty terrified. Honestly. I did not sleep well. Yvonne, I was scared to go there. When I went in the next day, I thought, I'm never going to be able to do this."
The Alamo incident Nicks is referring to happened when she was in fourth grade. Her mother signed her up for the play, but she forgot her lines. She told her mother she was never acting again. However, despite her fear of acting, Nicks pushed through, not by magic.
RELATED: Stevie Nicks and Dave Stewart's Friendship Started Out as a Drug-Fueled Fling
Stevie Nicks and actor Jessica Lange 'made a connection' while filming together
Nicks said doing her cameo and setting foot on set felt like a "dream." It wasn't easy to do, but the actors of American Horror Story definitely helped Nicks cope with their own particular form of magic. She got to know Lily Rabe, Emma Roberts, and Taissa Farmiga, among others.
However, Jessica Lange amazed Nicks the most, even though it was hard getting to know the actor. "It could have been corny…" Nicks told MacLean's. "But I thought it was just awesome. We really did just make a music video with me singing parts of 'Seven Wonders' and 'Has Anyone Ever Written Anything For You.'"
"I must have sung it [for the series' star, Jessica Lange] 20 times because they had to film it from every possible vantage point," Nicks continued. "Jessica Lange is not an easy girl to get to know, but after singing to her for 10 hours, I think we made a connection. Afterward, I wrote her a long letter. In the scenes [we shared], she helped me by doing her part perfect every time."
It was more than likely hard for Nicks to establish a connection with Lange because of the actor's impressive method of acting. No doubt, that's why Nicks' scenes with the intimidating Fiona Goode (Lange's role) were so easy. Lange hardly broke character.
RELATED: Stevie Nicks Received a Sign From Beyond the Grave to End Her Marriage
Nicks said she'd never get in Fiona Goode's way
Nicks said she got to know Fiona more than Lange herself, despite finally breaking through to Lange to establish their connection. "I really got to know Fiona [the character played by Lange] because Jessica's Fiona is so real that you can't help but forget she's Jessica Lange. You absolutely accept her as Fiona Goode," Nicks told the Times.
Even though Nicks is a renowned rock star herself, she was still intimidated by Lange, or should we say Fiona. "She is scary, right? Oh my God," Nicks said. "And she's beautiful. She moves like a cat. And she's always in beautiful black, not the cheap black–it's Chanel, all the good stuff. She's totally stylish. And, uh, let's not forget, she's also crazy."
In a fight, though, Nicks said she wouldn't even go near Fiona. "Stevie Nicks would not even get in Fiona Goode's way," Nicks said. "Because as Fiona so lovely said to the girls, 'You have one thing in the whole world to be afraid of, and that's me.' Fiona has all powers. The reason she is Supreme is because she has all the powers. She can flip the bus. She brought that baby back to life. She can set fire to anything she wants to. That's pretty bada**."
RELATED: Stevie Nicks Says She Was 'Selfish' in the Songwriting Process in Her Early Career
Nicks had such a blast on 'American Horror Story' that she returned
Ultimately, Nicks felt like she'd "entered into the coolest club ever. Everybody was just so supportive of me because they knew that's not what I do. Everybody tried to explain to me, you're never going to get anything on the first take. Even if you do, they're going to have to film it again 100 more times, And, boy were they right. They get it from every side–hanging from the ceiling, underneath the piano. I just didn't understand."
Nicks learned so much from her appearance in Coven and wound up enjoying it more than she expected. She even agreed to appear on an episode of Apocalypse. But if we could have our way, Nicks would have become a reoccurring character on the show.