Stevie Nicks Knew She Wanted to Harmonize in a Band After Listening to Crosby, Stills & Nash
After listening to Crosby, Stills, & Nash as a kid, Nicks knew she had to join a band that did great harmonies. She succeeded.
Stevie Nicks knew she wanted to be a singer after her grandfather taught her to harmonize at age five. However, the group who showed Nicks it was possible to harmonize in a rock band was Crosby, Stills & Nash.
Fans can thank the trio. Otherwise, Nicks might not have sung such great harmonies with Fleetwood Mac.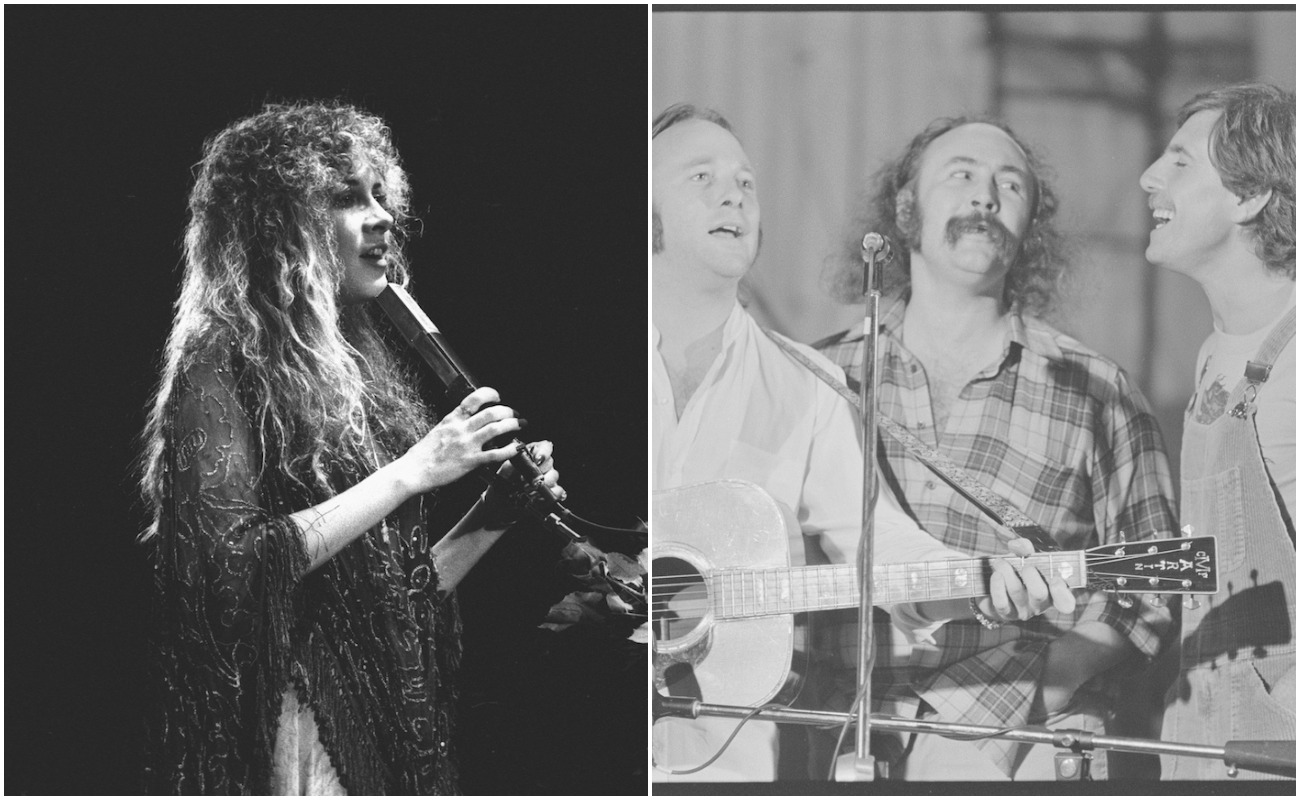 Stevie Nicks wanted to be in a band that harmonized after listening to Crosby, Stills & Nash
During a 2011 interview with the Guardian, Nicks listed the songs and albums that changed her life. She named Crosby, Stills & Nash's 1969 self-titled debut as the album that taught her how to sing harmonies.
"I spent a whole summer singing along to this record," Nicks said. "I loved the harmonies, and learned to sing all three of the parts."
After listening to the trio's debut album, Nicks knew she wanted to do something similar. "I knew that I wanted to be in a band with the same kind of harmonies," she said.
Nicks continued to explain that she soon got a recording contract. "I'd had a record deal early on. When I was a senior in high school a friend of a friend of my dad was a big deal at 20th Century Fox. So I flew to LA, took my guitar, sang and signed a five-year contract with a producer named Jackie Mills.
"He quit soon after, and luckily there was a 'main man' clause in my contract that meant I was now released from it. I wasn't upset. Even at that age I was smart enough to realise that I didn't want to be stuck on a label with people that I didn't know."
However, Nicks actually learned how to harmonize from her grandfather.
Nicks' grandfather taught her how to harmonize
Nicks inherited her musical ear from her grandfather, Aaron Jess Nicks, known as A.J. They even shared a birthday, May 28. If grandpa Nicks hadn't taught little Nicks to harmonize when she was just five years old, we probably wouldn't have gotten one of the best frontwomen in rock history.
According to Stephen Davis' Gold Dust Woman: The Biography of Stevie Nicks, A.J. was a struggling country singer who hadn't had much of a career. But when he first taught Nicks how to harmonize with him, he saw a winning ticket to the Grand Ole Opry.
"He taught her harmony by having her sing 'Darling Clementine' while he took the higher harmony," Davis wrote. "Then he reversed it and she picked up the harmonic immediately, by ear. It was complicated for a child but she could do it. He could tell Stevie was a gifted harmony singer. They sang 'Are You Mine' by Red Sovine and other songs."
Stevie wasn't even reading yet, but she had "the natural singer's innate ability to repeat the words of a song after hearing them only a few times."
A.J. took Nicks and her parents to parties where they performed together. The audience always reacted with "sheer delight," and Nicks loved the attention as a little girl. She was five and already singing in saloons with her grandfather in her native Arizona. But this first brush with fame wasn't to last, at least not yet.
Nicks' mother put a stop to it. So, A.J. stopped taking little Nicks all over to sing harmonies with him. Nicks quickly found her way back to singing, though.
Crosby, Stills & Nash got Nicks through the pandemic
Nicks hasn't stopped listening to Crosby, Stills & Nash. In a 2020 interview with Forbes, Nicks said she listened to a lot of the group during the lockdown.
"I love Neil Young," Nicks said. "I've been listening to a lot of Crosby, Stills, Nash And Young and Joni Mitchell and just that whole era of people. Buffalo Springfield in the last seven, eight months. I've been listening to a lot of their music on my Sonos and it makes me happy.
"And I've decided that Neil Young was actually a lot more… he wrote a lot of very loving love ballads. He was not only the huge rock and roll crazy guy that I always thought. There are so many ballads I've gone, 'Wow, you know what? You're just a big pussycat. I can't believe it.' No wonder they chose him to come into Crosby, Stills And Nash.
"They wanted somebody like the Eagles wanted Joe Walsh, they wanted somebody that would have that heavy hand. But then when you listen to something like 'Slowpoke' or some of these amazing songs, I've been blown away over the last couple of months listening to his ballads going like, 'This guy, really seriously, in a way, wanted to be in love.'
"From Crosby, Stills And Nash it was the three-part harmony I wanted Lori [Nicks], Sharon [Celani] and me to become like to make my first solo album."
So, the trio was a huge influence of Nicks. Without Crosby, Stills & Nash, Nicks wouldn't have sung songs like "Dreams" or "Little Lies."