Stevie Nicks and Lindsey Buckingham Became a Couple After They 'Completely Screwed Up' Their Bands' Lives
Stevie Nicks and Lindsey Buckingham's relationship was full of ups and downs, even at the beginning. She explained how breaking up their band drew them together.
Stevie Nicks and Lindsey Buckingham's relationship is one of the more famous in music history. The couple's breakup is well-documented through Fleetwood Mac's Rumours album and shook the band. But lesser known is the way that the beginning of their relationship also fractured a band. Nicks explained the way that messing up their bandmates' lives helped them get together.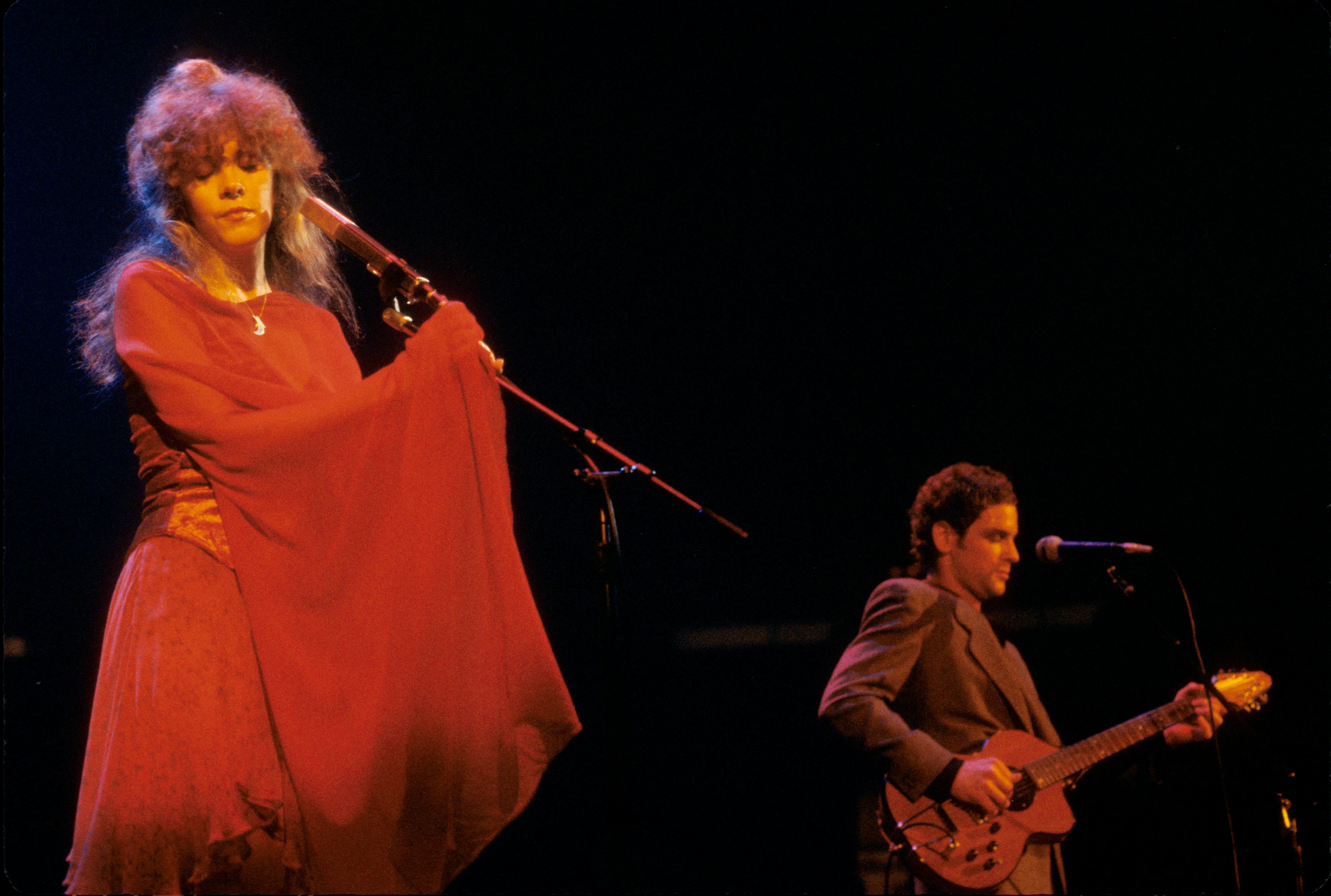 Stevie Nicks and Lindsey Buckingham met in high school
Nicks and Buckingham both attended high school in California. Nicks impressed Buckingham when she joined him in a duet at a party. Their first meeting would shape their dynamic for years to come.
"We were at some get-together and he was there, sitting, playing his guitar — [the Mamas and the Papas' hit] 'California Dreamin" — and I walked up and brazenly burst into harmony with him," Nicks told MTV. "It was cool, and I said 'I'm Stevie Nicks,' and he said 'I'm Lindsey Buckingham.' I never saw him again for two years, until he was in a band and he remembered that night and he called and asked me to join their band."
The future Fleetwood Mac artists became a couple after they left their band
The band Buckingham invited Nicks to join was Fritz. Nicks was the only woman in the group and quickly eclipsed the other members in popularity. 
"We were being booked like crazy," she told Rolling Stone. "But they'd all say, 'We want to book the band with the blondy brown-haired girl.'"
After several years of opening for acts like Janis Joplin, a record producer advised Nicks and Buckingham that they would do better on their own. They broke off from the rest of the band to move to Los Angeles and produce music on their own. Something about the betrayal drew them closer together.
"It was like, 'Well, we've done it now,'" she explained. "'We've completely screwed up their lives forever now. So why not?' So we became a couple."
Immediately though, Nicks became aware of problems plaguing their new relationship.
"From the very beginning, Lindsey was very controlling and very possessive," she said. "And after hearing all of the stories from my mother and how independent she was and how independent she made me, I was never very good with possessive people or with controlling people."
Stevie Nicks and Lindsey Buckingham's breakup impacted Fleetwood Mac
After struggling to gain traction as a duo, Nicks and Buckingham found their big break in Fleetwood Mac. While they were happy and successful for a moment, they broke up while recording songs about their failing relationship in Rumours.
Famously, their relationship has been rocky since then. Still, decades later, Nicks says that the attraction between the two of them will never die out.
"It's over," she said. "It doesn't mean the great feeling isn't there, it must mean that … you know, we're beauty and the beast. It means that the love is always there but we'll never be together, so that's even more romantic."
RELATED: Stevie Nicks Revealed Her Favorite Beatle: 'I Had Some Nice Moments With Him'
Related post url: