Stevie Nicks and Lindsey Buckingham Briefly Reunited After a Tense Photoshoot with Annie Leibovitz
Stevie Nicks and Lindsey Buckingham had an unhappy split. Despite this, they fleetingly reunited after a particularly tense Annie Leibovitz photoshoot.
These days, Stevie Nicks and Lindsey Buckingham have clearly stated that their relationship has been over for years. The iciness between them is proof of this. Just after their breakup, though, the line was a little more blurred. After one particularly tense photoshoot, the pair were fleetingly driven back together.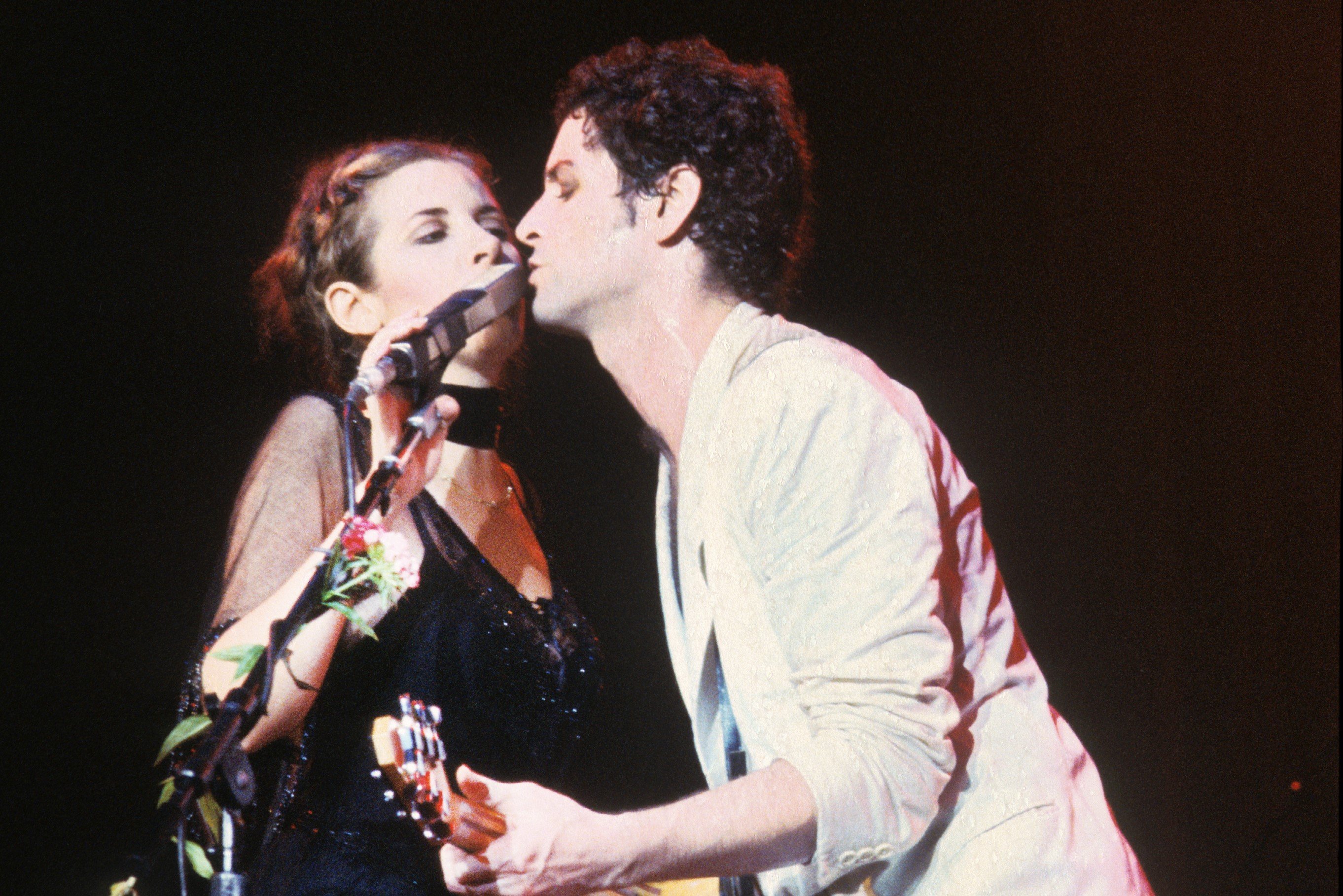 Stevie Nicks and Lindsey Buckingham broke up soon after joining Fleetwood Mac
After meeting in high school, Nicks and Buckingham became close while attempting to kick start their band. Though they didn't find commercial success, they did begin a romantic relationship that continued after they joined Fleetwood Mac. Soon, however, functioning as bandmates and romantic partners began to wear on the couple. They broke up while writing and recording Rumours.
"The thought of being on my own really terrified me. But then I realized being alone is really a cleansing thing … as I began to feel myself becoming more myself again," Buckingham told Rolling Stone in 1977. "I'm surprised we lasted as long as we did."
Years after the breakup, however, Nicks asserted that the "electric crazy attraction" between them would never die.
Something sparked between the former couple after a photoshoot 
Though their relationship was generally fraught, the former couple did prove that they did have some lingering feelings for one another. In 1977, the band posed for a Rolling Stone cover shot by Annie Liebovitz. 
In the shoot, she had the band sprawled in a bed together to play off of their incestuous reputation. According to Rolling Stone, Liebovitz brought "a bunch of cocaine" to be "nice and polite." Due to the recent breakups between Nicks and Buckingham and John and Christine McVie, the band was nervous. Liebovitz also wanted the former couples to lie next to each other.
"For Stevie and me, the wounds and animosities were still very fresh," Buckingham said. "So the idea for the photo wasn't all that funny."
"When Annie said she wanted us to lie down together on a big bed, it was like, 'Hmm, hope you have a backup idea,'" Nicks said. "But she said, 'No, you're going to look great, this will be fun, have a glass of champagne.'"
While they agreed with the overall concept, the couples refused to pose together. Instead, Nicks posed with Mick Fleetwood, and Buckingham posed with Christine McVie. Afterward, though, Nicks and Buckingham spoke. 
"Afterwards, Lindsey and I got to talking about how amazing it was that not so long ago I was a waitress and he didn't have a job, and now we were on the cover of Rolling Stone with this huge record," Nicks said. "And we lay there for about two hours talking and making out. Finally, Annie had to tell us to leave, because she had rented the room for only so long."
Ultimately, this brief reunion fizzled, but the long shoot did sow the seeds of Nicks and Fleetwood's affair. 
Stevie Nicks and Lindsey Buckingham are no longer on speaking terms
Decades after this photoshoot, Nicks and Buckingham reached a particularly rough patch. Fleetwood Mac kicked him out of the band, and they have barely spoken since.
"Following an exceedingly difficult time with Lindsey at MusiCares in New York, in 2018, I decided for myself that I was no longer willing to work with him," Nicks wrote for Rolling Stone.
After Buckingham had heart surgery in 2019, Nicks wrote him a letter. Beyond that, though, hopes of reconciliation currently appear dim.
RELATED: Stevie Nicks Once Said Only 1 Man in Her Life Was 'Truly Good'
Related post url: