Stevie Nicks' Mother Desperately Tried Persuading Her to Go Into This Industry
Stevie Nicks is one of the most famous frontwomen in rock history. But if it were up to Barbara Nicks, her mother, Nicks wouldn't have gone into the music industry. Instead, her daughter would have gone into another unpredictable career. Barbara tried so hard to get Nicks to appreciate the industry she thought her daughter would prosper in, but Nicks wouldn't budge. She loved music.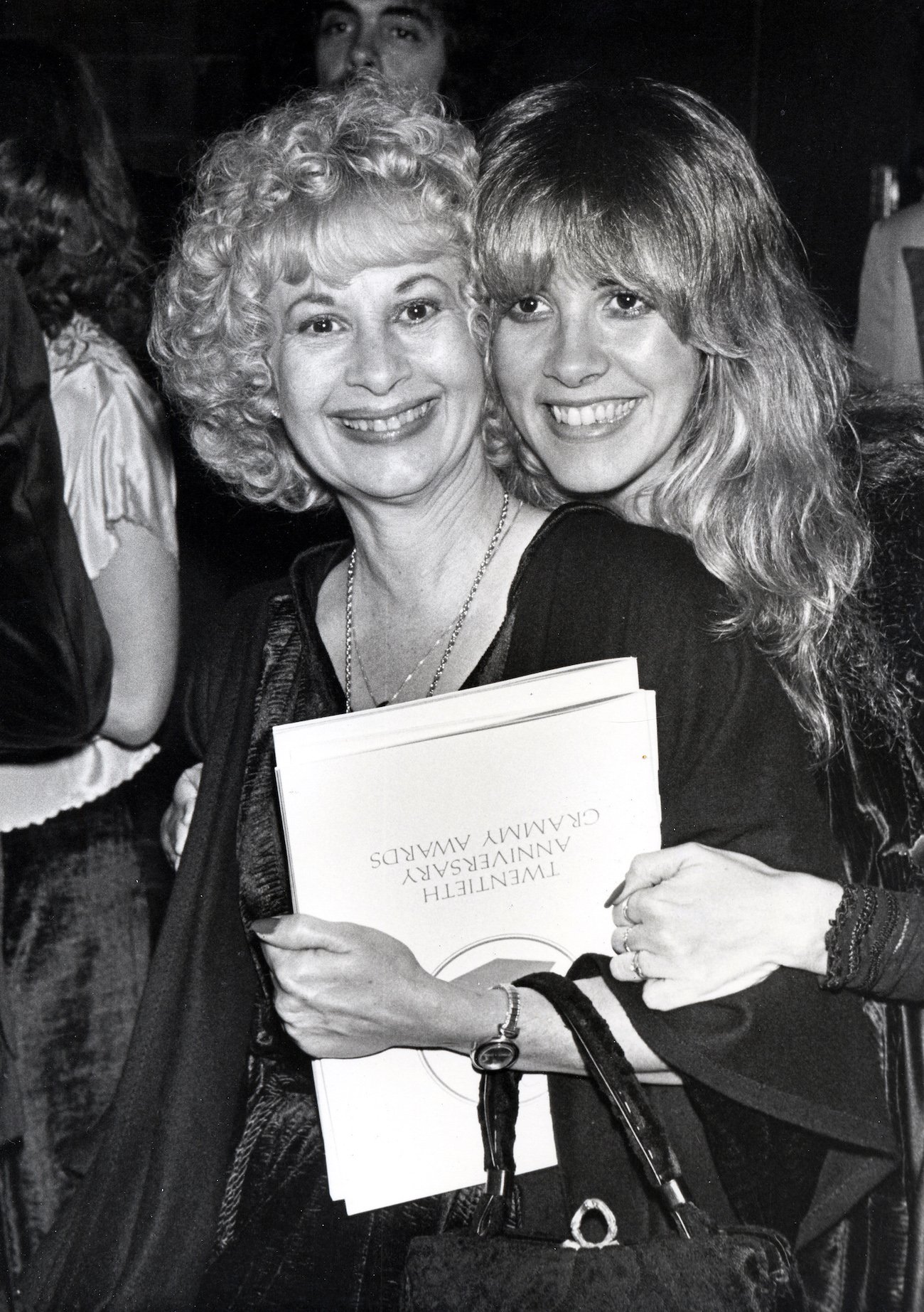 Stevie Nicks started singing when she was 5 years old
When Nicks was five years old, her grandfather (on her father's side) Aaron Jess Nicks, A.J., taught her how to harmonize. He was an aspiring country singer who hadn't quite made it through the door, but he saw promise in his granddaughter's singing skills. She could pick up a tune and sing it after only hearing it once, and she wasn't even reading yet.
Soon, he started taking her to sing harmonies with him at saloons around Phoenix, Arizona. But what A.J. really wanted was to take their act on tour, and maybe one day it would land them at the Grand Ole Opry. However, Nicks' parents stopped it, saying Nicks was too young to travel the country and start a singing career.
Following the disintegration of his and Nicks' little act, A.J. disappeared for a few years, and Barbara started pushing her daughter into something other than music. She had plans for her daughter's future.
RELATED: Stevie Nicks Based 'Stand Back' on This Prince Song
Barbara Nicks wanted Stevie Nicks to be an actor
According to Stephen Davis' Gold Dust Woman: The Biography of Stevie Nicks, Barbara really wanted her daughter to become an actor. The Nicks family moved around a lot because of Nicks' father, Jess Nicks' work. So Barbara didn't encourage friendships with Nicks because they were always moving. Instead, she kept Nicks busy.
Barbara signed her daughter up for various things like drawing, ballet, tap dance, and piano lessons. She wanted her daughter to get into acting, even though Nicks hated it. "Barbara had an inkling that adorable Stevie could be an actress or even a movie star and kept pushing acting lessons, although Stevie, who was naturally shy, told her mother not to," Davis wrote.
Nicks became the star singer in her school's chorus group and eventually allowed her mother to sign her up for the play. "It was called The Alamo," Davis records Nicks saying, "or something like that. There were only two girls in the play and I was one of them because I could sing. When it was time to say my lines I totally froze. I couldn't remember. It was the worst moment of my life. When I got home I told my mother, 'I am not an actress. Don't ever sign me up for any more plays ever again.'"
Nicks never really got over that frightful moment starring in The Alamo. Later, when Ryan Murphy sent Nicks her script for her brief scene in American Horror Story: Coven, Nicks got scared. She told the LA Times that she thought, "Do they know I'm not a good actress? Do they not know about my Alamo incident in the fourth grade?"
Barbara Nicks was proud of whatever career her daughter chose
Speaking on Oprah's Master Class, Nicks said that her mother was always supportive of her regardless of what career she chose. However, Nicks said that Barbara was often strict with her because she wanted Nicks to be independent. She didn't want her daughter ever having to depend on anyone.
Barbara instilled a great work ethic in her daughter, and Nicks had to work for everything she got. She did warn Nicks, though, that she'd better be the boss of whatever she did in life because Nicks didn't like being told what to do. That's exactly what Nicks did.
Barbara and Nicks were very close. "She taught me about rules even though I don't love rules. I understood that there were rules and I followed them because I didn't want to get in trouble; I didn't ever want her to be mad at me. So I learned that there are things that you could do and things that you couldn't do."
The bottom line is that Barbara only wanted what was best for her daughter. If Nicks wished to pursue a career on the stage or screen, Barbara would be Stevie Nicks' No. 1 fan.