Stevie Nicks Is 'so Proud' of Harry Styles for Not Going the 'One Direction Route'
Though they entered the music industry decades apart, Stevie Nicks and Harry Styles have formed a solid friendship. Styles praises Nicks' music, noting that he grew up with it, and Nicks credits Styles for providing her with the upbeat soundtrack to her coronavirus (COVID-19) isolation. Nicks also says that she's incredibly proud of Styles for his solo career, particularly because he's moved away from his One Direction roots.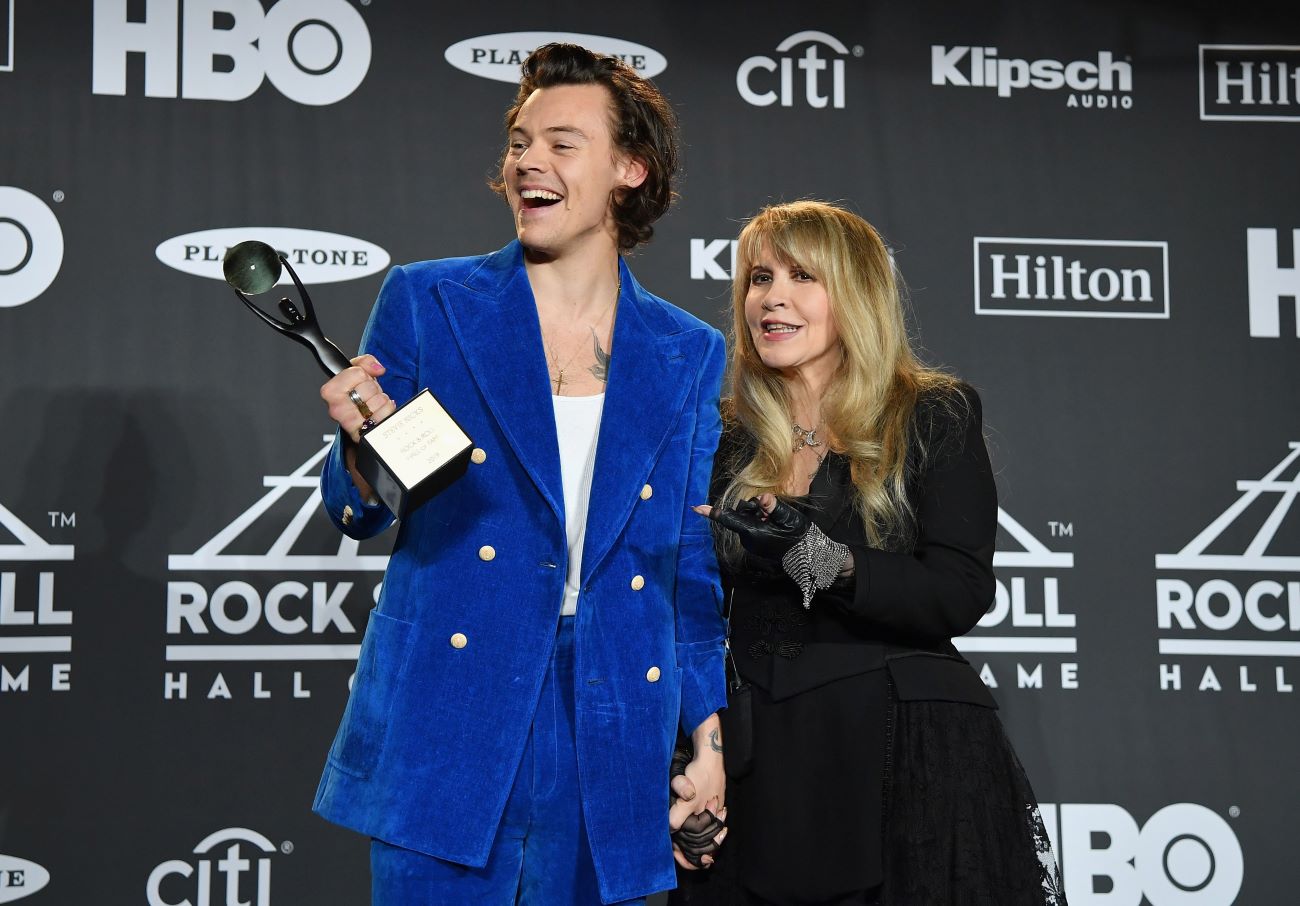 Stevie Nicks and Harry Styles became friends partly because of Mick Fleetwood
Though Nicks and Styles have a more highly publicized friendship, Styles met Fleetwood Mac's drummer Mick Fleetwood first. He brought his daughters to see One Direction and was able to meet the band backstage.
"They all wanted to meet me! My ante got upped!" he told the Mirror. "All their songwriting team wanted to meet me. That's when I met Harry and he's come to three of our shows. He writes to me from weird places."
Nicks added that Fleetwood's family has welcomed Styles as one of their own.
"Mick has kind of adopted him," she told RTE. "There are just women in Mick's family and Harry is that tall, lanky musical son he always wanted, so they keep in touch."
Nicks first met Styles backstage at a Fleetwood Mac concert. It was her birthday, and he brought her a carrot cake.
Stevie Nicks says she's very proud of the younger musician
As their friendship has grown, Styles and Nicks have supported each other musically and personally. They've performed together, and Nicks has referred to him as her "love child" with Mick Fleetwood. Styles even offered to pick up groceries for her during the pandemic.
"He's the type of person you'd wanna live next door to," she told Vogue. "He'd look out the window, see you having a hard time planting flowers, and rush out asking, 'Can I help you with those roses?' 'Sure, but you are Harry Styles, right?' That's who he is."
She added that she's a huge fan of his album Fine Line, even comparing it to Fleetwood Mac's seminal album Rumours.
"I wrote him a letter that said, 'This is your Rumours so you have to really respect it and adore it because these kinds of records sometimes don't ever come again,'" she explained.
Nicks also said that she particularly appreciates the fact that Styles has strayed from his pop roots. 
"I'm so proud of him because he took a risk and didn't go the One Direction route," she said. "He loves One Direction, I love One Direction, and a gazillion other people do too, but Harry didn't wanna go the pop route. He wanted straight-up rock and roll circa 1975." 
Harry Styles always speaks glowingly about the Fleetwood Mac singer
In 2019, Styles inducted Nicks into the Rock and Roll Hall of Fame. She was the first female soloist to be inducted twice. Styles gave a glowing speech about her.
"She is more than a role model — she's a beacon to all of us," Vulture reported Styles said. "Whenever you hear her voice, life gets a little bit better. When she sings, the world is hers, and it is yours."
He added some more praise of Nicks' personality.
"She is everything you've ever wanted in a lady, in a lover, in a friend," Styles said. "Stephanie Nicks, I love you. We all do. And that is true, Stevie."