Stevie Nicks Put a 'Hex' on a Fleetwood Mac Producer's Dog
Stevie Nicks loves dogs, but she resented one when he appeared on the cover of a Fleetwood Mac album. The dog's owner claims Nicks hexed his pet.
TL;DR:
Stevie Nicks loves to spoil her pet dogs and brings them on tour with Fleetwood Mac.
Stevie Nicks wasn't a big fan of a Fleetwood Mac producer's dog because he appeared on an album cover.
The singer has always denied claims that she is a witch.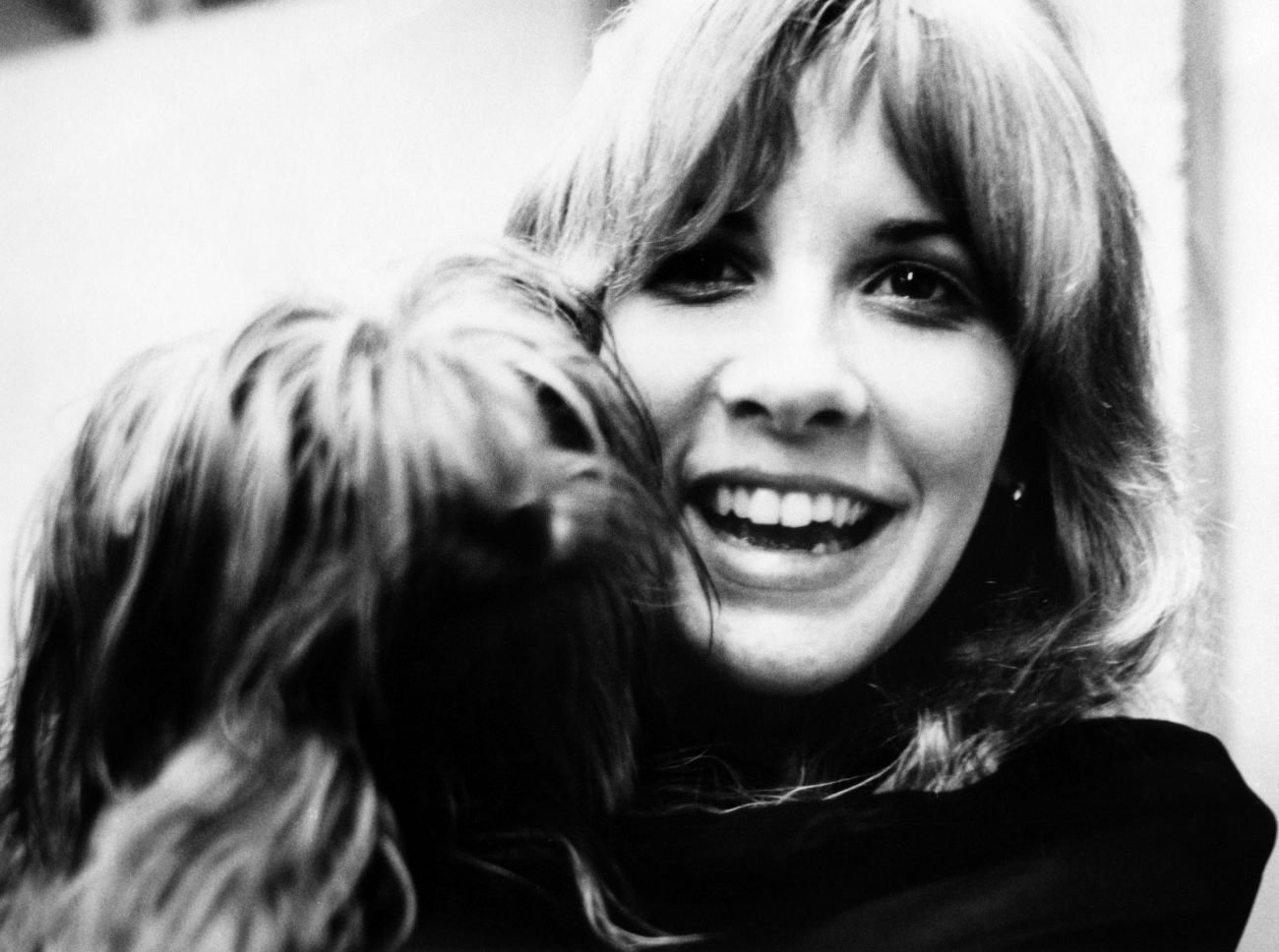 Stevie Nicks has often shared how important dogs are to her. She brings her pets everywhere she goes and admits to spoiling them. She wasn't as fond of a Fleetwood Mac producer's dog, however. He claims that Nicks put a "hex" on his dog because she disliked the attention he got. 
Stevie Nicks' dogs go on tour with Fleetwood Mac
Nicks has been a devoted dog owner for much of her life. She shared that she treats her pets so well that she'd like to be reincarnated as her own dog. Nicks brings her current dog, Lily, with her wherever she goes.
"After each show we get on a plane to go to the next city," Nicks told InStyle. "We always fly private, and she prefers a G4 jet because it's easier for her to run up and down the aisle. When we stay in nice hotels, she knows the one rule is she can't pee on the Persian carpets or we'll be banished. Sometimes I have to remind her of that. When we do get a break from touring, we go home to our condo in California."
Nicks shared that she loves having Lily as a companion.
"I never feel lonely because she follows me around and keeps me laughing with all the goofy things she does," she explained. "With Lily there, I always feel good."
A Fleetwood Mac producer said Stevie Nicks didn't feel as warmly toward his pet
Though Nicks is a dog-lover, Fleetwood Mac producer Ken Caillat said she never warmed to his dog, Scooter. While recording the Rumours album, Nicks and Christine McVie took their dogs into the studio. Caillat also brought Scooter in every day. The two women didn't like Caillat's dog. Nicks' feelings toward Scooter further soured when the dog appeared on the cover of the Tusk album.
"When we finished Tusk in 1979, the only shot on the cover was one of Scooter biting my shoe. Stevie wasn't happy about that at all," he explained. "Of course, she had been fine being only one of the two band members on the cover of Rumours. She had not suggested that Lindsey, Christine, and John be included on that cover."
Nicks was so frustrated that she told Caillat she placed a hex on Scooter.
"When the band decided that the cover of Tusk should be a picture of Scooter biting my foot, Stevie told me that she had put a hex on Scooter," he explained. "Then, when he died four years later in 1983, Stevie said, 'I'm glad, Ken. Your dog had that album cover that should have been mine.'"
Caillat wondered if Nicks also disliked Scooter because of the dynamic between the men and women in Fleetwood Mac.
"It seemed a little brutal to me, but Stevie and Christine had never liked Scooter much, maybe because he was too much of a guy, always pestering their little dogs," he wrote. "All of the guys in the band really liked Scooter, though. Maybe that's part of the reason that the guys approved the Tusk cover. It was a subtle victory in the battle of the sexes within the band."
The singer says she is not a witch
Despite Caillat's claim that Nicks put a hex on his dog, she says she is not a witch. 
"In the beginning of my career, the whole idea that some wacky, creepy people were writing, 'You're a witch, you're a witch!' was so arresting," she told the LA Times. "And there I am like, 'No, I'm not! I just wear black because it makes me look thinner, you idiots.'"