Stevie Nicks Regrets Not Going to See Prince Before He Died
Stevie Nicks and Prince had an interesting relationship. Initially, it started collaborative. Then, it treaded around being romantic and finally settled on a deep admiration.
Their music wasn't similar. However, they constantly inspired each other. Now, Nicks' biggest regret is not seeing Prince before he died in 2016. He's still with her, though.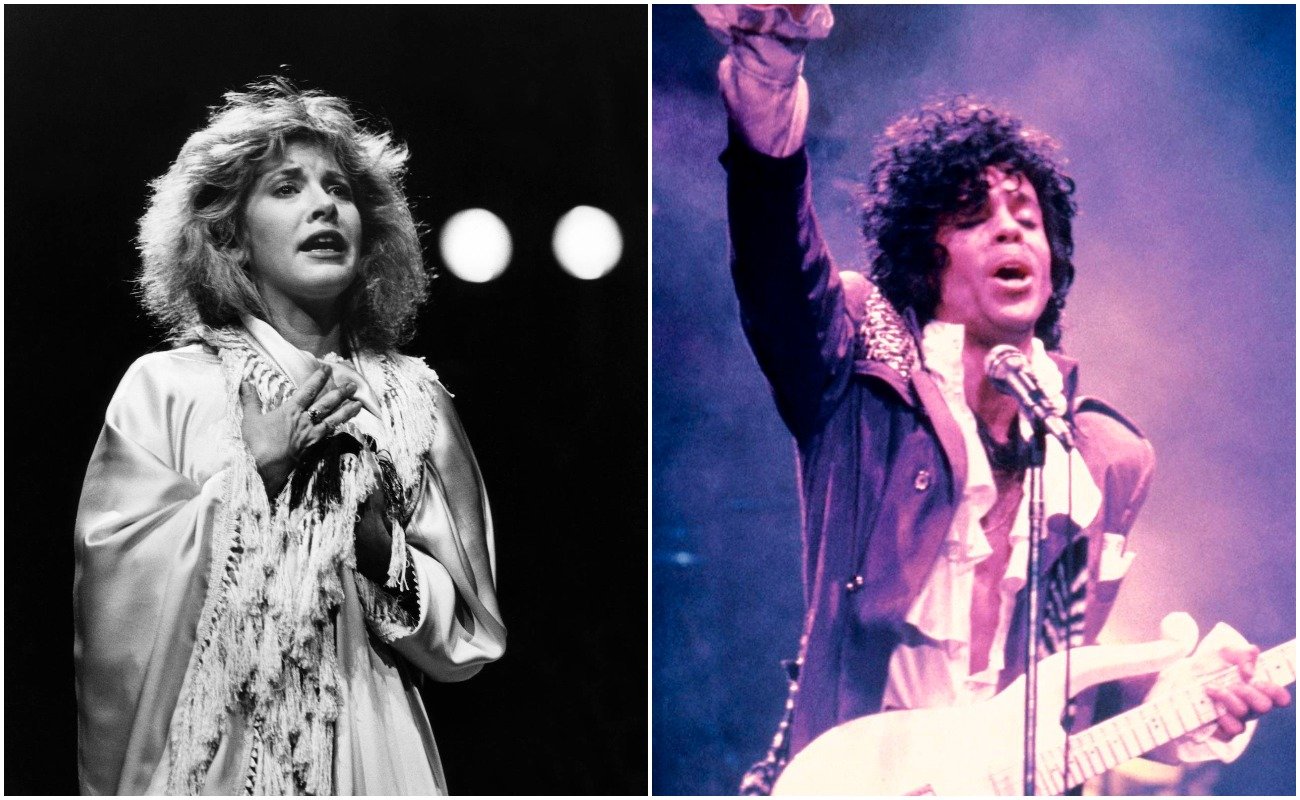 Stevie Nicks wrote 'Stand Back' after listening to Prince's 'Little Red Corvette'
If you listen closely, you can hear similarities between Nicks' "Stand Back" and Prince's "Little Red Corvette." That's because Nicks based her song on the 1983 hit.
She first heard it in the car as she and her now ex-husband Kim Anderson embarked on their honeymoon road trip to Santa Barbara. Nicks was so stunned she had to pull over.
"All of a sudden, out of nowhere, I'm singing along, going, 'Stand back!'" Nicks explained to Uncle Joe Benson on the Ultimate Classic Rock Nights radio show. "I'm like, 'Kim, pull over! We need to buy a tape recorder because I need to record this.'
"And so we do – we careen off the freeway to find a radio, record shop or something, and we go in and we buy a little tape recorder."
Instead of having a romantic honeymoon, the newlyweds started a songwriting session, staying up all night writing "Stand Back," which appeared on Nicks' second solo record, The Wild Heart, later that year.
"We get the song, and I'm basically using Prince's instrumental melody," Nicks said. "What I'm singing along is very, very different from what he's singing. I'm singing in and out of all of the holes." Nicks finished the song, but His Purple Highness had the last say on what needed to be added.
Prince helped Nicks finish the song. "That was the coolest thing we've ever heard," Nicks said. "Takes him an hour; he gives me a little 'I don't really know you' hug, and he's gone. Like a little spirit."
After that, Nicks and Prince got close.
Nicks and Prince got close after that first collaboration
In an interview with the New Yorker, Nicks said she and Prince got close after that first collaboration. In 1984, Prince requested Nicks' help on "Purple Rain," but Nicks turned him down. The song was too overwhelming for her. She didn't want that pressure. Still, that didn't stop Prince from being inspired by Nicks. He used "Edge of Seventeen" as inspiration for Purple Rain's "When Doves Cry."
"I saw him many times after that," Nicks told the New Yorker. "We'd play Minneapolis, and he'd come and pick me up after my show. And we went to his purple house one night and we wrote a song. It's not a great song, but it's fun because we wrote it."
Even after Prince put moves on her, they remained friends.
"When 'Purple Rain' came out, I went to the première, and I watched up until the part where he slapped Apollonia [Kotero] across the face really hard. That definitely wasn't the Prince that I knew, and that just freaked me out.
"I got up and I walked out and went into the really beautiful bathroom of the Chinese Theatre, and I just sat in there for the rest of the movie. After it was over, there was a big massive 'Purple Rain' party somewhere, and he said, 'So what did you think of the movie?' And I said, 'Well, when you slapped Apollonia it freaked me out and I went and sat in the bathroom.'
"He was not happy. He said, 'You left? If you had watched the end, the slap would've made sense to you. I was, like, fighting for my life during that part.' And then, over the next two years, I watched it and I understood what he meant. You know, there was a reason for it."
Nicks regrets not going to see His Purple Highness before he died in 2016
Unfortunately, Nicks and Prince's relationship was cut short after His Royal Badness died of an accidental overdose of fentanyl in 2016. One of Nicks' regrets is not having seen him one last time.
"But, you know, the eighties were pretty bad drug years for me," she continued to the New Yorker. "And Prince was very not into drugs. And the fact that he ended up being on a lot of pain medication just blows my mind, because he was so against it, and he gave me so many lectures about it.
"I'd talk to him every once in a while on the phone, and we'd talk for hours, and he'd go, 'You gotta be careful, Stevie.' And I'd go, 'I know, I know.'
"And now that he's gone I'm really just so sorry. My one regret with him is that I did not call him up one day and say, 'Listen, I'm just coming in, I'm gonna fly in and come over to Paisley Park and just hang out with you for two days. Because I just would love to see you.'
"And that's what I always tell people. Remember, every single day of your life, the people you love could be gone tomorrow. If anybody can take away from what we're talking about right now, it's the fact that life is very fragile. You can't count on ever having a lot of time left."
Nicks always keeps Prince in mind, though. She speaks to him and asks him to walk with her when she goes on stage.