Stevie Nicks Regrets Not Meeting David Bowie: 'Why Didn't I Get on an Airplane and Go See David Bowie?'
Stevie Nicks doesn't have many regrets, but she does regret not meeting David Bowie. When you look at the singers, it's easy to imagine that they would have been friends. However, somehow they never met. Nicks knows that if they had, they would have collaborated immediately.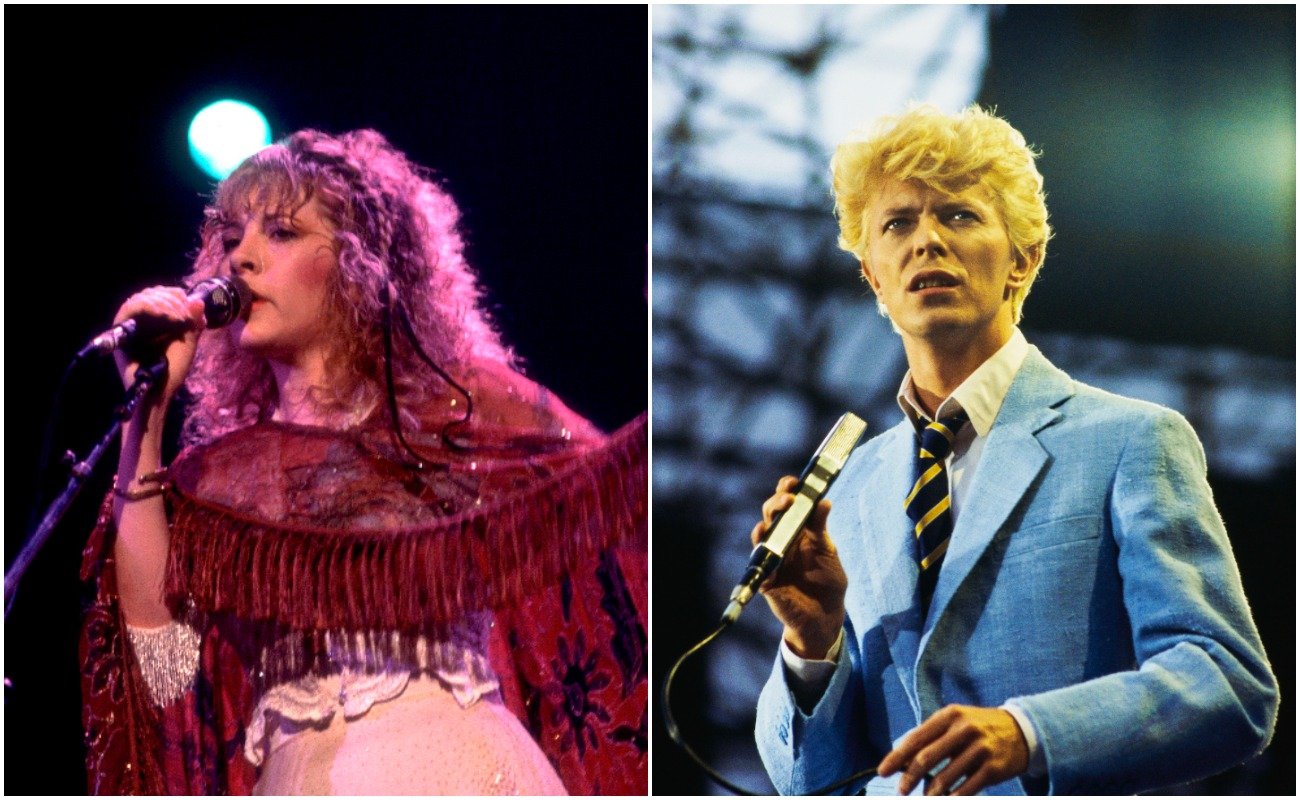 Stevie Nicks regrets not meeting David Bowie
Nicks has collaborated with many artists over the years, including Sheryl Crow, Dave Stewart, Don Henley, and Tom Petty. Yet, as Dazed wrote, "there are some artists she never did approach to work with, even if they seemed like a natural fit. David Bowie, for instance."
Nicks regrets not meeting and collaborating with Bowie. "You know what, I don't even know that I ever met David Bowie," Nicks told Dazed. "Had I ever met him, I probably would have said the first thing I usually say whenever I meet somebody who is one of my heroes: 'Maybe we could get together and work on a song or something?' That's usually my first line, because that's all I really want from all these people – to be in their presence and study what they do."
"I missed out on that," Nicks continued. The Fleetwood Mac frontwoman was a massive Bowie fan, but, surprisingly, she never met him. They had to have had mutual friends.
Nicks and Bowie have a lot in common too. They are performance artists and extravagant in their own ways. Nicks knew this too.
"I loved a lot of his songs," she continued. "A great singer-songwriter. He was also a performance artist. He had a lot of talent and in a lot of different ways. He was a special guy. Really special. I am sorry, because you look back on your life and think, 'Why didn't I get on an airplane and go see David Bowie? Why didn't I get on an airplane and go see a lot of people that I'll never get to meet now?'"
Nicks enjoyed Bowie's film 'The Hunger'
During a 2014 interview with Rolling Stone, Nicks talked about how her music was reaching new fans from younger generations.
"It's crazy to think about all these people listening who weren't born back then," Nicks said. "We put 'Seven Wonders' back in the set because of American Horror Story. Our monitor guy said, 'I'm not familiar with that song.' I said, 'Because it came out when you were two.'"
Rolling Stone replied, "You're like David Bowie that way — every generation discovers you." Nicks replied that she loved Bowie and enjoyed his 1983 gothic horror film, The Hunger.
"Well, I'm a big fan of David Bowie," Nicks said. "Especially his movie The Hunger, with Susan Sarandon and Catherine Denueve. Just creepy and strange and amazingly beautiful. I'm always surprised Bowie didn't make more vampire movies."
Honestly, we're surprised too. Maybe the pair could have done a vampire film together.
Bowie's estate has sold his back catalog-joining Nicks and a handful of others who've recently done the same
The estate that handles Bowie's legacy has recently sold his entire back catalog, consisting of more than 400 songs, to Warner Chappell Music.
The catalog spans Bowie's career from the late 1960s until he died in 2016. Songs like "Space Oddity," "Ziggy Stardust," "Fame," "Rebel Rebel," and "Let's Dance" on Bowie's 26 studio albums are included. ABC News wrote that even Bowie's posthumous projects like the new Toy, two studio albums from Tin Machine, and singles from soundtracks and other projects, are included.
Bowie's estate sold the catalog to Warner Music for $250 million. Now, the singer joins the group of other artists who've recently sold their catalogs either in part or entirely, including Bruce Springsteen, who recently sold his catalog for $500 million, Bob Dylan, and Nicks.
So, it seems as if Nicks and Bowie share that similarity, among others. However, like Nicks, we wish either of their catalogs featured a collaboration between them.