Stevie Nicks Revealed Which 1 of Her Albums She Loves Most: 'I Can't Just Let This Record Go'
Stevie Nicks has released eight studio albums throughout her solo career. That's on top of being the faithful frontwoman of Fleetwood Mac since 1975. Impressively, six of her eight solo albums have appeared on the Top Ten on the U.S. charts. But Nicks has a special place in her heart for one particular record.
While her debut, Bella Donna, reached No. 1 on the charts, Nicks is favorable toward a record that took her 30 years to make.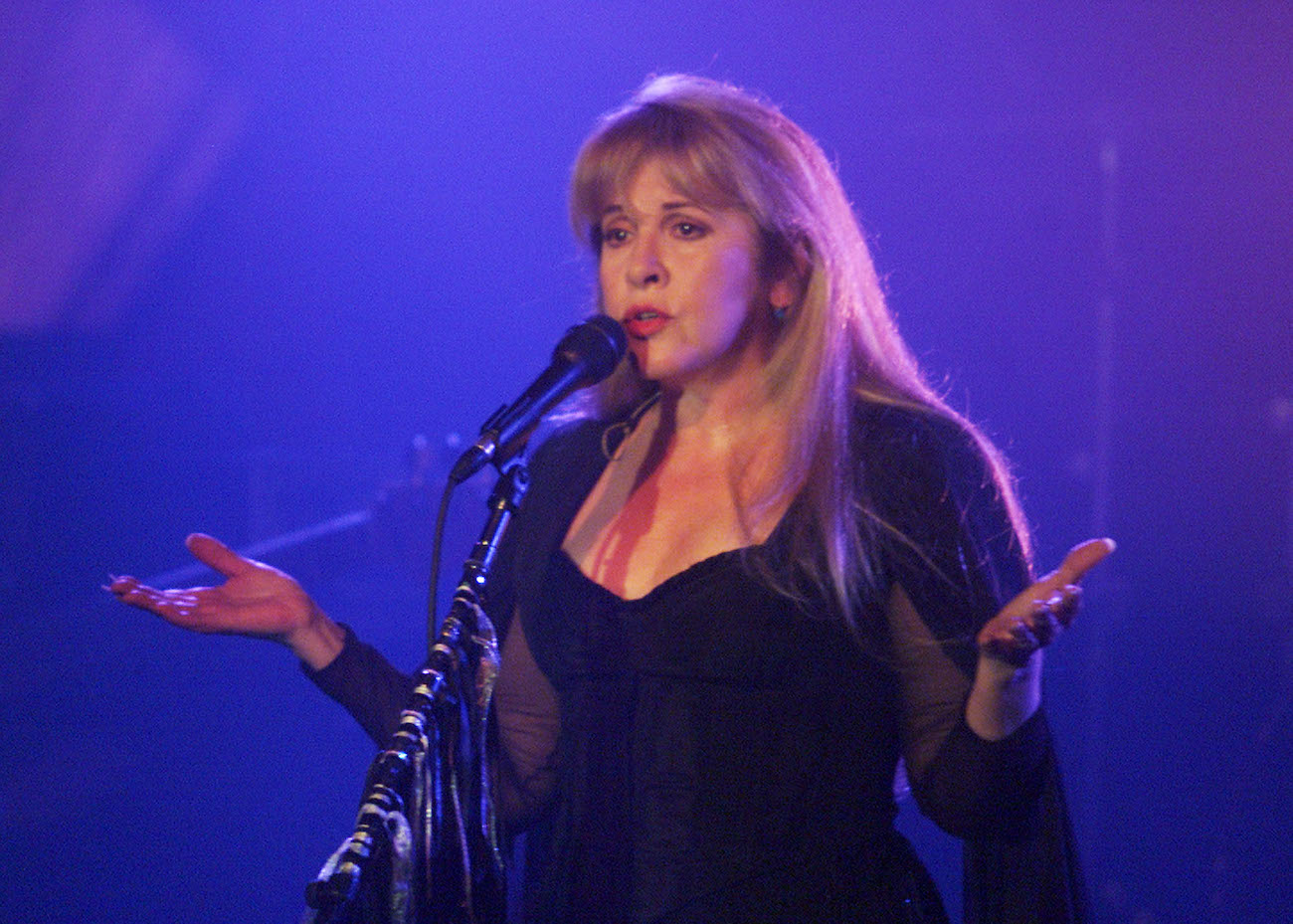 Stevie Nicks thinks that '24 Karat Gold' is one of the best records she's ever made
Nicks released her most recent eighth album, 24 Karat Gold: Songs from the Vault, in 2014. The album consists of new versions of demos recorded between 1969 and 1987 and two songs from 1994 and 1995. So, essentially it took her 30 years to release. However, it was worth the wait because it's one of Nicks' pride and joys.
Nicks loves the record so much, actually, that she's willing to follow it up with Parts 2 and 3. She has tons of demos lying around, so why not?
"I think that this is one of the best records I've ever made," Nicks told MacLean's in 2015. "So I can't just let this record go. When the Fleetwood Mac tour is over, I might go straight back to Nashville and record eight or nine songs, and Warner Brothers can take it and repackage the album. I have another 10 demos.
"There's a song that's called City of Hope that I love that needs to go out because that's [the name of the California-based hospital] Robin was in. I spent a lot of time driving through the big sign that says 'City of Hope' when there was no hope. With a bottle of brandy and a gram of cocaine, thinking, 'Please God, don't let her die.'"
Nicks also mentioned she almost added a tune called "The Kennedys," which was about "a strange dream I had about meeting the Kennedy men, at a cocktail party benefit in the Hamptons. I went in to play the piano and sing [for the party] and Martin Luther King walked me down the hallway." However, Nicks eventually released this song, which became "Show Them the Way," in 2020.
RELATED: Why Stevie Nicks Said She Sometimes Felt Like a 'Dying Flower' Staying in Fleetwood Mac
Nicks didn't get to enjoy it when '24 Karat Gold' finally dropped
Unfortunately, Nicks didn't have time to enjoy the release of 24 Karat Gold. After waiting 30 years, she had to put Fleetwood Mac's priorities first.
"I haven't gotten to enjoy it at all," Nicks continued to MacLean's. "Rehearsal for the Fleetwood Mac tour started the sixth of August, and we made 24 Karat Gold in three five-day weeks in Nashville, and then came back to my house in Los Angeles and did three more five-day weeks."
Nicks explained on Today that she called the album 24 Karat Gold because "these are the golden songs." Fleetwood Mac recorded some of the tunes, but they ended up on the chopping block because she wasn't happy with the arrangement. So, she decided to stock them away for later.
"So, these are those songs that were all supposed to be on records somewhere between '85 and 1990, really. And just for whatever my reasons were, I pulled them back," Nicks explained.
Nicks said she's not "more proud" of any of the songs, but she really loves "Lady" because it was the first song she ever wrote on the piano. She held it back because she thought maybe one day someone would write a musical about it. However, she told Vulture that her favorite song on the album is "Mabel Normand," which Nicks wrote after doctors told her she'd die if she snorted cocaine again.
RELATED: Stevie Nicks and Dave Stewart's Friendship Started Out as a Drug-Fueled Fling
Nicks decided to release '24 Karat Gold' after she found out fans released her demos on YouTube
In the first half of the 2010s, Nicks was very busy. She recorded her album In Your Dreams with her friend Dave Stewart and released it with a documentary that Stewart shot and produced in 2011. Then, Nicks reunited with Fleetwood Mac (this time with the entire Rumours lineup, including Christine McVie) in 2013.
They spent most of that year on the road, yet Nicks still had the time to start tentative plans for 24 Karat Gold. But she never would have thought to make the album if she hadn't login onto YouTube.
After seeing her bootlegged demos on YouTube, Nicks decided to make the album. Clearly, many people wanted to hear the songs recorded, and she wanted them to have the finished versions.
It took only three weeks to record the album in Nashville. The "fastest I have ever recorded," she said during her acceptance speech at the BMI Pop Awards in LA (per Billboard).
"We went onto YouTube and we found all the songs that, somehow, were taken from my house or picked up or loaned out or whatever … and we went to Nashville (and recorded them)," Nicks told the Associated Press. "So they're like all starting from like 1969 maybe? I call them my 24 karat gold songs."
Hopefully, Nicks releases the follow-up to her favorite album. 24 Karat Gold is like Nicks' time capsule album, with songs written throughout her career. They tell a story, but Nicks isn't done telling it.