Stevie Nicks Revealed 1 Reason She Continues to Play With Fleetwood Mac
Stevie Nicks has always been a very busy rock star. On top of juggling her successful solo career, Nicks has the record for most hours spent working with the USO. Not to mention, she took time out of her hectic schedule to visit the set of Glee a few years back, filmed 2 cameos for American Horror Story, and held a photo exhibition of all her old Polaroid self-portraits at Morrison Hotel Gallery. All of that's not bad for an aging rock queen whose bedtime is 8 a.m.
However, no matter how busy Nicks is, she always responds when Fleetwood Mac calls, and she never leaves the chain hanging. Despite her comments that Fleetwood Mac has never been friends, there must be a reason why Nicks always returns. Actually, there's a couple.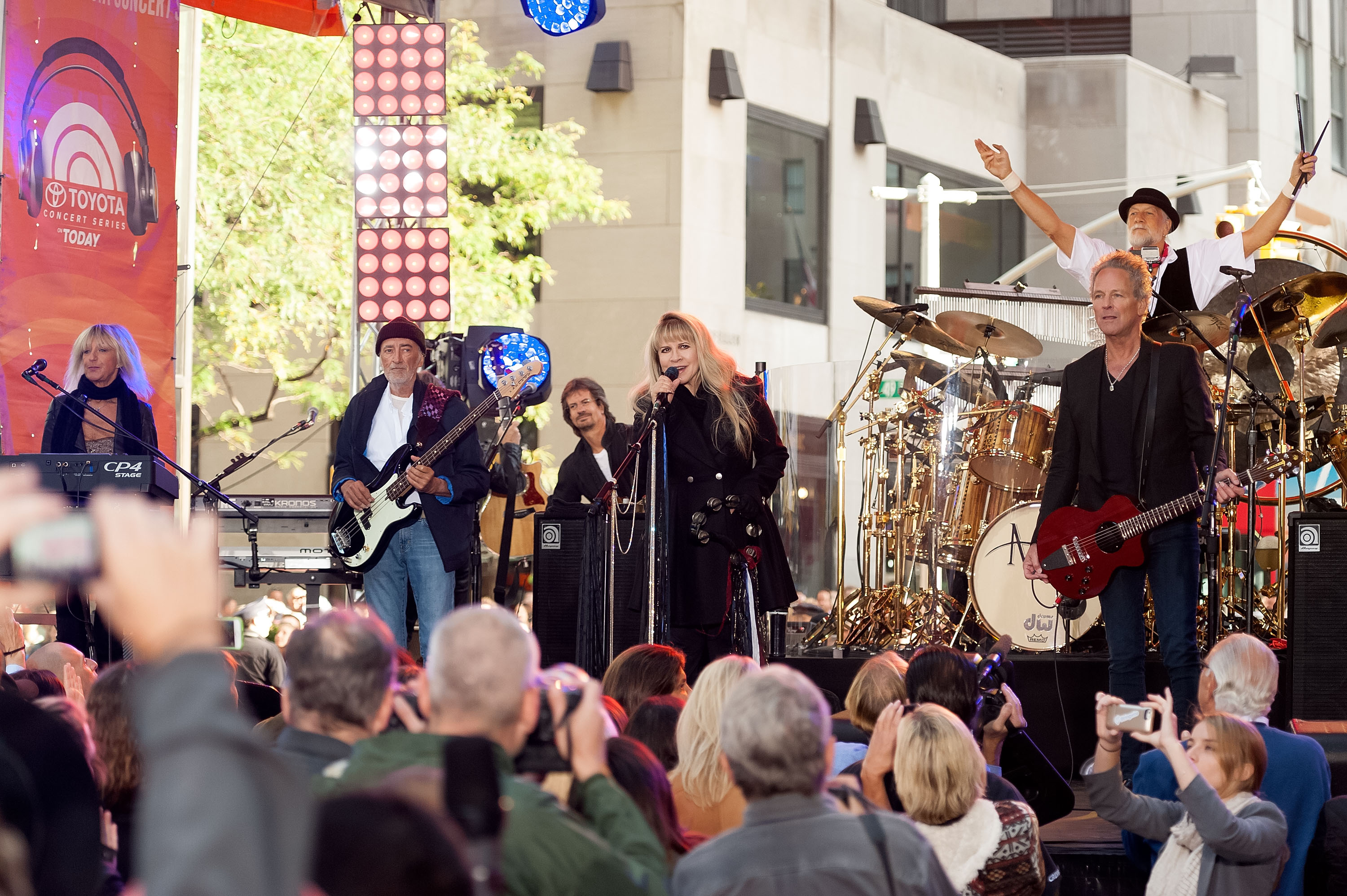 Stevie Nicks continues to tour with Fleetwood Mac because of the fans
In a 2015 interview, MacLean's asked Nicks if it's been worth it, constantly putting her solo career on the backburner whenever Fleetwood Mac wants to tour again. Nicks replied that it has been because it makes the fans happy. But it is tough, especially when she has grand plans for the future, including a miniseries based on her song "Rhiannon."
"You get to a point in your life where some things have got to go if anything else new is going to come in," Nicks said. "Then you face the fact that the Fleetwood Mac tickets sold out in three weeks for 80 shows. I don't want to hurt anybody's feelings. I don't want the audiences to be disappointed. I want everybody to be happy. I want the people in Fleetwood Mac to be happy."
Another reason why Nicks stays with Fleetwood Mac; Christine McVie, Fleetwood Mac's other frontwoman, who left the band for 16 years until her return in 2014. "I do adore being back with Christine," Nicks said. "She's had a 16-year rest. She's like ready to rock. I had forgotten how wonderful that was. I had forgotten how close we were."
RELATED: Stevie Nicks Is Completely Against Computers & Cellphones: 'It's Obnoxious'
Stevie Nicks loves exiting the stage with Christine McVie
Nicks said one of the most emotional parts she's experienced while being on tour with Fleetwood Mac is getting to walk off stage with McVie. "When I finish [performing] Silver Springs [with Lindsey Buckingham], Christine waits for me and takes my hand. We walk off and we never let go of each other until we get to our tent. In that 30 seconds, it's like my heart just comes out of my body," Nicks said.
After McVie returned, Nicks often said it felt as if she'd never left. Nicks also completely understood why McVie had to go. "I understood why," Nicks told Vulture. "I understood that in her heart of hearts, she could not do it anymore. There were reasons … she was having panic attacks. She was getting to be afraid to fly. There's nothing worse than being afraid to fly. I understood that she needed to go home.
"I love Chris, and she was my best friend for 30 years. So when your best friend looks at you, in your eyes, and says, 'I can't do this anymore,' you just have to let her go. And I did. I said, 'Christine, pack your bags and go home. We'll be fine. It's not your responsibility to stay in this band for the rest of your life. It's your responsibility to be true to yourself. You've done a great job. You've been in a band with Mick [Fleetwood] and John [McVie] for five years before Lindsey [Buckingham] and I even came along. So you've paid your dues. Go home.'"
RELATED: Stevie Nicks Says She Was 'Selfish' in the Songwriting Process in Her Early Career
Despite her reasons to stay, tours take a toll on Nicks
Before Fleetwood Mac fired Lindsey Buckingham from the band in 2018, MacLean's also asked Nicks if it had gotten easier sharing the stage with an ex "singing about a soured relationship you had decades ago." For Nicks, that's not the hard part about continuing to tour with Fleetwood Mac. The hard part is growing old.
"I just try to sink back into it and that's not the hard part for me," Nicks explained. "The hard part for me is how physically difficult the three-hour set is. I walk off stage and I get into the hallways, and the first thing that comes out of my mouth is 'This is too much for me!' It's too hard, it's too long, this set should only be an hour and a half long—we are all over 65! This is 40 shows! I feel like my bones are breaking."
However much Nicks feels her bones breaking, she'll never retire. Nicks told Rolling Stone in 2017, "My friend Doug Morris, who's been president of, like, every record company, said to me once, 'When you retire, you just get small.' Stand up straight, put on your heels, and get out there and do stuff."
Nicks was 68 at the time and said she didn't feel her age. "I don't like that number," she said. "I see lots of people my age, and lots of people who are younger than me, and I think, 'Wow, those people look really old.'"
While Nicks' statements about aging tend to conflict with one another, there is one thing we're sure of; Nicks will continue to tour with Fleetwood Mac for as long as she can. Hopefully, the band gets back out on the road soon, though. Nicks doesn't have all day to wait for the chain to link back up.