Stevie Nicks Revealed She Always Keeps This 1 Super Affordable Item in Her House
How do you imagine Stevie Nicks' home to look? Some might picture a place that possibly combines the exterior of the Sanderson sisters' cottage from Hocus Pocus (or maybe the Owens witches' house from Practical Magic) with the lush interior of someplace like Prince's Paisley Park. But Nicks is neither a practicing witch nor as lavish or purple as Prince.
Whatever Nicks' home looks like, inside and out, we know that she isn't a frivolous spender. She's mostly practical, only splurging on things that are a complete necessity to her. Her home is unique to her, but her music career is even more important, which is probably why she goes without spending too much on things around her house. Why splash the cash on certain things when you're barely at home? You can purchase most of the must-haves in Nicks' home right at your local store.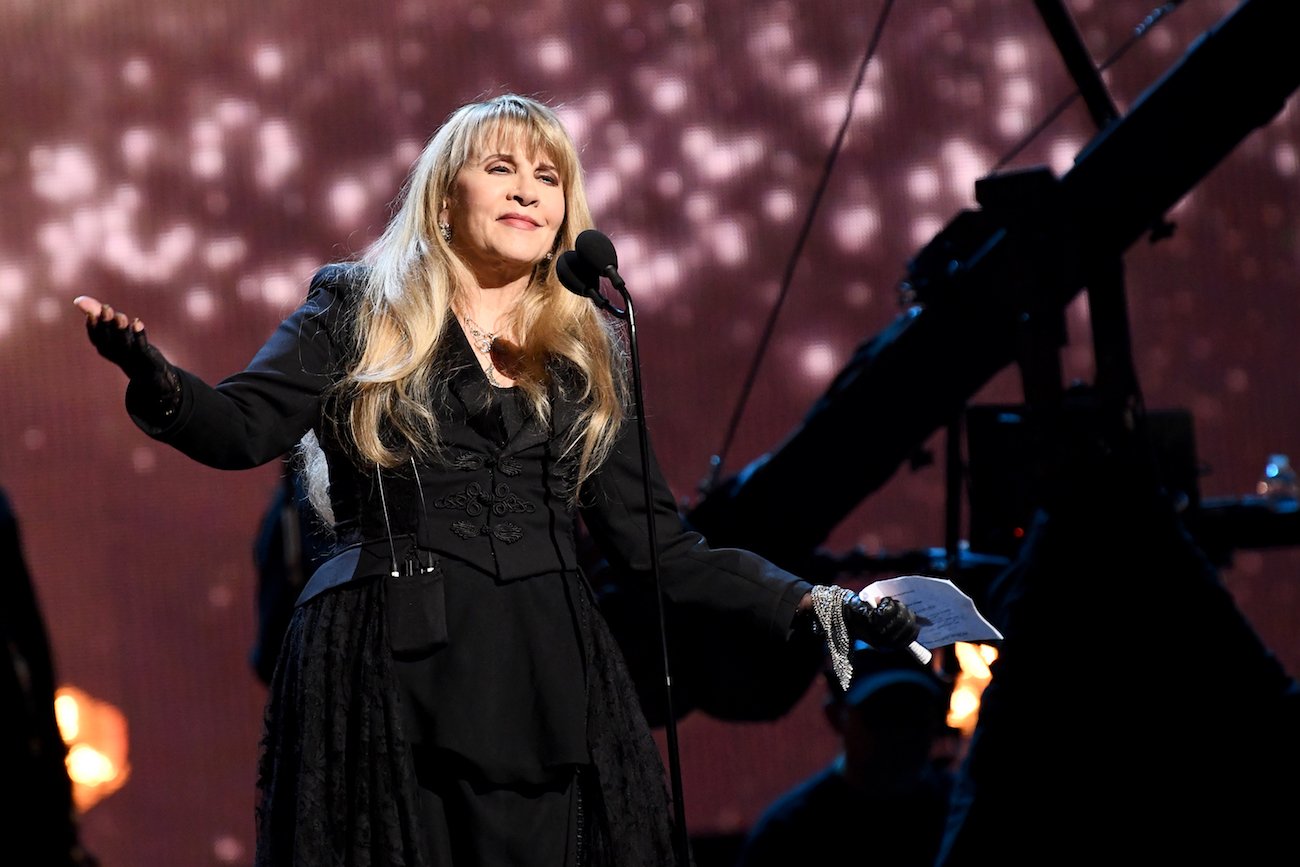 Stevie Nicks loves her rainbow lightbulbs
Nicks isn't the kind of person who would buy crazy expensive home decor. It seems as if the simplest things bring her joy, including her rainbow light bulbs.
While promoting her latest album, In Your Dreams, in 2011, Nicks shared 25 things fans don't know about her with Us Weekly. On number 22, Nicks said, "I often use rainbow lightbulbs." Why not? They would definitely give a place some mood lighting.
In fact, lighting seems to be very important in Nicks' home. She "never" sits in the sun but says she's "a fanatic about good lighting" in every room in her home. In her backyard, she keeps holiday lights strung on one of her trees all year long because "Why not?"
When Nicks does venture outside, she prefers to be on a boat or looking out at sea. So maybe she would have the Owens home?
Nicks shops at Pier 1, loves hot water bottles, and doesn't own a bed frame
Nicks also shops at stores like Pier 1. On her desk, she has a gold Buddha frog that she bought from the shop, and it must be important to her because that little tidbit sits at number 12 on her list. We can imagine Nicks sitting at her desk next to the Buddha frog.
Another necessity in the Nicks household is furry hot water bottles, which are rubber containers filled with hot water. You hold them on your lap to keep you warm. Nicks more than likely enjoys furry textured hot water bottles because it reminds her of her dog, who is her best friend.
In Nicks' room, don't be surprised if you don't see a bed frame. She told Us Weekly that she believes "it's good to have your mattress on the floor." We picture Nicks' room cluttered with her many shawls. However, she keeps most precious shawls in a temperature-controlled "shawl vault." We also imagine tons of lace and possibly some leather if we're lucky.
Nicks keeps her jewelry in her bathroom
With how vital Nicks' jewelry is to her, you'd think she'd have a special place to put it all like her "shawl vault." That's not exactly the case. She keeps her most precious jewelry, most of it her mother's, in her bathroom of all places. The priceless pieces hang on a goddess statue and her sconces. She places her rings on a chain that loops and locks.
"Put your rings on a chain," Nicks told Vulture in 2014, "and you will never, ever lose them." That's actually really great advice.
So Nicks' home seems to be more affordable-Bohemian than anything else, which is exactly what we imagined. You can go out and buy these items at Pier 1 or anywhere else and get rid of your bed frame, right now, to feel more like Nicks herself. When everything is in place, turn on "Rhiannon," and you're all set.