Stevie Nicks Revealed She Always Has a Picture of This Rock Star With Her on Tour
Stevie Nicks has technically been touring since she was 5 years old. After her grandfather taught her to harmonize, he took her to sing with him at local saloons around Phoenix, Arizona. However, Nicks has toured professionally since about the 1960s. Since then, Nicks has successfully brought her music and the music of Fleetwood Mac to fans all over the world multiple times.
So, Nicks is a bit of a touring veteran. She knows what it takes to make a tour succeed, and it's not just about the music, the venue, and the crew of workers that make it all happen. Nicks needs a couple of things with her at all times to make it all go smoothly, including a picture of a dear friend.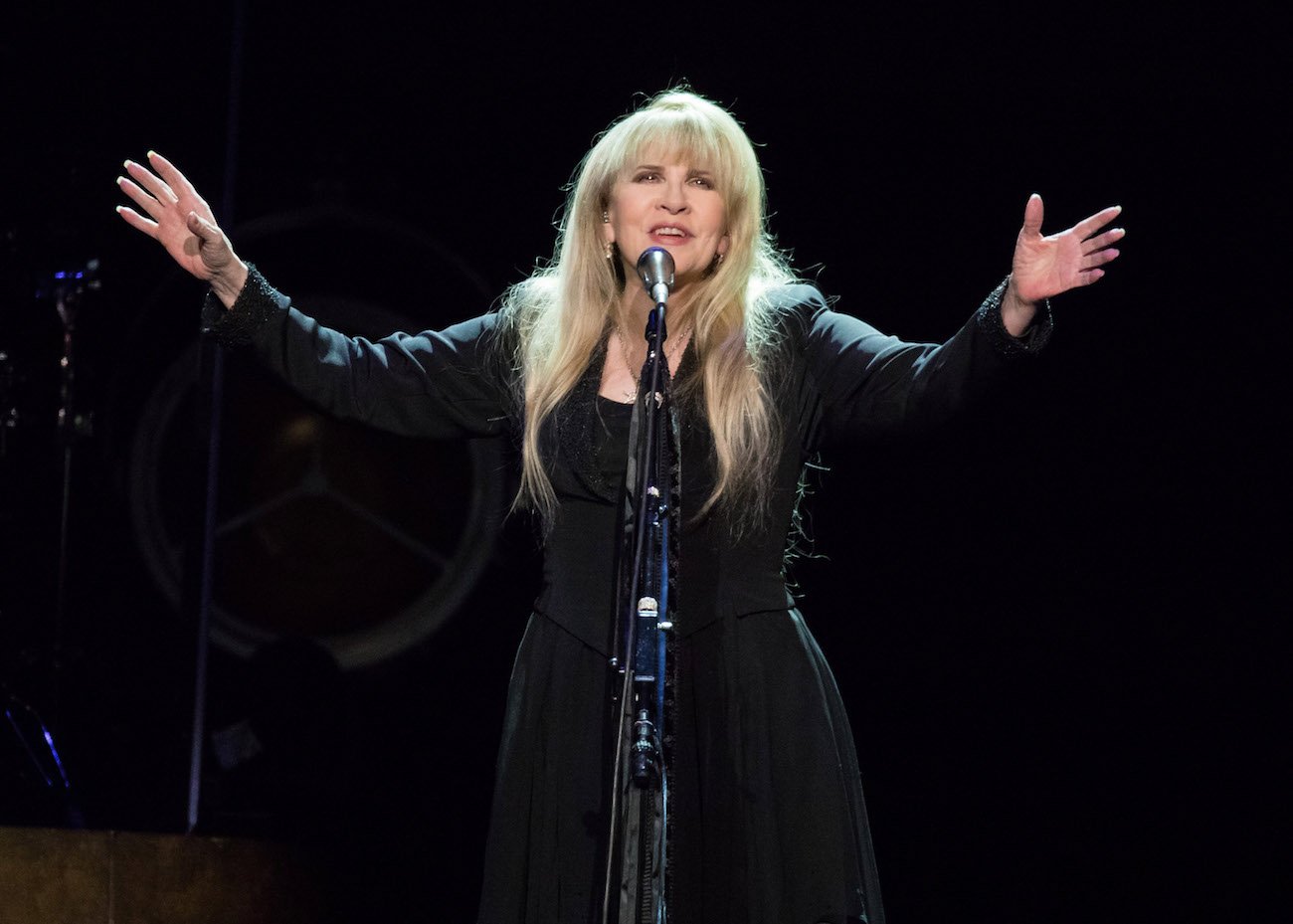 Stevie Nicks needs a photo of George Harrison with her on tour
Nicks was close with ex-Beatle, George Harrison. They hung out together around the time that Fleetwood Mac was working on their hit album, Rumours. Nicks enjoyed the moments they had together so much that a photo of her, George, and restauranteur Bob Longhi, is one of her most precious possessions.
Nicks has to have the photo with her on tour as "a poignant reminder to never take performing on stage for granted," Far Out magazine writes.
"When I go on the road it goes right on my makeup mirror," Nicks once said. "So before I go on stage, whether it's with Fleetwood Mac or me in my solo career, the three of us are looking back at me, and that has been my inspiration every single night."
Looking at the photo has given Nicks the motivation needed during rougher nights on stage. "There's lots of nights where you kind of go, I wish I didn't have to go on stage tonight, I'm tired, I don't feel like doing it, and I look at George Harrison and look at Longhi and look at me and I go: 'Well, you just have to, because it's important, it's important to make people happy, so get out of your chair, put on your boots and go out there and do your thing.'"
Nicks and George spent time together in Hawaii
Nicks and George hung out together with a few other people in Hawaii in the late 1970s. Speaking about her time with George, Nicks said, "I knew George quite well. We spent some time just hanging out, and not really writing, but like pretending, trying."
"I got to spend like two days with a bunch of people, and him in Hawaii once. Also, when Rumours was coming out, I got to spend some time with him in Mexico, in Acapulco when there was a Warner Bros. convention," she continued. "It was totally fun, we were standing by the pool, and George Harrison said, 'They are coming for us, they are going to try to push us into that pool.' He put his hand on my back, and said, 'Absolutely, they'll throw us in the pool so let's get away from the pool.'"
"He was handsome, he was debonair, and he was funny. He liked Dave Stewart. They all have that certain je nais se quois that's just so attractive and easy to be with," Nicks continued. "You didn't know him, then you've known him fifteen minutes, and you feel like you've known him a long time."
The press might have labeled George the "quiet Beatle," but he had a way with people, especially women. He was quite funny when he wanted to be. George and Nicks' mutual friend, Tom Petty, can agree. Petty once said George never shut up.
Nicks also needs her expensive massage chair on tour
Besides her picture with George, Nicks also needs something more therapeutic than motivational whenever she's on tour. Nicks doesn't travel light. She brings her expensive massage chair wherever a tour takes her.
According to Vulture, Nicks bought a black leather massage chair for a tour in 2003, and it travels with her everywhere she goes. "It is visibly worn and has the aura of a sacred space you must not sit on if your name is not Stevie Nicks," Vulture writes.
All performers have their own talismans to be able to pull off a successful tour. It's a superstitious thing. Nicks' talismans are both motivational and practical. Plus, having one or two hundred shawls at the ready if she ever needs them probably helps a lot too.