Stevie Nicks Revealed Her Favorite Beatle: 'I Had Some Nice Moments With Him'
Stevie Nicks once revealed her favorite Beatle. It was an easy decision for her because she'd spent a lot of time with one particular Beatle.
For some people, choosing their favorite Beatle is one of the hardest decisions. However, for Stevie Nicks, the decision is a little easier. She knows which member of the Fab Four she'd choose because it's who she's spent the most time with. They had some really remarkable moments together, and Nicks never forgot them.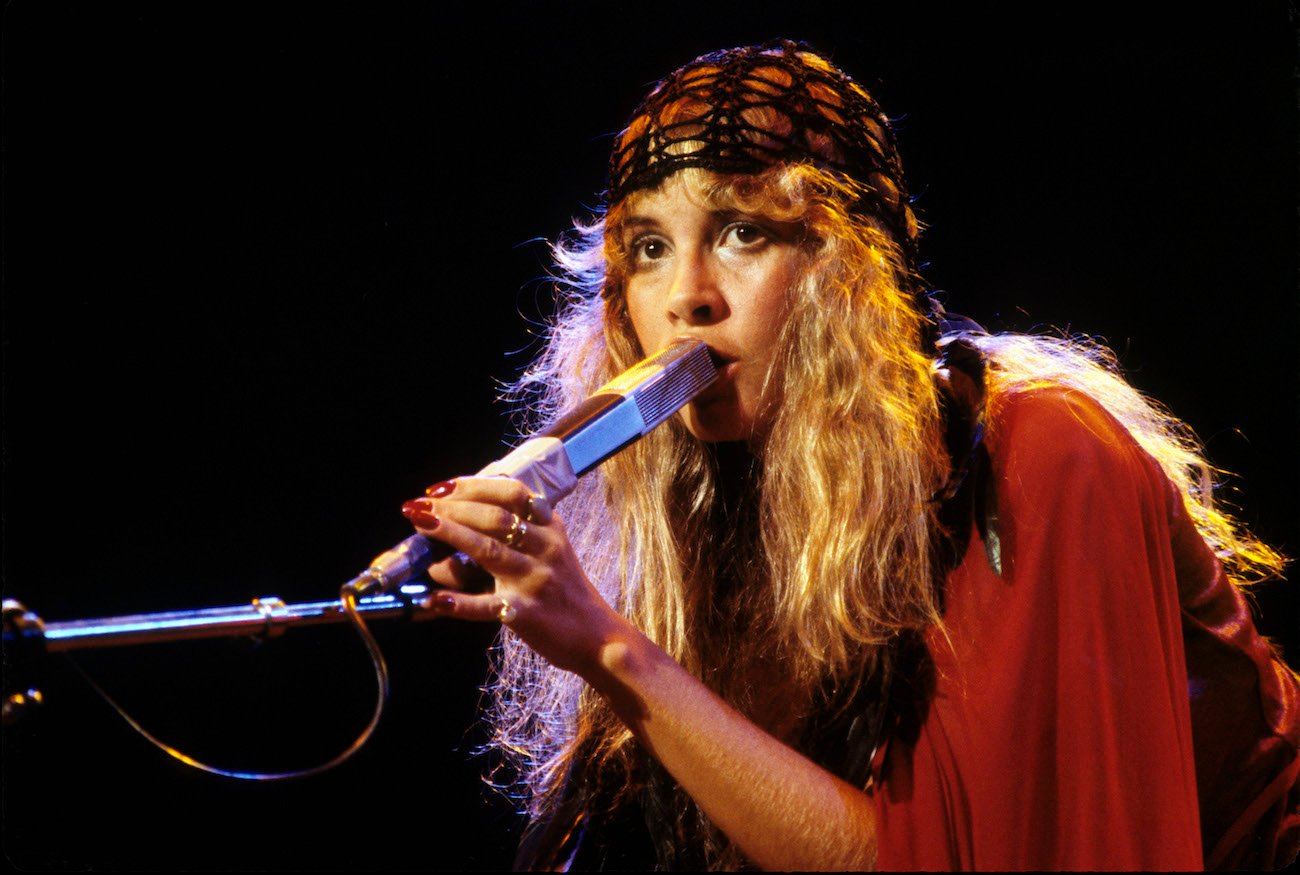 Stevie Nicks' favorite Beatle is George Harrison
While many Beatles fans tend to love them all equally, Nicks only loves one the most. John Lennon's death might have inspired her to write "Edge of Seventeen (Just Like The White Winged Dove)," but the witty Beatle isn't her favorite. Nor is Paul McCartney, who she's unsure she's ever met, or Ringo Starr. That leaves George Harrison.
According to Far Out magazine, Nicks said the "quiet Beatle" is her favorite because of the time they once spent together. Not because of his work in and out of The Beatles.
"I've met Ringo many times, and I knew George quite well," Nicks said before revealing why George was her favorite. "Because I knew him the best and because I had some nice moments with him. I'd have to say, George Harrison. We spent some time just hanging out, and not really writing, but like pretending, trying.
"I got to spend like two days with a bunch of people, and him in Hawaii once. Also, when Rumours was coming out, I got to spend some time with him in Mexico, in Acapulco when there was a Warner Bros. convention," Nicks continued. "He was handsome, he was debonair, and he was funny. He liked Dave Stewart. They all have that certain je nais se quois that's just so attractive and easy to be with. You didn't know him, then you've known him fifteen minutes, and you feel like you've known him a long time."
Nicks helped George write 'Here Comes the Moon'
While hanging out with George in Hawaii, Nicks helped him write the sequel to one of his most famous Beatles hits, "Here Comes the Sun." Who better to help write "Here Comes the Moon" than the moon goddess herself?
In Graeme Thomson's book, George Harrison: Behind The Locked Door, Nicks says that she helped George write the song during a late-night writing session, although she is uncredited. "We were writing a sort of parody of 'Here Comes The Sun,'" Nicks explained in Thomson's book. "Longhi [a mutual friend] was saying, 'You guys are always writing about the moon instead of the sun,' and I said that's because by then we were all night birds."
This is true, Nicks has always had an extremely late bedtime, and George was known to garden around midnight as well. Those late-night songwriting sessions also turned into meaningful conversations as well. Nicks said George gave her advice on fame.
"We just hung out and wrote and sang and talked," Nicks said. "I had been famous for not even quite three years and we were talking with George about being famous and what it meant and you had to give up."
Nicks carries a picture of her and George with her on tour
Nicks' time with George had such a profound effect on her that a photo of the pair has become one of her most prized possessions. In fact, Nicks needs the picture with her every time she tours.
Nicks keeps the photo of her and George as "a poignant reminder to never take performing on stage for granted," Far Out magazine writes.
"When I go on the road it goes right on my makeup mirror," Nicks said. "So before I go on stage, whether it's with Fleetwood Mac or me in my solo career, the three of us are looking back at me, and that has been my inspiration every single night."
Looking at the photo is also one of Nicks' motivational tools. "There's lots of nights where you kind of go, I wish I didn't have to go on stage tonight, I'm tired, I don't feel like doing it, and I look at George Harrison and look at Longhi and look at me and I go: 'Well, you just have to, because it's important, it's important to make people happy, so get out of your chair, put on your boots and go out there and do your thing.'"
So, there are many reasons why George is Nicks' favorite Beatle. Unfortunately, they didn't get to truly collaborate in the traditional sense, as Nicks did with one of George's closest friends, Tom Petty. Either way, though, Nicks and George had a beautiful friendship for a fleeting moment, and Nicks never forgot it.