Stevie Nicks Revealed the Members of Fleetwood Mac Haven't 'Really' Been Friends 'Since 1976'
Fleetwood Mac always puts their music first. No matter what chaos was going on behind the scenes, the band continued working together no matter what. After the drama that surrounded the recording of Rumours, one of their biggest albums, they could have all quit, and that would have been the end of Fleetwood Mac. They had bandmembers come and go throughout the decades, but they've always come back together.
The band may have been able to stay together after what happened between Nicks and Lindsey Buckingham and Christine McVie and John McVie, but they weren't exactly friendly with each other. Stevie Nicks says that apart from being bandmates, the members of Fleetwood Mac were not close at all.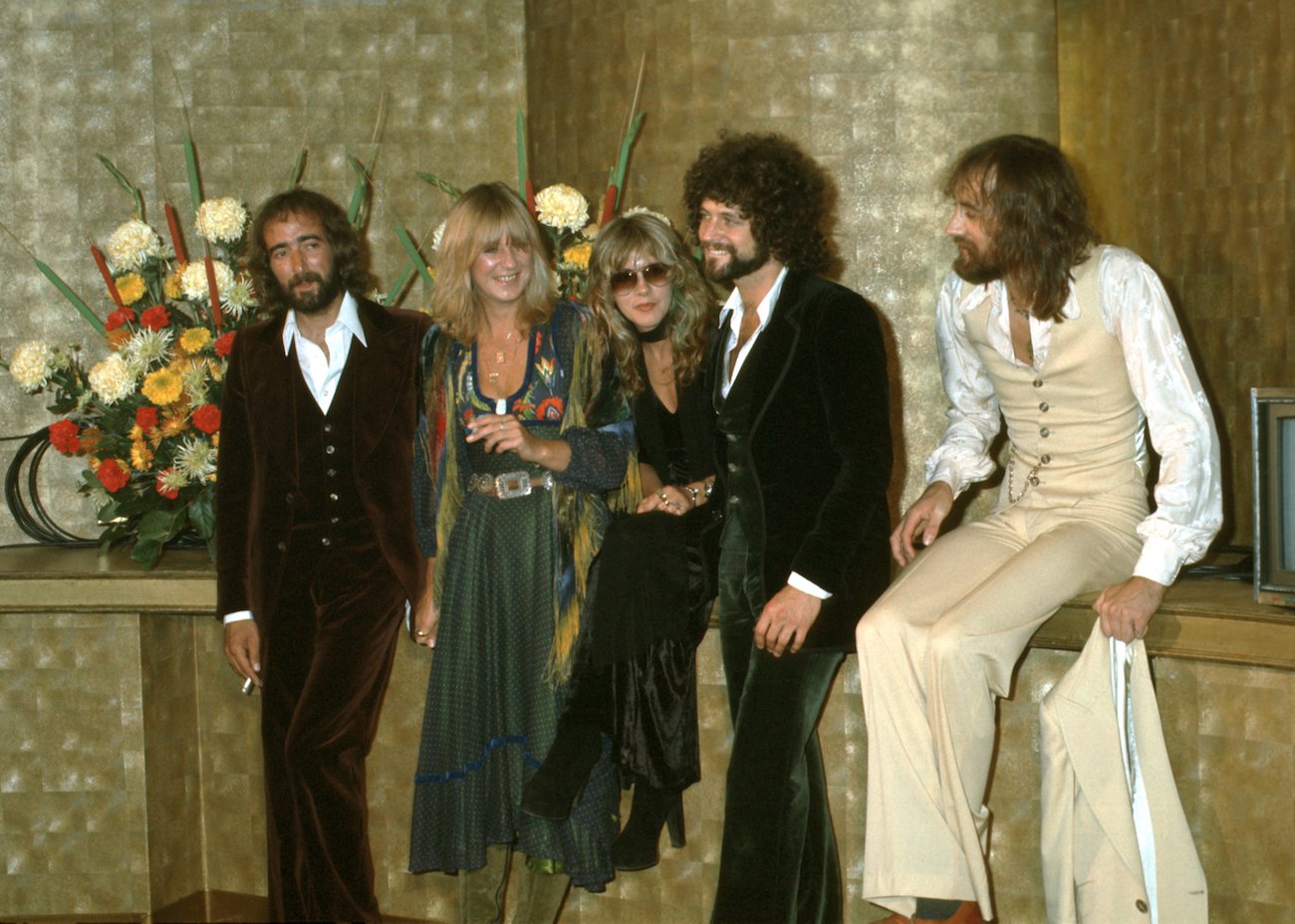 Stevie Nicks says the members of Fleetwood Mac were never friends
Fleetwood Mac has survived many things when you think about it. They've survived two broken relationships, Nicks' affair with Mick Fleetwood and band members' constant comings and goings. But maybe the reason why they've managed to stay together, for the most part, is that there aren't any feelings between them.
Speaking to the Guardian about whether or not she'd be able to share the stage with Buckingham after his firing in 2018, Nicks said, "Probably never." Shocked by the firm response, the interviewer double-checked. Nicks' answer didn't change, but she elaborated. According to Nicks, it wasn't so bad that she'd never play with Buckingham again because the members of Fleetwood Mac have never been friends.
Nicks said that people always asked Fleetwood Mac: "'Do you get along?' We'd go: 'Not really.' They'd say: 'Are you friends?' and we'd go: 'Not really.' 'Do you see each other when you're not on tour?' 'Er, no.' It has been like that since 1976."
Of course, you have to like your bandmates, but you don't have to be best friends with them. Maybe Fleetwood Mac has survived because none of them are worried about losing friendships. There was never any friendship, to begin with, so it made things simple.
RELATED: Why Stevie Nicks Has an 8 A.M. Bedtime: 'I Need Therapy'
Fleetwood Mac seem to be friends, despite Nicks' comments
After Christine McVie left the band in 1998, the Rumours lineup of Fleetwood Mac (Nicks, Buckingham, McVie, McVie, and Fleetwood) didn't tour together again until 2014. But when McVie returned, she was welcomed back into the band with open arms, and they formed the chain again. Speaking on Today, Nicks said it was hard to imagine that McVie ever left. That sounds like they are friends, no?
In the same interview, Buckingham said Fleetwood Mac was coming back better than ever. "It feels very much like a beautiful, profound, poetic new chapter for this band." Overall, the band was overjoyed to have the lineup back together again.
Ultimately, Fleetwood Mac has always had a door open to anyone who wanted to come and go. When band members fight, they never fight for long before they're working together again. Buckingham was fired in 2018, yet he's talking to Fleetwood again. We'll have to see if Buckingham and Nicks reunite.
RELATED: Why Stevie Nicks Was 'Terrified' of Filming Her 'American Horror Story: Coven' Cameo
Nicks says her bandmates were jealous of her
Looking at how well Fleetwood Mac works together, it's hard to believe they weren't closer with each other, even with all the drama between them. But it's possible to have a good working relationship with someone you're not friends with.
There could have been other factors as well. Nicks is under the impression that both her bandmates and producers were jealous of her successful debut solo album, 1981's Bella Donna. Nicks gave Buckingham a copy, but he left it on the studio floor and never listened to it.
"They were full-on jealous. And you know what? I should have cared less," Nicks said, explaining "they" meant her bandmates and the producers. "They hated that kind of confidence in a woman. People would say to me: 'It would be very hard to be Mr Stevie Nicks.' And I'm going: well, yeah, probably, unless you were just a really nice guy that was really confident in himself, not jealous of me, liked my friends, enjoyed my crazy life and had fun with it. And, of course, there are very few men like that. I'm an independent woman and am able to take care of myself, and that is not attractive to men."
Whether Fleetwood Mac is friends or not, we're just glad they were able to get over whatever the day's drama was and record hit albums. The original lineup may never get together again, but at least we have the albums.