Stevie Nicks Said Christine McVie Knew How to Calm Lindsey Buckingham Whenever He and Nicks Fought
It seems Christine McVie was the glue that held Fleetwood Mac together at its worst times. Even as her own marriage to the band's bassist, John McVie, ended, drummer Mick Fleetwood divorced, and Stevie Nicks and Lindsey Buckingham broke up, she was still virtually the only one left somewhat leveled headed.
Whenever Nicks and Buckingham had a particularly nasty fight, McVie was the only one who could calm the guitarist down. She was like the band's English fairy godmother.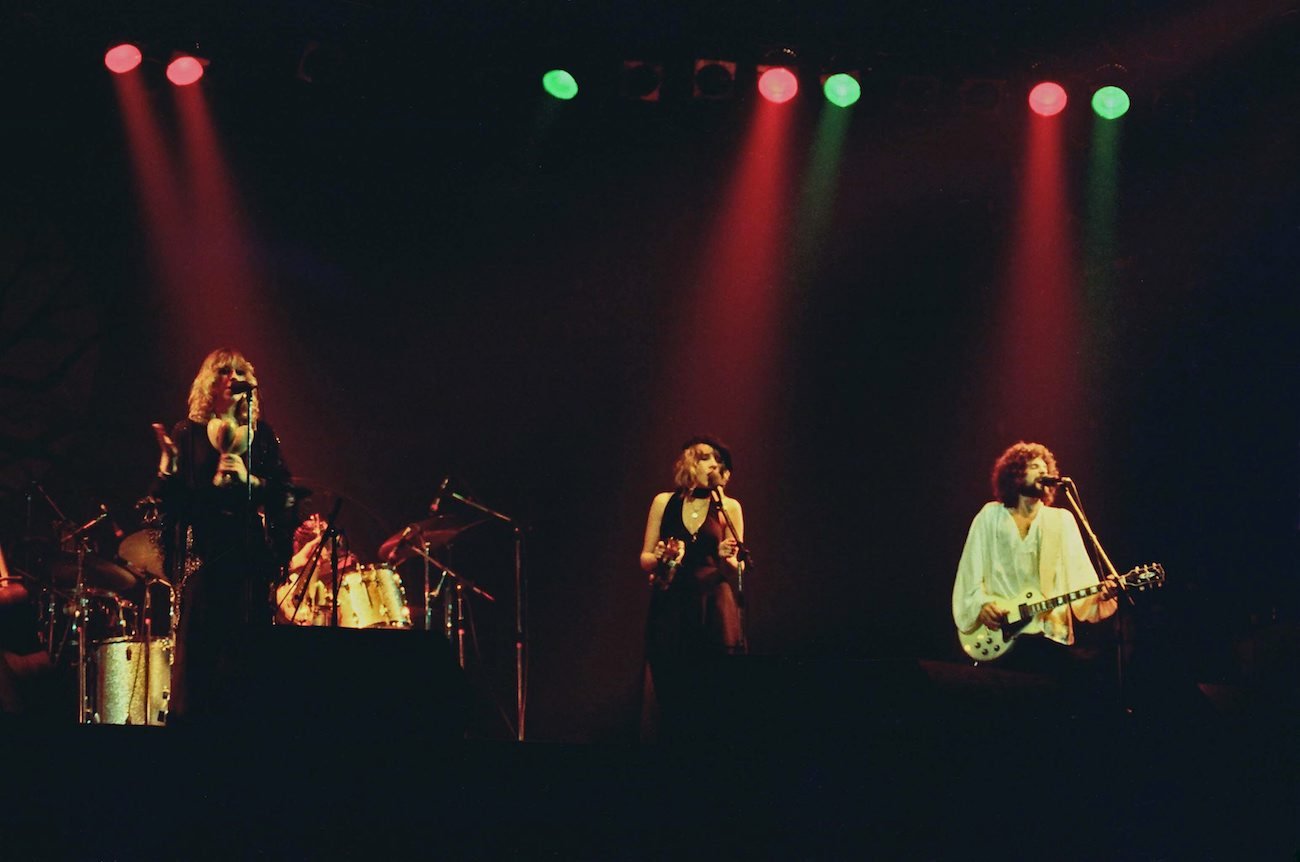 Christine McVie knew how to calm Lindsey Buckingham down after he fought with Stevie Nicks
In an interview with Billboard, Nicks revealed one of the reasons why it was great having McVie in the band. Initially, she was the buffer zone.
"Christine was like my mentor, and the only person who could buffer Lindsey," Nicks said. "She could totally soothe him and calm him down, and that was great, because I wasn't good at that. We were sailing along on the highest wave. It was OK for a while, until it wasn't. At the end of 1976, that's when it just blew up."
McVie wasn't just the buffer zone, she was sometimes the voice of reason and sometimes the complete opposite of Nicks.
McVie never did anything outrageous at the height of Fleetwood Mac's fame
Like Nicks, McVie had a skill for taking her real-life experiences and turning them into hit songs. In "Don't Stop," McVie talks about her separation from McVie after eight years of marriage. Also, "You Make Lovin' Fun" speaks about her affair with Fleetwood Mac's lighting director. According to Harper's Bazaar, McVie told her husband it was about her dog.
However, she was dissimilar to Nicks in the way she conducted herself. For example, there's a YouTube video of Nicks and McVie trying to record a Happy Birthday video for Warner Bros. McVie continuously tries and fails to get Nicks to focus on shooting the video, but Nicks can't stop laughing. McVie was like a mother hen.
"We all drank a lot and did a lot of cocaine, we partied a lot, I don't think I did anything terribly outrageous," McVie told Harper's Bazaar. "Except I once threw a cake out the window which landed on top of taxi. I was kind of the good girl in the group. That's who I was. Stevie used to call me Mother Earth because I was always pretty grounded."
Nicks and McVie are also dissimilar in their private lives
Initially, when Nicks joined Fleetwood Mac, she and McVie made a pact that they would always be "a force of nature." After that, if the women were in a room full of great, male rockstars, they vowed they'd never be treated like "second-class citizens." They've always stayed true to that, their bond, and their selves.
However, temperament isn't the only thing that makes the Fleetwood Mac women different. They like to keep very different private lives.
"Stevie is just unbelievable," McVie continued to Harper's Bazaar. "The more I see her perform on stage the better I think she is. She holds the fort. She's a brand. We're quite different in that way – I have an outside life. I live in London not the States. I like going shopping on my own."
McVie continued, "I have more of a normal life than her and that keeps me grounded… Stevie is devoted to her career and boy, does she do it well," McVie said.
Also, McVie could walk away from Fleetwood Mac for 15 years because she couldn't take it anymore, something Nicks would never do. Above all, Nicks and McVie have always worked great together. Their relationship is almost the only one that's survived in Fleetwood Mac.