Stevie Nicks Said She and Her Entourage Would Be Seen as 'Loose, Roaming Women' if They Went Out
Stevie Nicks said she and her entourage would be seen as 'loose, roaming women' if they were caught going on for the night.
Despite some stories of wild parties, Stevie Nicks has maintained that she couldn't go out during the height of her career. She said that if she and her entourage ventured out, they'd be seen as "loose, roaming women." In other cases, she and Christine McVie were "cloistered" in their hotel rooms on tour and guarded by security. Essentially, according to Nicks, there was no freedom.
However, knowing how independent and headstrong Nicks is, it seems strange that she felt she couldn't do what she wanted.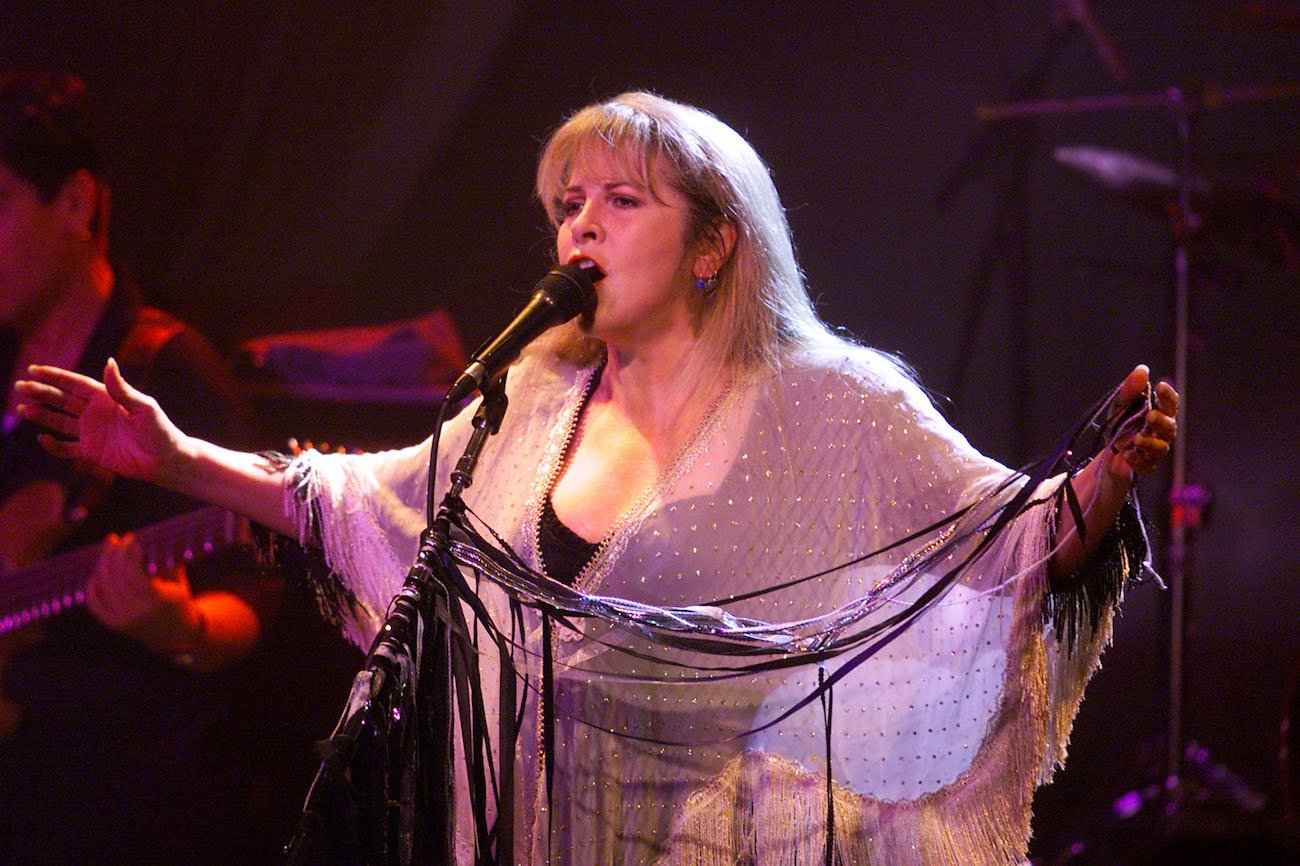 Stevie Nicks said she and her entourage couldn't go out without being seen as 'loose, roaming women'
In a 1982 interview, Playboy mentioned that Nicks' "immediate entourage all seem to be beautiful young women." They asked, "Do you and the girls ever go out together?" Nicks' reply was surprising given her queen of rock 'n' roll status of the time.
"We can't go anywhere," Nicks said, "It's fine for all the guys, but if we go, like, down to Le Dome for a drink or to the Rainbow for spaghetti, we're immediately going to be classified as loose, roaming women. Me and some of the other female singing stars, like Ann and Nancy Wilson and Pat Benatar, can't just go out boogying with our girlfriends.
"Anyway, I wouldn't be allowed out. I'd have to sneak out. I'm way too recognizable. I've been securitied up to my neck for the past seven years, so I'd also be severely scared. I once tried to sneak out to a disco in Chicago with my girlfriend Christie, but we got caught. So the guys went with us.
"It was a bummer. Nobody in the disco would even come up to us. But people say it's for my safety."
It's understandable if Nicks thought she couldn't go out because people would spot her. However, who were the people telling Nicks she couldn't go out regardless? This isn't the only time Nicks has mentioned her reclusive nature during the height of her career. While Fleetwood Mac was on tour, Nicks used to hole up in her hotel room with Christine McVie.
Nicks and McVie always had security guarding their hotel rooms
In an interview with the New Yorker, Nicks explained that she and McVie were constantly locked away in their hotel rooms while Mick Fleetwood, John McVie, and Lindsey Buckingham did whatever they wanted.
"I would say to her, 'Together, we are a serious force of nature, and it will give us the strength to maneuver the waters that are ahead of us.' Because we knew immediately that Fleetwood Mac was going to be huge. It was the second week of our first little three-month tour.
"We knew, almost like we could just look into the crystal ball. Christine's mom was a medium—like, a psychic medium, right? And her mom had a lot to say about it, like, 'It's gonna be huge.' 
"And, if it had just been me and John and Lindsey, it would have been a lot harder, because the guys could do anything they wanted. They could go to the bar after. They could find women. But not us, because we had a security guard standing right outside our room.
"So, unless we were going to bribe them, we could not get out of the hallway. In a way, we were very cloistered. It was better than being a part of that party every night. And besides, we had to sleep and we had to sing and we had to look good. We didn't really have time to just be party animals."
Despite what Nicks said, there were parties to attend in the 1970s and 1980s. Nicks once lost her eyesight temporarily during a two-day party, after all. So, it's hard to believe that Nicks and McVie weren't party animals.
Nicks is envious of Harry Styles' freedom
Over the year,s Nicks has taken Harry Styles under her wing. However, there are certain things she's envious of when she compares their careers. Nicks told Vogue that she envies Styles' freedom. Since she was always confined to her hotel room, that's understandable.
"Me and Christine were very cloistered, but Harry's able to live a freer life because he's a guy. He's like Mick. He has a free life," Nicks said. "I'm only comparing us in the way that Harry goes off to the Bahamas to work on songs, then flies back to L.A., then London, then Italy—I can't do that. I can't do that by myself.
"He's able to do whatever he wants by himself, and it's a whole different way of life. Being that Harry is a guy, he's able to be a loner more than I am. As a woman, I'm not free to do all that. Even when I was his age, I couldn't just get off anywhere I wanted. When we were on the road, Christine and I didn't have a clue in the world what the boys did.
"We went to our rooms with security guys standing outside. It's not like we ever escaped to go club-hopping in downtown Manhattan. We never got to live that life, so freedom as Harry knows it is very different than it's been for me."
It's interesting hearing about Nicks' time during her peak. On the one hand, there are stories about wild parties. Then, on the other hand, Nicks has maintained that she and her fellow women didn't go anywhere and weren't even allowed. The question is: who didn't allow Nicks to go out?