Stevie Nicks Said Everyone Should Worry on the Day When She Walks out on Stage Blasé
Stevie Nicks has been performing since she was five years old. Yet, she'll always be nervous before she walks out onto that stage. It's a natural part of being a performer and something that Nicks actually needs. Without her nervousness, Nicks' performances may have less of their spark. Nervousness is almost like her secret weapon.
Nicks has said that everyone should worry the day she takes the stage blasé. We hope that day never comes.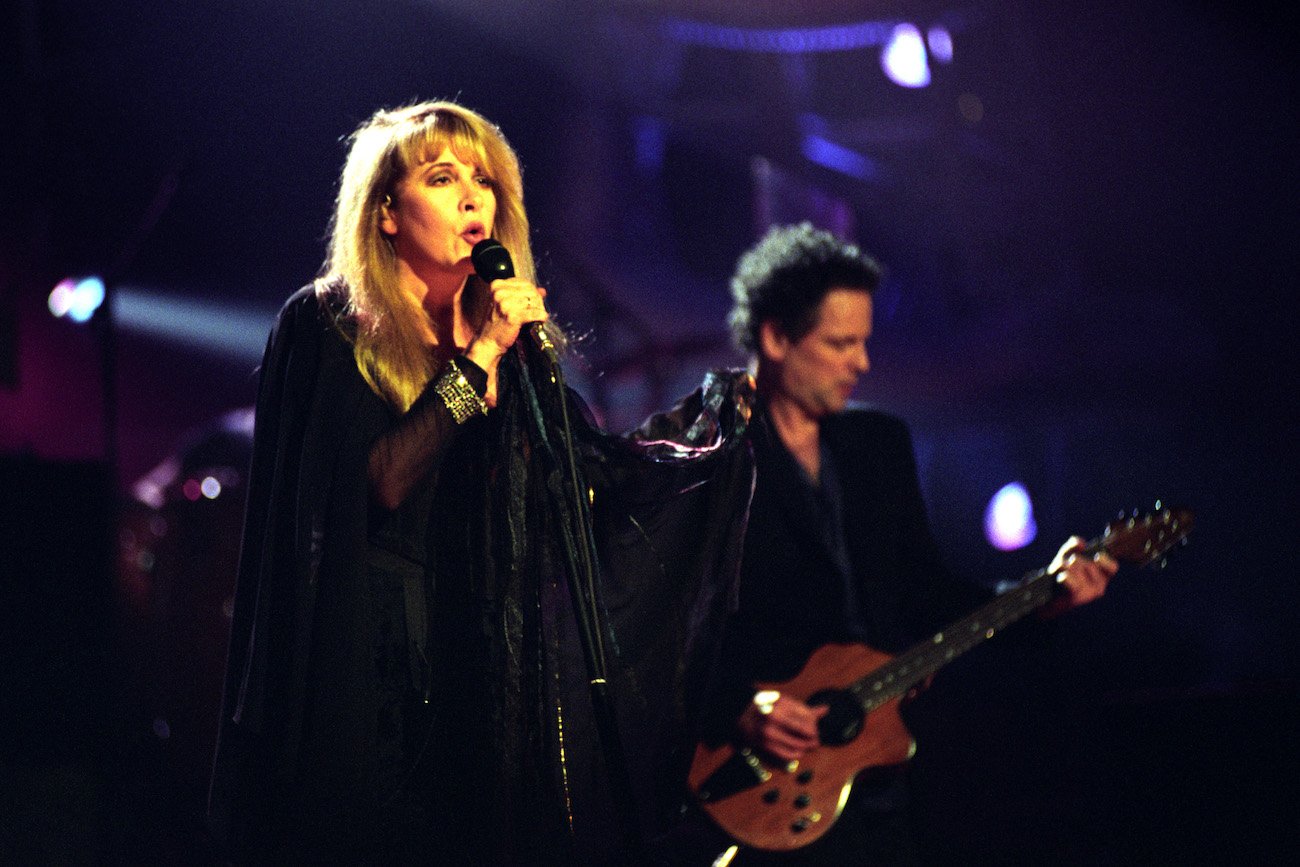 Stevie Nicks said people should worry the day she's not nervous to go out on stage
Nicks has been Fleetwood Mac's frontwoman since the mid-1970s. She's also successfully navigated a solo career and countless other endeavors. So, it's usually all systems go with her.
Yet, despite all of Nicks' experience with performing, she still gets nervous before taking the stage. It's normal and lets her know that she still enjoys it. In 1998, Nicks told MTV that there'd be something wrong if she wasn't nervous before going on stage.
"If I wasn't nervous if I walked in and was totally blasé and just was happy and smiling, I think that would be time for everybody to worry because I kind of have to go through that kind of bitter tormented 20, 30 minutes before and as much as I hate it like it's not there now, I'm OK now, but before the show when I saw you, it was there," Nicks said. "At that point, I'm not feeling good, and at that point, I like to just go home."
"It's an overwhelming feeling," she explained. "It's why some people don't do this. Except I can manage to get through it to the minute, I walk out on stage, and then I'm OK. Them, everything's fine."
Nicks uses her nervousness to boost her performances
As Nicks told MTV, she almost needs to be nervous before going on stage. She harnesses that energy and uses it in her performances. A couple of books have even talked about Nicks' technique.
In A Speaker's Guidebook with The Essential Guide to Rhetoric, authors Dan O'Hair, Rob Stewart, Hannah Rubenstein wrote, "Everyone, even accomplished speakers, can feel jittery before they give a speech. It turns out that feeling nervous is not only normal but desirable.
"Channeled properly, nervousness can boost performance. Sometimes, as singer Stevie Nicks of Fleetwood Mac testifies, those butterflies we feel before facing a crowd can actually be the 'key to that magical performance.'"
In Social Anxiety, authors Mark R. Leary, Robin M. Kowalski wrote something similar. They wrote, "If one views anxious arousal as energizing rather than as incapacitating, it may push the person's performance to greater heights (Alpert & Haber 1960).
"In fact, some performers are concerned if they don't feel anxious before going on stage because a lack of anxiety often leads to a flat performance. Luciano Pavarotti, for instance, views performance jitters as an essential part of performing, and Stevie Nicks says that she would be worried if she didn't feel really nervous before walking out on stage."
Nicks would love to sit down with her audience and discuss her performance with them after it's all over
We know what's running through Nicks' brain before she goes on stage (she also talks to Prince and asks him to "walk with her" before she goes on). But what does Nicks think about performing and the moment when she has to exit the stage?
When Nicks finally gets her bearings and harnesses that nervousness, she goes on stage and gives a hundred percent every time. Once she starts performing, she's fine.
"You know, when I walk out on the stage, it's like that's when I'm really me…," Nicks once said (per In Her Own Words). "They almost had to take me off the stage with a hook to pull me off the stage at the US festival. People say to me there's never a look on your face like there is the look that is on your face when you're on that stage.
"Cause that's where I belong and I'm not near as good at home or at a party on an airplane or anywhere else. I'm at home on a stage with those kids…"
When they pry Nicks off the stage, if she's performing with Fleetwood Mac, she often shares a special moment with Christine McVie when they exit. "We walk off and we never let go of each other until we get to our tent. In that 30 seconds, it's like my heart just comes out of my body," Nicks told MacLean's.
Interestingly, when Nicks finishes performing, she always wants to discuss it with her audience. She said leaving her fans is hard.
"When you come back to your hotel, and you've been in front of fifteen thousand people… I would like to sit down in the audience and talk to them about what's happened," Nicks told High Times (per In Her Own Words). "Bring like a podium up and ask questions and have everybody tell me what they think. It's very hard to just walk away from them.
"You certainly don't go to sleep; you can't. It's like falling in love with somebody and having yourself turn into a pumpkin and you're back mopping the floor. That's the hardest thing-all that energy around you and walking away from it.
"You have much less than they do because you come back to a motel, they go home. If I could go home after every concert and have my puppies and my cats and my friends, whoever, it wouldn't be so difficult. To go back by myself to a hotel room is a real downer."
So, it doesn't sound like Nicks likes the before or after of performing. However, no matter how much Nicks would like it, she can't live her life on stage.