Stevie Nicks Said a 'Horrifying Hangover' Is the Only Reason a Photo of Her in Jeans Exists
Stevie Nicks said that she doesn't currently own jeans. There's only one photo she can think of where she wears denim, and she chose the pants because of a hangover.
Hundreds of photos exist of Stevie Nicks wearing flowing black dresses and platform boots. It's much more difficult to find an image of the Fleetwood Mac singer in jeans, however. She can point to one specific photo from 1977 in which she is wearing denim. She explained that the only reason for the outfit choice was because she was blisteringly hungover.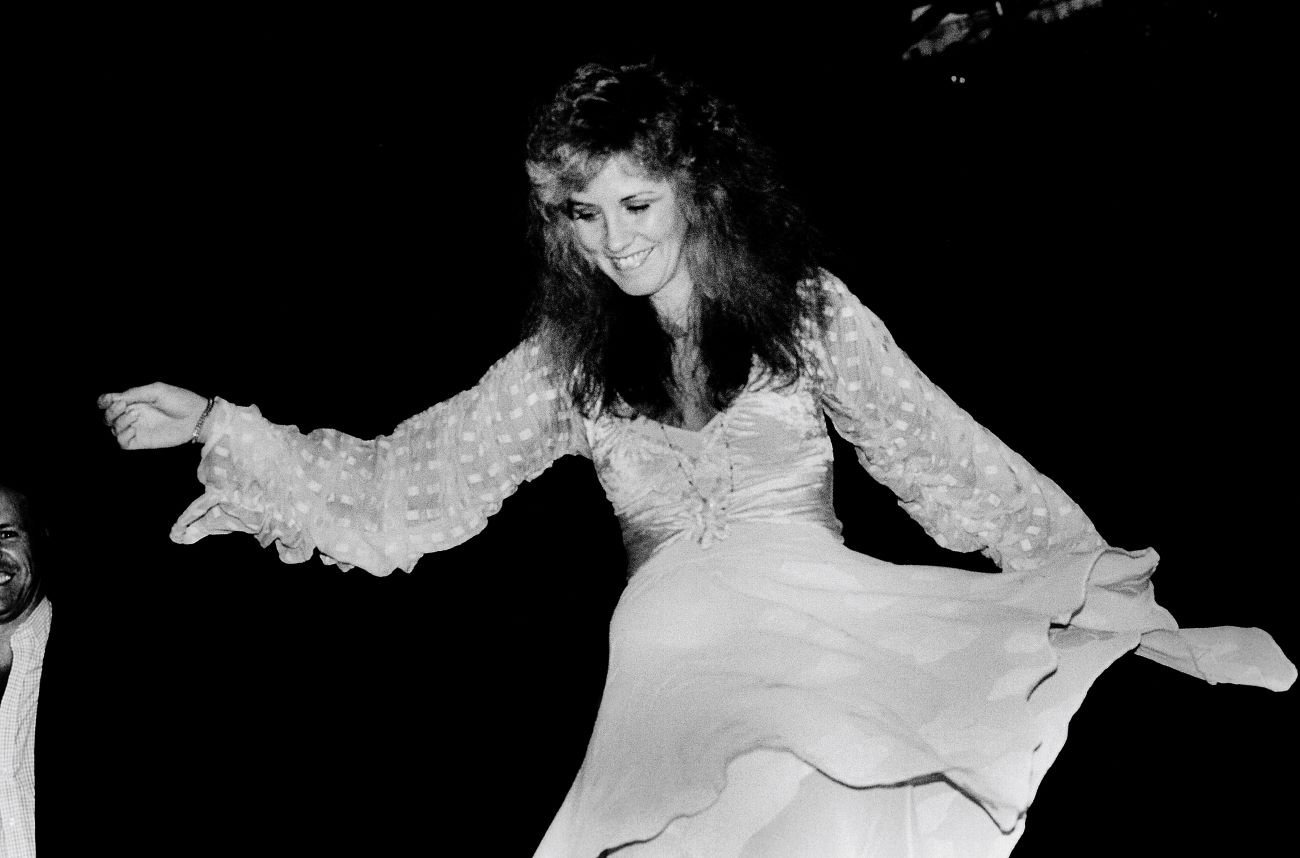 The 'Silver Springs' singer helped design her onstage uniform
After her first tour with Fleetwood Mac, Nicks decided that she wanted to put together a custom uniform that she could wear for years to come. She drew inspiration from a woman she saw in Santa Monica. She wore a layered skirt, riding jacket, and platform boots with her hair piled high on her head.
"This girl obviously had some money, because this was not a cheap outfit," she told the LA Times. "It was beautiful, and I went, 'Oh, that's exactly how I want to look.'"
She teamed up with designer Margi Kent to bring the idea to fruition. The resulting wardrobe featured lots of chiffon skirts, shawls, and platform boots. She has stuck with this style of dressing for decades.
"I still think it's a terrific way to dress," she told The New Zealand Herald in 2006, per The Nicks Fix. "My style fits into any of the styles even as they change. I just tweak it a bit. That has been a lot of fun for me and I've been with the same designer since '75."
Stevie Nicks shared the only reason people can find a photo of her in jeans
Once Nicks established her style, she rarely strayed from it. She explained that while clothing items like jeans used to be a part of her wardrobe, she stopped wearing them altogether.
"I wore jeans in high school and college, but I don't wear jeans now," she explained. "I wear pants now, little Janis Joplin-type silky pants."
Though it may be difficult to find a photo of Nicks wearing jeans, she can think of one specific image from 1977. She shared why she decided to wear the pants.
"The one photo of me in jeans, I had a horrifying hangover and I couldn't be bothered putting all my stuff on so I just wore my jeans," she explained. "It was an outdoor show and somebody got it on film."
After this, though, she stopped wearing the clothing item altogether. She doesn't keep them in her closet anymore.
Stevie Nicks said she once spent the last of her money on a pair of jeans
Before Nicks was famous, when she was still wearing jeans, she explained that she spent the last of her money on a pair. 
"I remember being in Aspen, having just written 'Landslide' and 'Rhiannon' walking around in the snow in a bunny coat, a pair of patchwork jeans that I'd spend my last $30 on, and these very high platform shoes that were kind of beige, kind of cream-colored," she told Allure in 1995, per The Nicks Fix. "They had humongous platforms that made me really tall so that I didn't have to cut off the fabulous bottoms of the jeans. Even when platforms went completely out of style, I kept wearing them because I didn't want to go back to being five feet three in a pair of heels."
Even if she no longer wears jeans, the desire to keep the pair of pants intact helped establish her love of platform boots, one of her most iconic fashion staples.