Stevie Nicks Said Kenny Loggins Was a 'Slave-Driver' Who 'Cracked the Whip' on Her During Their Duet
Stevie Nicks said Kenny Loggins was a 'slave-driver' who 'cracked the whip' on her while they were working on 'Whenever I Call You Friend.'
In 1978, Stevie Nicks joined Kenny Loggins for a duet on his song, "Whenever I Call You Friend." Nicks had done her fair share of duets with her Fleetwood Mac bandmate and ex-boyfriend, Lindsey Buckingham. She'd also sung harmonies with Buckingham and the band's keyboardist, Christine McVie.
However, this was one of Nicks' first duets outside the Fleetwood Mac bubble. She must have liked the taste of it because she went on to sing several duets with some of the best male singers of the late 1970s and early 1980s on her solo debut, Bella Donna.
Although, Nicks didn't exactly know what she was getting into when she agreed to duet with Loggins.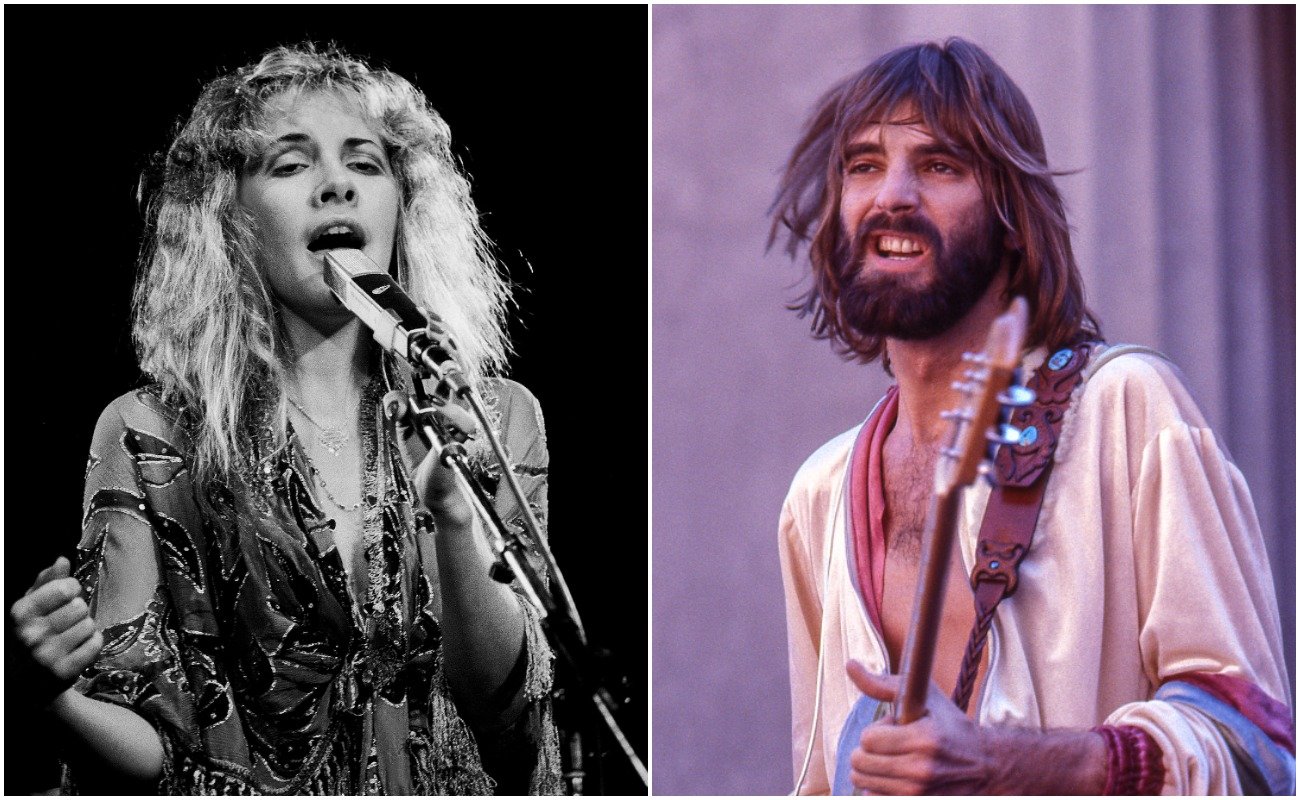 Stevie Nicks said Kenny Loggins was a 'slave-driver' during the recording of 'Whenever I Call You Friend'
In a 1982 interview with High Times, Nicks explained what it was like working with Loggins on his song, "Whenever I Call You Friend." She said he was a "slave-driver" who "cracked the whip" on her.
"That was a discipline thing," Nicks said of her collaboration with Loggins. "I call him Slave-Driver Loggins. He cracked the whip on me for two days to get that particular performance. And I was downright angry at points where I was going, 'I'm not going to do this.' He said, 'Yes, you are.'
"He's a real good producer, Kenny, he got exactly what he wanted. When it was done and I left, I was knocked out. I really had to keep my mouth shut and do what I was told. And it worked. He wasn't interested in a dull vocal."
Loggins had to 'create a mood' for Nicks
High Times asked Nicks how Loggins got the performance out of her. Nicks replied that he created a mood, just as Jimmy Iovine went on to do for her when they recorded Bella Donna.
"Yeah, that's exactly what I do, I light a little incense," Nicks said. "Jimmy did it for me too. If I get mad enough, he'll say, 'This is really uncool' over the talkback. We have the most hysterical video of him giving us a lecture telling us we were doing something wrong. We don't answer him, we just talk to each other.
"He says it's like tuning in on my mother's poker game. He walks out carrying my little bottle of brandy that I use when I sing, which he hates because he doesn't drink. I asked him for some and he's swinging it at us as he's talking. He said, 'Okay, you want a little drink?' He goes into this incredible thing about us being magpies.
"And we're totally ignoring him. We would turn to each other and forget what he said completely. He'd say, 'Wait one second everybody, stop talking and listen to me.' Then someone would make some sly comment about little girls who have been caught doing something wrong, and then we'd get back on the track."
Nicks concluded, "That was basically what Kenny did too. He let me kind of tangent off to a point and then he'd say, 'That's it, now we have to start doing this for real.'"
'Whenever I Call You Friend' changed Loggins' career path
Loggins gave Nicks credit for "Whenever I Call You Friend" on his album Nightwatch but didn't list her on the single. Since the single reached No. 5 on the charts, it became Loggins' first solo hit.
In a 2019 interview with Hoda Kotb on SiriusXM, Loggins said his and Nicks' work changed his career path.
"I was the opening act for Fleetwood Mac on the 'Rumours' ride and spent a lot of that year out with them, and we had a lot of fun on the road," Loggins said. "I was 30 [laughs] and we just got to be really good friends. She said, 'If you ever need a chick singer, give me a call.'
"I thought, 'Let me think, would I want to do a duet with the biggest female vocalist in the world?' We were just getting along really well and having a lot of fun. We were never lovers, but we hung a lot, and it was just a good friendship.
"That was the key, I think, it was very difficult for solo artists to break solo from a popular duo, ask Daryl Hall. It was really tough to break out, and I think it was that duo with Stevie that really established me in the radio."
So, no wonder Loggins "cracked the whip" on Nicks during the recording of "Whenever I Call You Friend." He had a lot on the line, establishing himself as a solo artist. The song had to be just right. Nicks was already a superstar. She had Fleetwood Mac to fall back on. Loggins was alone.
Plus, if Loggins and Nicks' relationship started out fun and carefree, Nicks probably brought that same energy to the recording studio. Loggins came ready to work. The duet turned out beautiful, though, once Nicks focused and gave it her all. She never disappoints.