Stevie Nicks Said She and Lindsey Buckingham Will 'Probably Keep Writing About Each Other Until We're Dead'
Stevie Nicks was once under the impression that she and her ex-Fleetwood Mac bandmate, Lindsey Buckingham, would continue to write songs about each other until the day they died. However, we don't know how true that is now, especially since Nicks seems to have sworn off her ex-boyfriend altogether.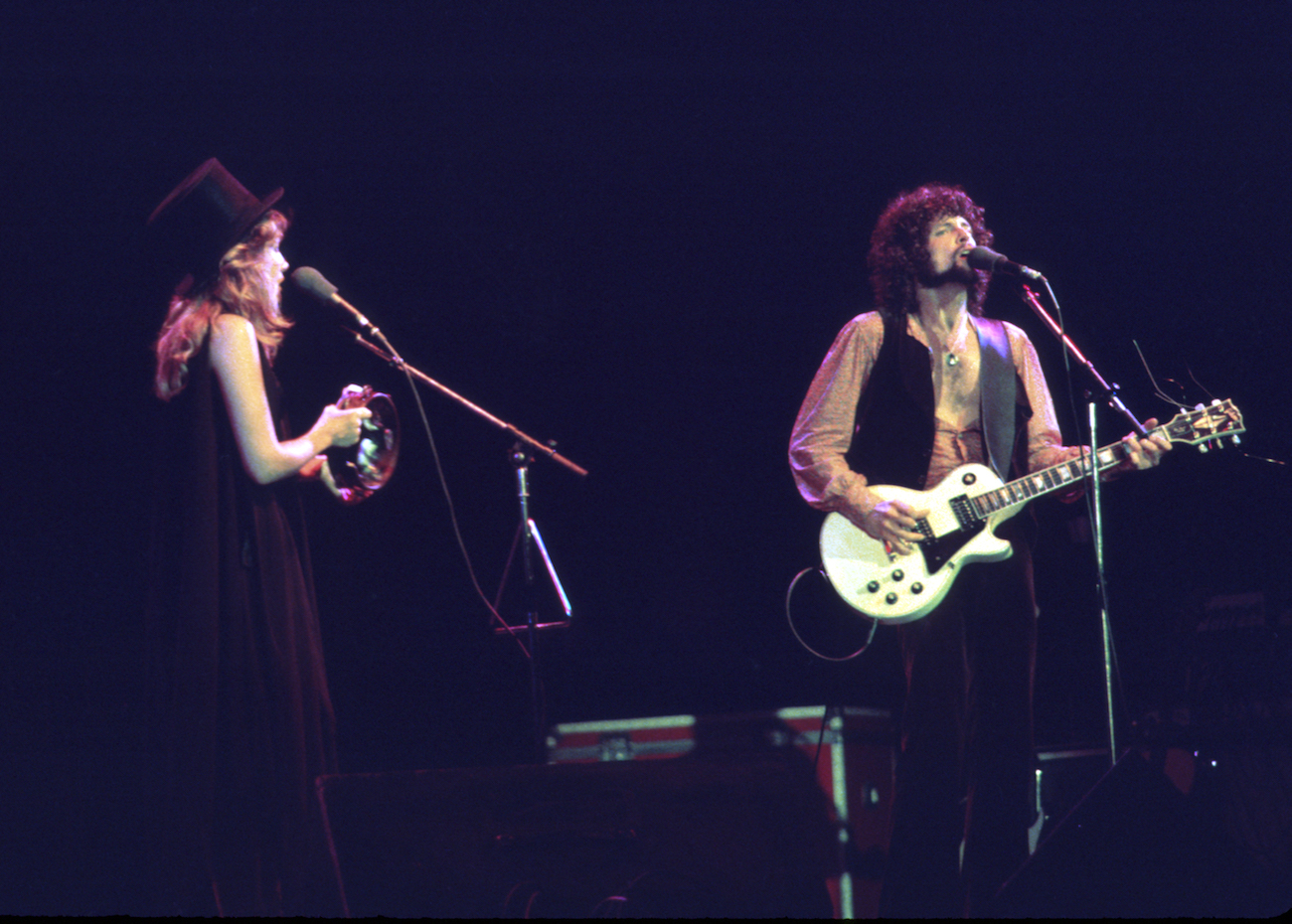 Stevie Nicks said she and Lindsey Buckingham will continue to write about each other until they die
In a 2014 interview with Rolling Stone, Nicks explained what it was like returning to Fleetwood Mac after having just released a new album. She said Buckingham would enjoy some of the tunes on 24 Karat Gold: Songs from the Vault because they're about him (Nicks wrote most of the songs on the album decades ago).
"I'm running two careers at the same time," Nicks explained. "But I don't walk into band rehearsals and expound upon the record I just made, because I am a smart woman.
"I'm not pushing it down their throats — I'm not trying to cause any trouble here. Nobody from Fleetwood Mac has heard this record yet. When the time comes to hear it, they'll like it. Lindsey will love it — half of these songs are about him!"
Rolling Stone asked Nicks if Buckingham actually likes that. "Well, of course!" Nicks replied. "We write about each other, we have continually written about each other, and we'll probably keep writing about each other until we're dead.
"That's what we have always been to each other. Together, we have been through great success, great misunderstandings, a great musical connection. He has more appreciation for that now — I think it's because he has two little daughters and a lovely wife, so he's really in Girl World now. That's gotta soften him up a little bit. He's more aware of a feminine point of view."
RELATED: Stevie Nicks Said She Has a Persona in Fleetwood Mac: 'I Call Myself the Spider Woman'
Nicks might never write another song about Buckingham again
Since Fleetwood Mac fired Buckingham in 2018, he and Nicks have had virtually no contact. So, Nicks' hypothesis that she and Buckingham will be writing songs about each other until they die might have changed.
"Any time we reformed to do a tour or a record, I always walked in with hope in my heart. And I just was so disappointed. I felt like all the wind had gone out of my sails," Nicks told the Pocono Record in 2020.
"I stayed with him from 1968 until that night. It's a long time. And I really could hear my parents – I could hear my mom saying, 'Are you really gonna do this for the rest of your life?' And I could hear my dad saying in his very pragmatic way – because my dad really liked Lindsey – 'I think it's time for you and Lindsey to get a divorce.' It's a very unfortunate thing. It makes me very, very sad."
RELATED: Stevie Nicks Regrets Not Meeting David Bowie: 'Why Didn't I Get on an Airplane and Go See David Bowie?'
Nicks was always honest in her songs about her and her ex-boyfriend
It might look as if Nicks will never write another song about Buckingham, but at least she was honest in the songs she did write about him.
During a 2011 interview, Nicks said she vowed that she would always tell the story honestly if she ever wrote a breakup song. Nicks wasn't going to make herself look better, saying she broke up with someone when they really broke up with her.
"I think you have to be very honest, and from the very beginning, I said, I think I even said this to my mom, I'm never going to be dishonest in my songs. If he broke up with me, I'm not going to write the song and say I broke up with him. I'm never going to not tell the truth," Nicks said.
"So you're much better off to actually share what really happened with your audience and not try to make up a story. If you have a good story, there's no reason to try to change the story."
If Nicks or Buckingham do write about each other in the future, we'd be surprised. Then again, they've never been able to keep their feelings about one another to themselves. If they do churn a tune out about their current thoughts of each other, we wouldn't complain. Maybe we'd get another "Go Your Own Way" or "Silver Springs."
Nicks once said artists couldn't write good songs if they're blissfully happy after all.
RELATED: Stevie Nicks Said Songwriters Who Are 'Blissfully Happy' Can't Write Good Songs