Stevie Nicks Said She Has a Music Taste That Few Would Expect
Stevie Nicks said that she has a strange taste in music that few would expect. She listens to all kinds of music, past or present.
Stevie Nicks has had so many different influences throughout her long career. After hearing Joni Mitchell, she knew she wanted to become a singer. When she heard Crosby, Stills & Nash as a teenager, Nicks wanted to join a group that harmonized well. It's clear who influenced Nicks.
However, while Nicks loves the artists who inspired her, she does listen to other types of music. Nicks says her music taste is "crazy" and unexpected.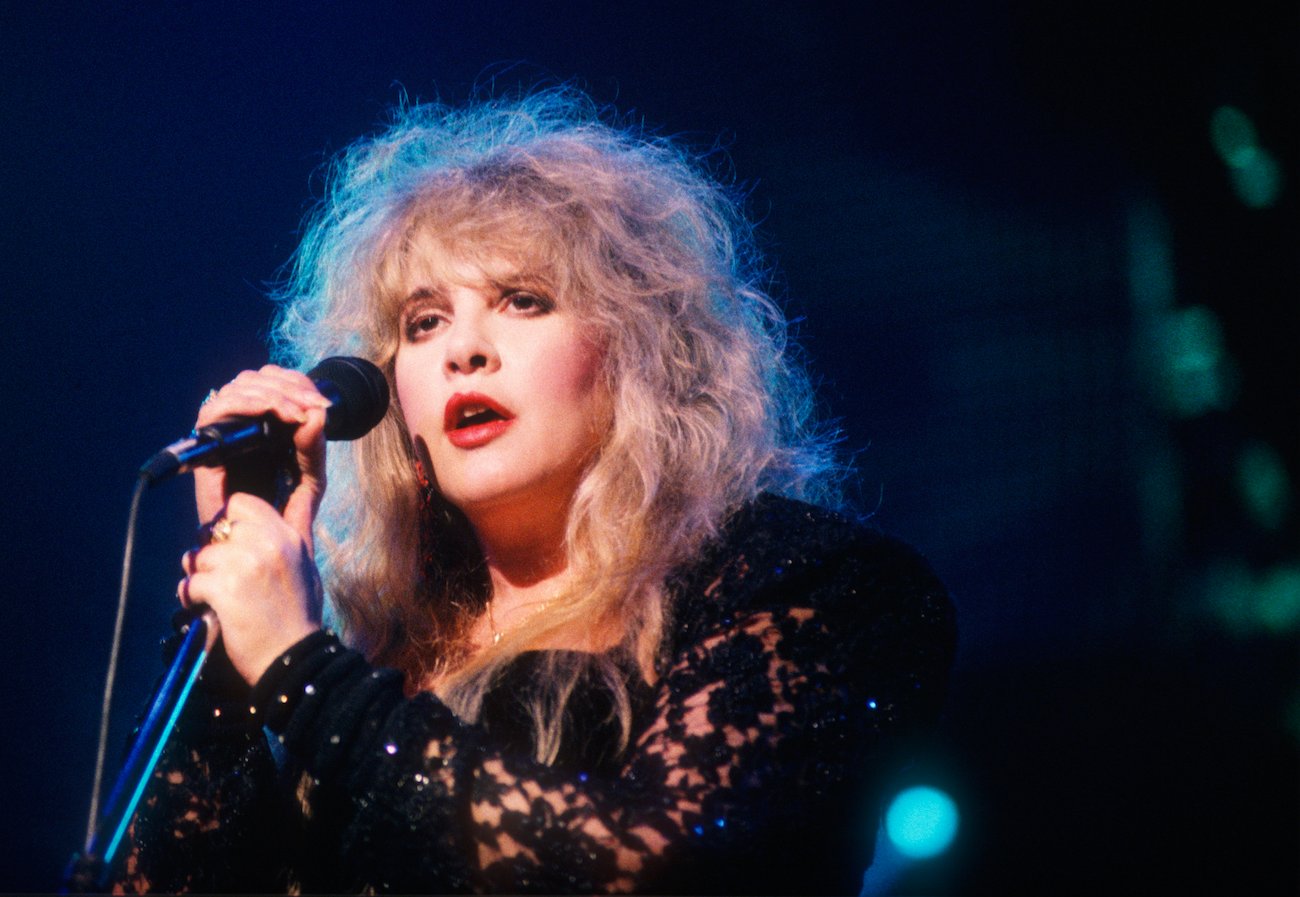 Stevie Nicks fosters relationships with younger artists because she likes current music
In a 2020 interview with Vogue, Nicks talked about her taste in music. For most of the article, she praises her buddy, Harry Styles, and his album Fine Line. She also touched on being a fan of Miley Cyrus and Haim.
Nick said that she likes taking younger artists under her wing because they keep her current. Mostly though, she wants to support them in their careers because she's a fan.
Nicks said, "I'm inspired by them. I'm inspired that Miley wants to make music with me. I'm inspired that the Haim girls are my biggest fans—and I theirs. A lot of these kids are making the amazing records I've been waiting for them to make.
"I'm not like other 72-year-olds. I listen to current music because I want to be current. When people find out how old I am versus the music I'm listening to, they think it doesn't gel at all. I've been collecting musical knowledge since I was in the fourth grade listening to the singles my grandfather used to bring home.
"I listened to Buddy Holly and the Everly Brothers until the sixth grade when R&B radio became Top 40. I said goodbye country and hello R&B, so it's not like I'm ever stuck on one thing. What I love about Harry is that he's very old school but still modern. And that's kinda like me." 
Nicks likes to listen to 'Starboy' before going on stage
In 2011, Nicks told the Guardian that she listens to Joni Mitchell's 1972 song "Blonde in the Bleachers" every time she prepares to go on stage.
However, Nicks recently told the New Yorker that whenever she gets depressed in her dressing room, she plays Starboy by The Weeknd, either the song or the album. She admitted that her music taste is a bit "crazy."
"When you keep music in your life, I think it just changes you and pulls you out of a deep hole," Nicks said. "Whenever I'm depressed, I just put music on. The second I walk into my dressing room, I plug my iPod into my old-fashioned stereo and I just crank the music.
"That's just feeding my soul so that I can get ready to walk onstage in three hours. When I'm pulling up my black tights and putting on my corset, I'm listening to, like, 'Starboy.' I have crazy musical taste. I have my tapes that go back to the early two-thousands—Nelly was my favorite.
"Because I play my music so loud, everybody at the shows—you know, all the security people and the people that work at the venues—they're, like, 'Who is she?'"
A John Mayer album reminds the Fleetwood Mac frontwoman of her friends
It's clear that Nicks loves all kinds of music, not just the artists that inspire her own music. She told the Guardian that she played John Mayer's 2009 album, Battle Studies, constantly with her friends.
"I played this constantly when I went to Hawaii a while ago," Nicks said. "I was on a quick break while I was making the new album because Dave Stewart, who produced the record, was stuck in London at the time because of the volcano in Iceland.
"So me and four of my friends went on holiday, drove over the mountains and listened to this record all the time. I don't listen to other music when I'm actually writing as I don't like to be influenced by other things.
"You don't want to end up rewriting something that's already been written. And I don't go back to any of my own records either. I don't want to rewrite 'Edge of Seventeen.'"
Nicks might listen to Starboy, Nelly, John Mayer, and all of the younger artists she mentors, but that doesn't mean we can picture it. Nicks surprises us every day.
How to get help: In the U.S. and Canada, text the Crisis Text Line at 741741 to reach a crisis counselor for support.