Stevie Nicks Said She Wants to Perform With Harry Styles at the Met Gala — if They Ever Invite Her
Stevie Nicks and Harry Styles have had a close bond with each other for years, but Nicks knows of a way to take their friendship to the next level: performing together at the Met Gala. However, there is one problem. They've never invited her.
That hasn't stopped Nicks from imagining the moment when she can finally take the stage with Styles at one of show business's biggest events. She has everything planned, including the setlist and her outfit.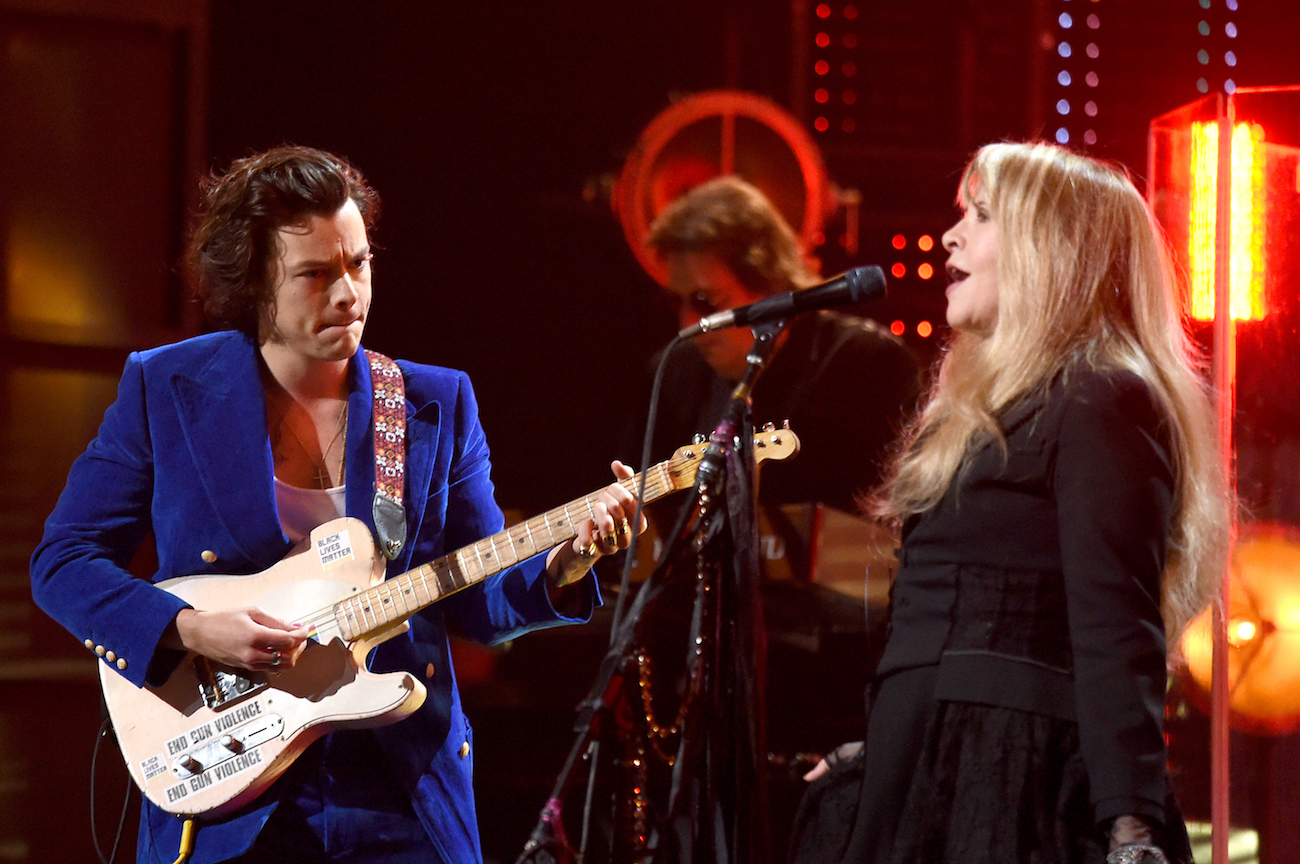 How did Stevie Nicks and Harry Styles become friends?
Nicks and Styles became friends after Styles presented Nicks with a birthday cake after a Fleetwood Mac show in London in 2015. Since then, they've gotten close and have performed together a few times.
In 2019, Styles inducted Nicks into the Rock & Roll Hall of Fame. In his speech, he said Nicks is "everything you've ever wanted in a lady, a lover, in a friend." They also performed "Stop Draggin' My Heart Around" during the show.
Styles wormed his way into Nicks' heart even more by covering Fleetwood Mac's "The Chain" every night of his first solo tour. Nicks showed her appreciation by appearing during Styles' performance at the Forum to sing a duet of "Landslide."
In 2020, Nicks told Vogue that she and Styles connect because they're both "old school but still modern." She likes fostering her relationship with him because she didn't have anyone when she came up in the business. Plus, she likes having him as her window into current times. She loves his music and can hear Fleetwood Mac and other artists' influences in it.
Besides that, Nicks just loves that Styles is "a kooky guy." She told Vogue, "He's the type of person you'd wanna live next door to. He'd look out the window, see you having a hard time planting flowers, and rush out asking, 'Can I help you with those roses?' 'Sure, but you are Harry Styles, right?' That's who he is." 
Nicks and Styles will surely continue to build their friendship. The "Dreams" singer even has a few ideas. She wants to perform with him at the Met Gala. If they ever invite her, that is.
Nicks wants to perform with Styles at the Met Gala if she's ever invited
There are a few things that Nicks has planned to solidify her relationship with Styles. She wants to perform with him at the Met Gala, but they've never invited her.
During her interview with Vogue, Nicks asked, "Did you know I've never been to the Met Gala?" Vogue replied, "We would be honored to have you at the next gala and every one after that. I'm putting this in the article to make sure it's in the public record." 
Nicks has the whole evening planned out in her head already. "As Mick Jagger says, 'We still have our freedom, but we don't have much time,'" Nicks said. "I would like to be not much older than I am now so I can wear a fantastic outfit and entertain everybody. It's a dream of mine, and most of my dreams have come true, but I need to not be 90 when it happens."
Not to mention, it would be a dream to perform with Styles again and at one of show business's biggest events.
"We wouldn't even have to rehearse," Nicks said of her dream performance with Styles. "We've got a couple of duets that are really great. We do 'Landslide' and 'Two Ghosts' together really well. We actually have five or six terrific acoustic numbers that we could do at the drop of a hat." 
Nicks said she's open to making new music with Styles
Even if Nicks doesn't get to perform with Styles at the Met Gala (although we hope she finally gets invited at least), there are other ways in which they can work together. Nicks wants Styles for a Rhiannon mini-series.
"This is probably the third-biggest thing I've ever done in my life after Fleetwood Mac and my solo career," Nicks said. "There's a lot to be done in the movie business before I can start riding my horses across the mountains of Wales.
"I've signed with a movie company—I'm not gonna tell you who—and we just signed a writer. I'm not gonna tell you who that is either, but there's an amazing part for Harry. My favorite character in the series is the only man who goes through all four books. He's a magician who doesn't wanna be king, and I think Harry would just be so perfect."
Nicks also said she and Styles are open to making music together. "We're open to making music together because we've been very successful when we go onstage just to do one song. I would love to be in a band with Harry, but even if I never saw him in person again, he's made a record that breaks my heart in a million places like Fine Line. 
"As far as music goes, there's plenty of fun things that he and I could do. We can just reach out to each other and do it. I'm always ready to slip back into those high-heel black suede boots and become my alter ego."
So, it's reassuring to hear that we'll see Nicks and Styles collaborate on something eventually. With a connection like theirs, it's bound to happen. Although, we'd love it if Nicks and Styles performed at the Met Gala. That would be a moment to remember.