Stevie Nicks Said She Wouldn't Have Made 'Bella Donna' if Her Producer Didn't Keep Her in Line
Stevie Nicks said that she wouldn't have made her solo debut, 'Bella Donna' if it wasn't for her producers strictness.
Stevie Nicks found her voice and confidence on her solo debut, Bella Donna. She'd been under Fleetwood Mac's thumb for years and wanted to prove to herself that she could be just as successful on her own. Nicks succeeded in that, but she didn't do it on her own exactly.
With the help of her producer, Jimmy Iovine, Nicks gathered the strength to record her own album. However, the door to Fleetwood Mac never closed.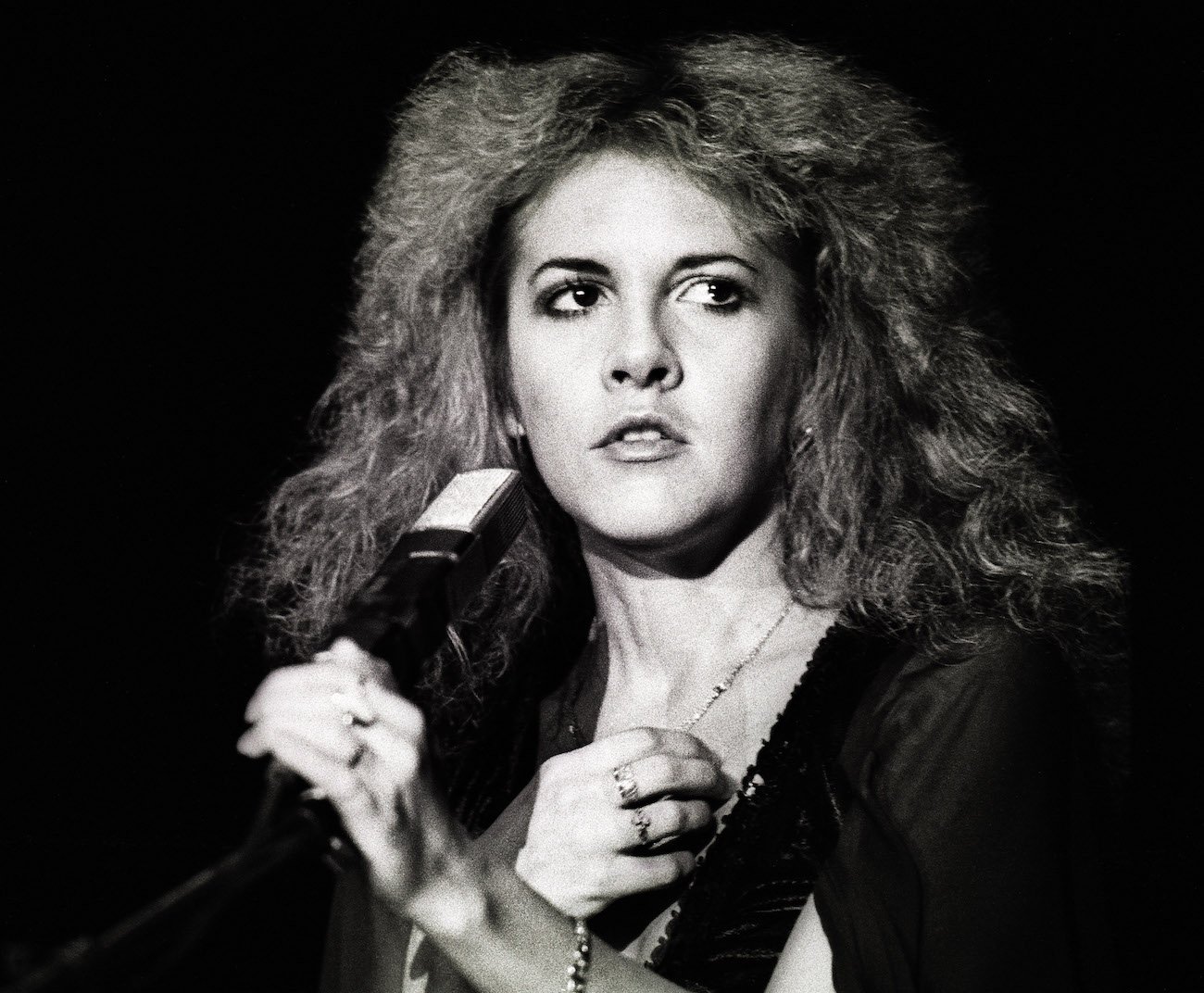 Stevie Nicks was initially scared to record her solo debut, 'Bella Donna'
In a 1981 interview with BAM magazine, Nicks explained that it took a lot of courage to go in and record her solo debut. She hadn't even been a member of Fleetwood Mac for 10 years, but she still felt strange breaking away from them.
"I'm always nervous about doing something new," Nicks explained. "I was particularly nervous about making this album because I knew I wouldn't have four other people to blame if it didn't do well. In Fleetwood Mac, if I fail I fail with four other people.
"Here, if I fail, I fail alone. It's always scarier to be alone. Fortunately, I had great people to work with who encouraged me constantly. The vibe I got from everybody was so positive that it made me feel strong."
So, Nicks dove head-first into recording Bella Donna. "It was very, very spontaneous," she said. "We did it in sort of a piecemeal way because we'd only get people in for a few days at a time. Tom Petty & the Heartbreakers don't exactly sit around waiting for the phone to ring for session work.
"Russ [Kunkel] and Waddy [Wachtel] have impossible schedules. So we did the album around them. We'd get them for a couple of days and work fast."
However, Nicks wouldn't have moved fast in any regard if she didn't have her producer, Jimmy Iovine, to discipline her.
Nicks' producer kept her in line while making 'Bella Donna'
Bella Donna is an album that juxtaposes vulnerability and strength. Nicks felt vulnerable in the male-dominated music industry and dependent on Fleetwood Mac. However, as she recorded Bella Donna, Nicks broke free for a bit and showed her strength.
"They knew that I had to go and do this by myself because I had to prove to myself that I could exist on my own," Nicks told High Times in 1981. "That's the process of growing up," High Times pointed out, and Nicks agreed. She had to change to record Bella Donna.
"And what are you gonna do without them if they're not there anymore some day?" Nicks said. "(Record producer) Jimmy (Iovine) expected a lot from me from the very beginning. Well, he did bring me back to some reality. My life had to change in order to do an LP with him. I had to change. I couldn't be Stevie Nicks with Fleetwood Mac."
Iovine had to be strict with Nicks. "I had to be much stronger and much more in control of myself, because he would not waste his time working with an out-of-control, flaky girl singer with Fleetwood Mac," Nicks continued. "He had no reason to be in the studio with that person and it was made very clear to me from the very beginning that if I was gonna do this, I was no longer the coddled, dependent baby of Fleetwood Mac.
"It was like he said, if you're gonna come into my studio and there's going to be ten of the best musicians in the world waiting for you, then you'd better damn well come in ready to work, and not two hours late and not fluffing in and expecting everyone to just forgive you, and too bad that you're late, and it cost eight million dollars because you didn't bother to show up, and they did two sessions and they made it over to the studio at seven o'clock.
"And I just realized right away that I wanted more than anything in the world to put these songs down and play them for all those wonderful people who seemed, for whatever their reasons, to love my songs. And I love my songs. That's what I do—I write songs. I'm a tune writer. And I wanted this LP to be really wonderful. And without somebody like Jimmy, I could not have done it. Because I wouldn't have been disciplined enough."
Nicks wanted to be in control
Continuing to BAM, Nicks explained that she didn't only want to record Bella Donna to see if she could. She recorded the now-four-times-platinum album because she wanted to know what it felt like to control her own music. In Fleetwood Mac, it was always Lindsey Buckingham who arranged her songs.
"That's one of the reasons I wanted to see if I could do it myself," Nicks said. "When you work with somebody who is that much in control, and who has always been that much in control–from, like, 1970 on–you forget that you're even capable of doing something yourself.
"I'd write my song and then Lindsey would take it, fix it, change it around, chop it up and then put it back together. Doing that is second nature to Lindsey, especially on my songs. He does better work on my songs than on anybody's because he knows that I always give them to him freely. It's a matter of trust.
"So it was interesting to work without him, because my songs pretty much stayed the same; the only difference was what happened after I'd written them. When I write a song I sit down at the piano and play it front to back. For Bella Donna I would do that, or have a demo like that, and the other musicians would just listen to it, getting their own ideas of how to fill in the rest.
Despite loving that freedom to do whatever she wanted on her solo debut, Nicks never closed the door on Fleetwood Mac. In fact, she even encourages younger artists to operate two careers.
Nicks likes having the choice to do whatever she wants, whether that's continuing in Fleetwood Mac or going solo.